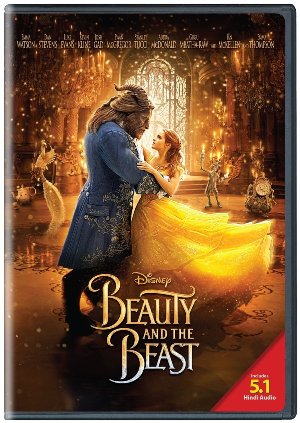 Musicunplugged.in Contest 71
Emma Watson, Dan Stevens, make an excellent pair on screen as the Beauty and the Beast. Disney films are mainly aimed at children with a moral that teaches them life lessons, and this film teaches them 'Never judge a book by its cover', which actually means not to judge someone by the way someone looks or acts. Everyone who loves Disney would know the story only too well. Moreso, there are some really lovely songs in this film, not forgetting the title song which was originally sung for the animated film in 1991 by Celine Dion and Peabo Bryson. In the 2017 version sung by Emma Thompson who plays Mrs. Potts during the film, there's an equally lovely duet cover version with Ariana Grande and John Legend of this wonderful ballad that comes on during the end credits. Now you can win this DVD right here. Just answer this really easy question and one lucky gets to take home this masterpiece.
Question:
Who plays Belle in the film?
The winner will get the DVD of 'Beauty and the Beast'.
Send your answer with the subject line 'Musicunplugged.in Contest 71' to musicunplugged1013@gmail.com
Don't forget to mention your email id, age, full postal address with landmark and Handphone no. Contest closes 31st July 2017.

Winner will be announced on www.musicunplugged.in on 01st August 2017. The prize will be sent to the winner anywhere in India.
Musicunplugged.in Contest 70
Q: When did Jimi Hendrix pass away?
A: 18th September 1970
Winner: Amrut Kalani, Pune

Click here to view previous contest and contest results.