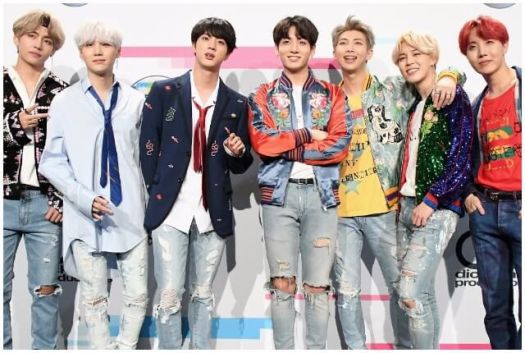 31st October, 2018
From Korea with Love: BTS
What makes the band members of South Korean pop band BTS one of the most popular boy bands in the world today? Is it their great sounding music, their music videos, their drop dead looks or their wonderful lyrics targeted at the teens? Well come to think of it, it would be an amalgamation of all this as its difficult to pinpoint the real reason for their immense success. But watching the band grow so big in barely five years, it's their unity too that has survived their hectic schedules.
After the dance pop single Gangnam Style (2012) written and performed by Korean pop singer Park Jae Sung, better known by his stage namePsy, that too the world by storm with his hit song, its time that a boy band made it big showing the world that K Pop has a huge following, not only in their homeland South Korea, but also around the world. Psy's song went viral with 'the horse - riding dance' and topped the charts all over.
South Korean boy band BTS (Bangtan Boys in Korean), perform a blend of energetic dance-pop and hip-hop that helped them build a global following while also becoming the most successful K-pop act in U.S. chart history. The fact that were one of the performers at this year's Billboard Music Awards performing and winning Top Social Artist for the second year in a row, was enough to show the magnitude of their popularity and how far their music has reached. The band garnered 300 million votes in the first year.
The tongue twisting septet's lineup includes team leader and rapper Kim Namjoon aka Rap Monster, singer Kim Seokjin aka Jin, rapper Minyoongi aka Suga, rapper and choreographer Jung Hoseok aka J Hope, singer and choreographer Jimin Park, singer Kim Taehyung aka V, and singer, rapper, and choreographer Jungkook Jeon. The groups members also produce, compose, and write their lyrics themselves in English and in Korean. Their music is a combination of love ballads and rapping with topical lyrics.
Formed by producer Bang Si Hyuk, BTS debuted in 2013 with the first installment of their "School Trilogy" series; with their debut single 2 Cool 4 Skool. A few months later, they released No More Dream that sadly did not take off, but when they released part two of the saga, the EP O!RUL8,2,? it clicked well on the Asian charts. The trilogy's final installment, Skool Luv Affair was released around Valentine's Day in 2014 and was a stupendous hit instantly. The year ended with BTS bagging a host of awards in their home country. But the big bite across Asia and the world was still to come.
Later that year in June, BTS participated as judges for a K-pop cover dance competition in the Bridge to Korea festival in Russia, an event that aimed to promote tourism between the two countries, where they also performed on stage. This was the best time to showcase their talent to the world. A month later they attended KCON (an annual Korean wave convention held in different locations across the world) in Los Angeles. On their return, they released their first Korean studio album 'Dark & Wild' which peaked at number two on the Gaon Chart and sold over 200,000 copies. Things were looking up for them and supported by two singles: Danger and War of Hormone, it was a time BTS was looking at conquering the charts in the US.
The band ended the year with their first Japanese studio album 'Wake Up' that peaked at number three on the weekly Oricon Albums Chart selling 28,000 copies.
As their fan base grew and international tours sold out, they released a third EP The Most Beautiful Moment in Life Part I in April 2015 with the follow-up in November. They embarked on a massive world tour as the songs rocketed six international music charts, including Billboard's World Albums chart. After four weeks, they set a record as the first K-pop act to achieve such a feat.
The group was now selling concert halls globally and was a household name. Wherever they went they were mobbed by young fans for selfies and autographs. It was mayhem, and the young lads were enjoying every moment of it.
On 7th September 2016, BTS released their second Japanese studio album 'Youth' selling over 44,000 copies on its first day of release and ranking number one in Japan. Back in their home country, pre-orders for the group's second Korean studio album 'Wings' released that October, accumulated over 500,000 copies within the first week itself with its lead single Blood, Sweat & Tears becoming their first number one hit on the weekly Gaon Digital Chart. Its music video gained over 6 million views within 24 hours, breaking the previous record held on YouTube for the highest number of views of a K-pop group music video within 24 hours. BTS later won Artist of the Year at the 2016 at the Mnet Asian Music Awards and also became the third K-pop act to land in the Canadian Hot 100.
The album 'Wings' also reached the Top 30 of the Billboard 200 both their highest U.S. chart debut and most sales to date becoming the first K-pop artists with three albums to enter the main album charts. One aspect of the album was that the album continued the artistic and creative growth for the septet, featuring seven solo tracks that showcased the personality of each member.
With their presence in the United States continuing to expand, the group went on to win the Top Social Artist Award at the 2017 Billboard Music Awards. Their fifth EP, Love Yourself: Her was released in September and became the first K-pop single to debut in the Billboard 200's Top Ten, entering the chart at number seven.
In early 2018, BTS received their first double-platinum certifications in Japan and became the first Korean act to receive two gold certifications in the U.S. Later they issued their third Japanese LP, 'Face Yourself' which featured Japanese versions of tracks from their albums 'Wings' and their third Korean language album 'Love Yourself: Tear'.
Many youngsters who idolize the group members, many having their favorite singer in the band, may not know, but BTS has a soft corner when it comes to doing social work, and are ready to give back to society what it has given them.
With dozens of awards behind them (too many to mention here), BTS fans have grown even in India. Fans all over the world are known as A.R.M.Y which has an extension Adorable Representative MC stands for Youth.
As we write this, the group announced the release of their album 'Love Yourself: Answer' to be released in August, with a world tour, titled BTS World Tour: Love Yourself set to takeoff in the same month. Sadly India does not figure in the Asia leg. With such a large fan following, fans in India wait for the day when the seven member gang can be seen in action someday.
Now, this last part is the best of BTS.
The boys released its digital version of the song Idol that featured the "Queen," rapper NIcki Minaj Minaj recently dropped her fourth studio album, "Queen," in August.
- By Verus Ferreira