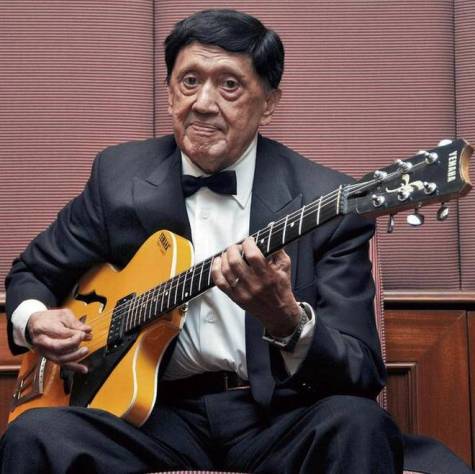 20th December, 2016
In Memory of Jazzman Carlton Kitto
The death of Kolkata-based guitarist Carlton Kitto on November 28 comes as a huge loss to the western music scenario in India, especially to jazz. Considered one of the technically most brilliant virtuosos of his time, he earned huge respect not only as a musician but as a teacher.
Though Kitto was born in Bengaluru and began his music career in Chennai, he chose Kolkata has a permanent home, inspired by the vibrant live music scene the city had to offer. But one of his most memorable moments happened back in Chennai, when he jammed with the legendary Duke Ellington who was on an India tour. As Kitto couldn't afford to travel to the US for further music studies, the American giant ensured he did a postal course from Berklee College of Music, Boston.
From the 1930s, Calcutta was throbbing with musical activity. Whether it was Bengali music directors who later shifted to make it big in Hindi cinema, or regional styles like Rabindra Sangeet, Baul and Bhatiyali or the famous Dover Lane classical music festival, there was plenty happening.
The city also became the hub for western music, thanks to the spurt in nightspots on the bustling Park Street. Kitto shifted there in 1973, when keyboardist Louiz Banks, saxophonist Braz Gonsalves and singer Pam Crain were already making waves.
The venues Blue Fox, Mocambo, Moulin Rouge, Trincas, The Golden Slipper, Magnolia and Chowringhee Bar were the toast for local jazz, evergreens, rock and pop. Other popular musicians included 'Jazzy Joe' Pereira, pianist and xylophonist Anto Menezes, drummer Nondon Bagchi, guitarist-keyboardist Charanjit Singh, bassist Lew Hilt, and singers Brenda Lillie, Don Saigal and Marie Samson. On the popular music circuit, vocalists Usha Uthup (then Iyer) and Biddu ruled whereas rock bands The Cavaliers, High, Skinny Alley and Shillong-based Fentones, featuring Bob Dylan specialist Lou Majaw, attracted the younger lot.
However, with the commercial music action shifting to Mumbai, many musicians decided to explore the world of Hindi film music and ad jingles. The sound of Hindi film music changed in the early 1970s, with RD Burman relying a lot of western sounds. Louiz Banks became actively involved with that movement, and other Kolkata-based musicians like Gonsalves and Pereira also shuttled between Mumbai and Goa, which had many foreign tourists looking for live music. Biddu moved to London to pursue pop and disco, and became famous with Carl Douglas's Kung Fu Fighting and Tina Charles' Dance Little Lady.
Mumbai also began hosting the Jazz Yatra in 1978, with the first edition attracting saxophonist Sonny Rollins and trumpeter Clark Terry, and subsequent line-ups including saxophonists Stan Getz and Satao Watanabe. Kitto and Hilt would visit Mumbai and play, but Kitto always preferred to stay back in Kolkata, which had become home.
His technique was admired by the purists, as inspired by the great guitarist Charlie Christian, he used a style blending swing and bebop. He also taught at the Calcutta School Of Music. and played with Rollins, Terry, guitarists Charlie Byrd, and Larry Coryell, and saxophonists Chico Freeman and Dave Liebman, both at the Mumbai Yatra and other shows in Kolkata.
Till the end, he preferred to stay in a small place on Kolkata's not-too-fancy Alimuddin Street. He passed away at age 74 after a prolonged illness.
A WhatsApp tribute by an anonymous writer said three things made him continue to stay at that place – "Mother Teresa's invisible presence at the Missions Of Charity located next door, its proximity to Park Street and the fact that he could catch a view of St James Church." Other tributes talked of his immaculate dress sense and his fondness for bow-ties, and about the charming way in which he spoke.
Truly, his death marks the end of an era, where music was played primarily for the love of it and to spread its beauty to audiences who had the desire to learn and appreciate.
By Narendra Kusnur
Narendra Kusnur has been in the field of journalism for over 30 years and has been a music columnist with Mid Day publication for 10 years. He has also worked with EMI Virgin as a label manager and later with Reliance Retail as a Chief Manager. He presently is a freelance journalist and writes for Mid – Day (Mumbai) and The Hindu (Mumbai edition).