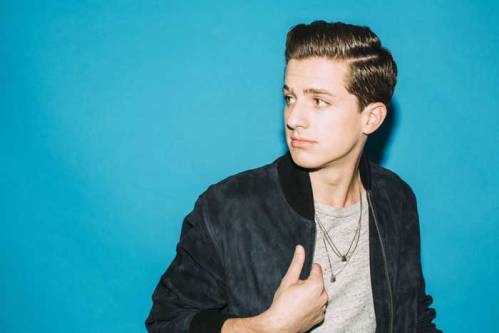 16th February, 2017
Charlie Puth - A profile
His debut single Marvin Gaye, made waves when it was released early last year. Though the young lad featured in songs by other artists, he came in to the spotlight only a while ago, and that is the reason we were also waiting for Charles Otto Charlie Puth Jr to bloom a little more until one find day we could put his story on our pages. And so here we are.
Charlie Puth might not be as well-known as some people in the music business. Maybe that's because he is only in his mid teens. Another reason would be that he is a newcomer who gained some fame by posting original songs to his hit YouTube channel, CharliesVlogs. Justin Bieber did the same and look where he is now.
Charlie belongs to a long list of young artists who have posted music on YouTube and became a star overnight. Charlie currently has over four million views and nearly half a million subscribers.
American singer Charlie Puth as we know himwasborn 2nd December 1991 to a Ashkenazi Jewish mother Debra and a Hungarian - German father Charles Puth. He's got two siblings a twin sister Mikaela, and brother Stephen.
No reason why he decided to use his middle names, but whatever the reason be, he is today a known face and voice in the music industry. The New Jersey lad, yes he is from New Jersey. Who else would you say is from this state. We have a host of them, The Jonas Brothers, Frank Sinatra, Bon Jovi, Whitney Houston, Paul Simon and Bruce Springsteen all hail from Puth's native state.
Always interested in the arts, the lad participated in a summer youth jazz ensemble in Red Bank when he was around 12 years old. He graduated from Rumson Fair Haven Regional High School in 2010. He took to music after his school days and playing jazz as a piano major and a classical minor. In 2013, he graduated from the Berkley College of Music, where he majored in music production and engineering on a full scholarship.
Puth started his own YouTube channel in September 2009, posting his own acoustic covers. Two years later, he won an online video competition.
Puth signed onto eleveneleven, a label started by Ellen DeGeneres that gives less known artists a chance for exposure. She actually looks for them on YouTube. That's where she found Charlie Puth. In October the same year Ellen DeGeneres officially announced that she had signed Puth and another singer Emily Luther to her label, eleveneleven, after seeing their cover of pop diva Adele's Someone like you on The Ellen DeGeneres show. On 25th January, 2012, they came back to show and performed Lady Antebellum's Need you Now and an original written by Puth titled Break Again (co-written with Robert Gillies).
The duo once again performed at another event supporting the world's largest bone marrow donor center, in October 2012. During all his live performances, Puth also began working on a few albums that were released on eleveneleven label. He has released two independent albums, 'The Otto Tunes' (2010) and 'Ego' (2013), but the records were later removed from iTunes after Puth signed to Atlantic Records.
Puth was credited with the production and writing of songs and jingles for fellow YouTube personalities and many other upcoming music stars.
His popularity rose when he collaborated with Wiz Khalifa on See You Again taken from the OST of 'Furious 7' soundtrack. The song topped the charts in 26 countries. Puth wrote, co-produced, and was featured on a song which was recorded as a tribute to the late Paul Walker While Khalifa wrote the rap lyrics, the rest of the song has been credited to Puth, who wrote this song for his best friend's death. Story goes that Charlie was asked to help write See You Again by his publishing company. It wasn't hard to accommodate the Artist Publishing Group because Charlie had also lost a close friend in a car crash. He was thinking of his friend as he penned the words. The song peaked at number one on the Hot 100 chart for 12 non-consecutive weeks and became a hit worldwide.
Puth is also credited with producing Slow Motion for Trey Songz and has arranged sessions with Jason Derulo and Lil Wayne.
Puth then decided to go it solo and release one of his own works and show to the world that he is someone. Backed by the imminent success of See you Again, he released his debut single, Marvin Gaye featuring singer Meghan (All about that bass) Trainor. The song topped the charts in New Zealand, Ireland, and the United Kingdom, and it peaked at #4 in Australia, as well as hitting the top 25 in the United States.
On 1st May, 2015, Puth released an EP Some Type of Love and a month later, he released Nothing but Trouble with Lil Wayne off the soundtrack to the documentary 808: The Movie.
In November the 24 year old released his debut studio album 'Nine Track Mind' with his second single One Call Away.
Fans who have seen Puth recall his unique eyebrows that have raised questions; he once tweeted and had stated that he nearly died from a childhood incident due to head trauma, and revealed that his right eyebrow is permanently scarred from a dog bite from when he was two years old.
Puth currently lives in Los Angeles, California and as of now he has no girlfriend, let me tell you we really searched and asked all out contacts, but no he doesn't have anyone. So now you know Charlie Puth is single and everything else you wanted to ever know about the cutest boy in the music world after One Direction and Justin Bieber.
He is the one artist to watch out for and listen to in the upcoming days. So tune in and get his album which is out now and available exclusively on Universal Music in India.
Trivia:
Height: 1.78 m Birth sign: Sagittarius
He has often been considered The Hunger Games star Josh Hutcherson's celebrity double.
He loves microwave pizza
In high school, Charlie never went to parties. Instead, he stayed home and coded software for computers in his bedroom. He says he had "no social life, just computers."
He claims he is an introvert and very shy.
n By Verus Ferreira