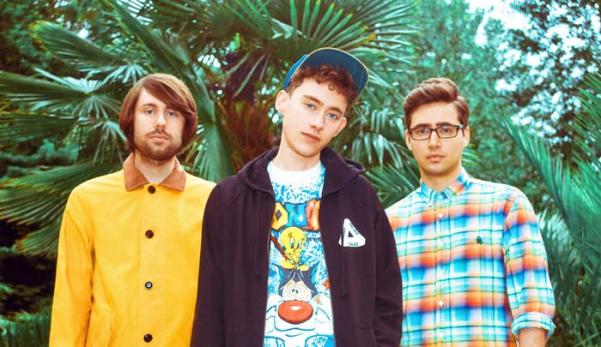 01st May, 2017
Years & Years – A Profile
There's nothing greater than discovering a new band that makes you fall in love with music all over again, and when I first heard Years & Years that is exactly what happened. Their hit King with its infectious groove, makes you want to hit the dance floor instantly.
Originally consisting of five members, British pop rock and electronica band Years & Years are a trio and based in London, the country of a body of talent. The band consists of front man and keyboard player Olly Alexander, bass guitarist and Australian native Mikey Goldsworthy (born on 1st April 1989)), and bespectacled synth player Emre Türkmen (born on 3rd June 1988). Years & Years' have been influenced by bands such as Diplo, Radiohead, Little Dragon, Disney Soundtracks and even 90s R & B.
The band was formed in 2010, after Goldsworthy moved to London to work as a waiter, he met Türkmen online. Turkmen was born in the Netherlands and raised in Turkey and England. Shortly afterwards, Alexander joined the band as lead vocalist after Goldsworthy heard him singing at a friend's house while taking a shower. The song that Alexander was singing was reportedly Killing me Softly. But before they could even take off, the band that consisted of five members including founding member Noel Leeman and Olivier Subria, split with Leeman and Subria leaving the band in 2013. But the duo were around when the band released their first EP I Wish I Knew, in July 2012 on the Good Bait label, with the band performing as a five-piece group. Goldsworthy's impulse was to be a close replica or be inspired by the music of Marilyn Manson and Nine Inch Nails.
Olly Alexander was born Oliver Alexander Thornton, on 15th July 1990. Besides his career as a singer now, he is also an English actor, scriptwriter. Alexander took part in plays and it is also reported that he wrote his first song on his father's Casio keyboard aged 10. His parents separated when he was 13 and he was brought up by his mother as a single parent. He nursed the desire to be a singer or a musician, but suddenly went to become an actor. Meeting Mikey changed his life around and the rest as they say is history. He is very open about being a gay songwriter.
Alexander's voice has been commented on for its unique tone, with the music being described as coming close to singer Nina Simone's folk styles. In 2013, with two members leaving, the group signed to the French label Kitsune Records as a three-piece and released their second single, Traps, in September 2013. Their third single, Real, was released in February 2014 and its music video featured an appearance by Alexander's 'Peter and Alice' co-star Ben Whishaw and the former 'Misfits' actor Nathan Stewart Jarrett.
In 2014, the group signed to Polydor Records (Universal Music in India) and released their fourth single, Take Shelter. The EP reached number 1 on the iTunes UK Singles Electronic Chart with the groups fifth single; Desire was released, peaking at No. 22 on the UK singles chart in December 2014. Success was slow in coming, but by then they had made a mark to a motley crowd where ever they went. Emre who is at the helm of writing the lyrics for all the band's songs, struggled to get the right hit to make what was to become a band who would be the 'most wanted' around.
In January 2015, Years & Years' sixth single King was previewed on BBC Radio 1 and selected as the Hottest Record of the day. Two months later, the single reached number one on the UK Singles Chart and also got them the coveted BBC Sound of 2015 award.
No one knows why they call themselves Years & Years, but the three members were also nominated for the Critics Choice Award at the Brit Awards in 2015. The band went from being unnamed artists to the band they've become known as today.
Emroe of the soulful electronic trio, once stated in an interview to a music website." We had a gig, our first ever gig, and we didn't have a name and so we were just sat in a room just trying to come up with a name. I think we were having tea and banana bread and then we just said it. I said it and no one grimaced and everyone thought 'oh that sounds kind of cool'."
On the surface, Years & Years' success story doesn't appear to be much different than that of any other breakout bands in this decade. Alexander's decision to live as an out gay man and come out in the open about it, just like balladeer Sam Smith, has given him a strength he never had to be a great individual.
In July, Years & Years announced their first album, 'Communion' which headed straight to the UK Album Chart at Number 1. Communion's biggest hit thus far, is the high-gloss anthem King that is not only catchy at the first listen it has an attractive video to go with it that is presently getting heavy airplay on the music channels. Another of their hit track is Shine upbeat as it is up-tempo,
The album is available in three formats, Standard (13 tracks), Deluxe Edition (17 tracks) and Super Deluxe Edition (19 tracks). The Standard Edition is available on Universal Music (India).
n By Verus Ferreira