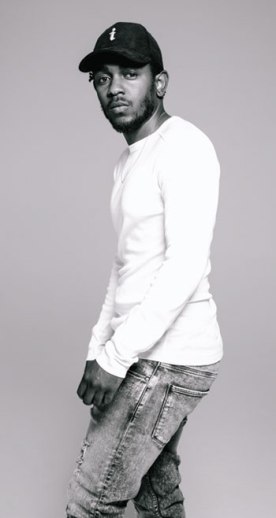 01st July, 2017
Kendrick Lamar - A Profile
He took home five awards on Grammy night, (he was nominated in 11 categories) - including Best Rap album - but lost out on the main one, Album of the Year, to Taylor Swift's '1989'.
But his success has seen him hob nob all over the place and even releasing very recently an eight-track album, 'Untitled Unmastered' (2016), comprising outtakes from the Grammy-winning 'To Pimp A Butterfly 'that didn't make the cut, thus making his discography count to four albums to date. Though it is a standalone piece of work, the tracks have no names except for the date they were recorded. He claims that he still plays these songs and also performs them live whenever he can. The album features a cameo from singer Cee Lo Green, while Alicia Keys' five-year-old son Egypt is seen on the track Untitled 07.
We are talking about rapper and hip hopper Kendrick Lamar Duckworth (who dropped his last name to perform as Kendrick Lamar). Lamar was born in Compton, California, on 17th June, 1987. His parents relocated to Compton from Chicago to escape the city's gang culture, although Lamar's father had been associated with the notorious Gangster Disciples gang once upon a time. Lamar grew up in this aggressive locality, but good for him; he never really took it up on himself to be part of it. He was a good student who enjoyed writing, first stories and poems, and then lyrics. Lamar has stated in many biographies that he has been influenced by the likes of Tupac Shakur, The Notorious B.I.G, Nas, Eminem, Mobb Deep and Prodigy being his top favorite rappers. He adopted the moniker K-Dot and began performing his lyrics as a rapper. At age 16, in 2003, he circulated a mix tape called 'Youngest Head Nigga in Charge', which drew a lot of interest in his native Southern California and beyond.
The project was enough to get Lamar a record deal with Top Dawg Entertainment, a respected California independent label. He went on to release two other acclaimed mix tapes, 'Training Day' (2005) and 'C4' (2009), steadily working with other up-and-coming West Coast rappers like Jay Rock, Ab-Soul and Schoolboy Q. Lamar and these other performers eventually formed their own rap collective, Black Hippy. In 2010 Lamar dropped the K-Dot tag and began using his own name. He also put out a fourth mix tape, 'Overly Dedicated'. That same year, Lamar released his first full-length independent album (July 2011) under Top Dawg Entertainment. Titled 'Section.80', it was released exclusively on iTunes and released later on physical format. The album features a host of guest's appearances from rappers and hip hop artists such as GLC, Colin Munroe, Ab – Soul, and vocals from late singer-songwriter Alori Joh. The production was mainly handled by Top Dawg in-house producers.
As a concept album that featured all of Lamar's five mix tapes he released, it features lyrical themes delivered by Lamar such as racism and medication tolerance. The album's lead single HiiiPoWeR received rave reviews. 'Section.80' received generally positive reviews from critics. The album sold 5,000 copies in the US solely based upon digital downloads within less than a week, debuting and peaking at # 113 on the US Billboard 200 chart with minimal mainstream media promotion and coverage. However some sources suggest the album entered at # 104. Within a two-week period the album sales had totaled to 9,000 copies. Lamar continued writing music and lyrics, and continued to tour and collaborate with more popular recording artists that were popular at that time which included Busta Rhymes and Lil Wayne.
Dr. Dre, one of hip-hop's most respected and influential producers, saw the immense talent in Lamar and took the young artist under his wing, becoming his mentor in both music and business. As the buzz on Lamar continued to build, Dr. Dre signed him to his independent record label, Aftermath Entertainment, alongside more established stars like foul mouthed rapper Eminem and 50 Cent. Aftermath was distributed by major label Interscope (Universal Music), which would have the marketing, sales and distribution muscle to take Lamar's career to the next level and make him the next rap superstar around. If you were to sample any tracks of Lamar, you would notice that he fuses a lot of musical genres into his music from, hip hop, rap, funk, poetry to a bit of jazz, noticeable in songs like Alright.
In October 2012, Lamar's highly anticipated major-label second album, 'Good Kid, M.A.A.D City', was released to wide acclaim. The album reached #2 on the U.S. charts and was considered by many critics to be the best rap album of the year. The album produced singles like Swimming Pools (Drank) and Poetic Justice which got him noticed. This paved the way for Lamar to appear on the American television show Saturday Night Live, Late Night with David Letterman and Late Night with Jimmy Fallon. This move saw him getting a lot of hip hop music lovers and young female fans. Practicing the Christian faith, in the introductory lines to his album, Lamar has included a form of the Sinner's Prayer. One of the songs on the album Control garnered controversy by rapper Big Sean, but it was soon ironed out. Soon after the immense success coming his way, MTV named him the "Hottest MC" of 2012 putting him in the company of other rappers who have earned the title, including his co - patriots Lil Wayne, Jay Z and Kanye West.
In 2015, Lamar released his third album, 'To Pimp a Butterfly'; Lamar brought in a few of his hip hop colleagues to work on a few songs. So on the album you have artists like Snoop Dogg, Pharrell Williams among many others. The title was blunt and spoke of community politics and weakness of another. Lamar has won seven Grammys in total career spanning 15 years. He received a total of seven nominations at the 57th Grammy awards (2015) including Album of the Year and won Best Rap Song and Best Rap Performance for his song i. Incidentally the rapper's song i discuss his Christian faith to which he belongs.
At the 58th Grammy awards this year, Lamar was nominated for a whopping 11 Grammys and won the first award of the 2016 show, specifically for Best Rap Album. (He'd already received four other Grammys pre-telecast, making him the biggest winner of the night). Lamar received his second Album of the Year nomination, but lost out. He went on to pass Eminem as the rapper with the most nominations in a single night and second overall behind Michael Jackson who holds the record of 12 nominations in 1984. Lamar was the most-awarded artist at the ceremony with five awards, including Best Rap Album. At his life performance later that night, he performed The Blacker the Berry and the repetitious Alright that fused spoken word, live jazz, traditional African dance and a reference to the death of teen Trayyon Martin.
Lamar has won many accolades for his third album 'To Pimp a Butterfly' with Rolling Stone magazine labeling it as the best album of 2015. Billboard magazine on the other hand put Lamar in the Top 10 Greatest Rappers of All-Time. Unlike other music stars who have a line of women after them, Lamar is a different kind. In April 2015, he got engaged to his longtime girlfriend Whitney Alford. "Damn" his fourth album is just out and is available on Universal Music (India).
By Verus Ferreira