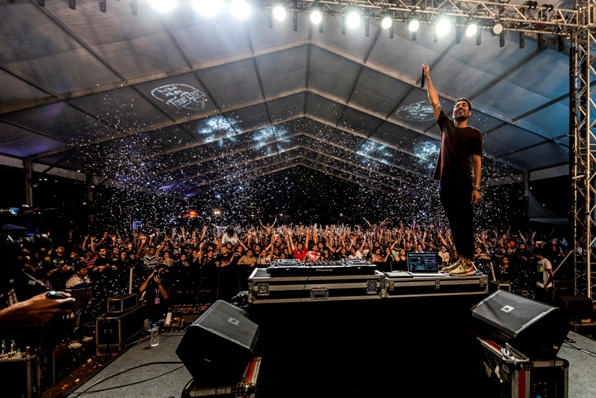 08th June, 2018
Mumbai's Top 20 Indie Acts - Part I
In a city that has grown on a staple diet of Bollywood music and cricket, change is inevitable. The repetitive music, inappropriate lyrics and booty shaking,are all over the place. No matter where you go, you will be bombarded with the same kind of music on the radio and the idiot box. The reason is that Bollywood music sells, and if you don't have it at your music festival, chances are the footfalls would definitely drop.
But the situation is changing albeit slowly. As we looked around,we found that the Indie music scene in Mumbai has changed since the last 7 to 8 years or so, with music lovers in Mumbai exposed to a wide variety of homegrown music from EDM sets, to folk, rock, hip hop, rap, beat boxing, alternative rock and electronica, which looks very promising. Mumbaikars seem to love the new experience. Music festivals that are now a regular feature all through the year,are springing new and upcoming artists who produce some outstanding music. Unlike a few years ago, costs for hiring a studio were steep, but now anyone with a good microphone and a laptop, can, sitting at home make a decent home recording which would work wonders. Relatively affordable software brings in less dependence on professional studios fees.
Verus Ferreira decided to track down 20 music makers who are not only playing at every club in the city, but who are also seen at every major music festival.
Sandunes
This electronic music project belongs to Sanaya Ardeshir, a Mumbai-based producer, composer and synth player. Her early influences come from jazz and blues, and her stint at the London underground music scene has defined her music. Ardeshir also released her nine track album'Downstream' in 2016.She has collaborated with on many artists and also co-founded Perfectiming - her duo with beat poet, Jivraj Singh. In February 2017, she co-founded DASTA - a beat maker's collective that focuses on DIY growth and empowerment through the arts. In June, she'll be touring the UK and Europe. Why the name Sandunes we ask. "My name is Sanaya, so 'san' was always a nick name. The guitarist of one of my projects coined the name Sandunes - and it just sort of stuck! I bought the domain name to the website a few days before my first gig and that was it."
Gaurav Raina
One half ofDelhi based Midival Punditz – aka Gaurav Raina and Tapan Raj who laid the foundation for eclectic Indian electronica, have a 20-year-old roster boasting of performances with everyone from Anoushka Shankar and Karsh Kale to Alicia Keys and Norah Jones. They have four albums to their credit and more in the making. Gaurav embarked on a solo sojourn with his act Grain in 2012. As a DJ, who plays cross-genre, experimental sets and explores new scenes and sounds, Grain's music flows from Electronica to Indian Electronica and Drum and Bass to Dub step. His credentials in Bollywood also name him as the composer of background score for many films.
Anand Bhaskar Collective
The band is also known as 'The Collective' or ABC and is headed by singer-songwriter Anand Bhaskar. The band is known for their power packed performances with music featuring an eclectic blend of Indian Classical elements and a dominant Alternative Rock Sound. In 2016, the five - member band won the Radio City Freedom awards 2015 - Best Rock Band Critics and People's Choice Award.
Ryan Sadri
What characterizes Ryan Sadri, saxophonist par excellence, is an alchemical ability to put tone, texture and rhythm to the best use wherever he performs. His regular gig at Café Zoe brings about some futuristic stuff you may have never heard before. Sadri knows so much; he can play whatever he wants. He's not flamboyant. He approaches the instrument to communicate, through the language we know as jazz and beyond. Sadri who plans to release an album this year says "When I play music, it's without thinking about genre. It's the listeners and critics who put them into boxes". Sadri is gearing up for International Jazz day on 30th April with a special gig at Café Zoe.
Madboy Mink
Mumbai-based funk-nu disco duo, well known for their distinctly unique mash up of electro and funk with old school Harlem swing, consists of Imaad Shah (Bollywood actor Nasruddin Shah's son) and Saba Azad. "We aren't associated with EDM, we like to do more of electronic music, not the most banging EDM. Vastly live and vastly EDM too" states Imaad. The duo also incorporates live guitars, synthesizers, vocals and vocoders to create a sound of their own. Shah first shot at electronica was in 2010 with his solo project, Madboy, while Azad lent her vocals to guitarist and Blue Frog co-founder Ashutosh Phatak's The Petri Dish Project besides guesting with acts such as Blackstratblues. Shah toyed with the idea of a music project when he heard Saba sing. The duo joined in together and formed a band Madboy/Mink an extension of their solo outings. The duo has their own careers as theatre artists too and devote time to it when time permits.
Sanam
Fusing their own brand of energy with some incredible melodies, pop boy band Sanam has reached an impressive peak in their career. The group of four members consisting of Venky S on bass, brothers Samar Puri on guitars and frontman Sanam Puri, Keshav Dhanraj on drums, have become the biggest music sensation in India. Knowm for their versatility, the band sings not only cover songs of other artists, but have a solid base of their own songs too. The band tasted success when they won a talent hunt and were known as SQS Project, that later became SQS Supastars, which finally changed to Sanam.The band's YouTube channel has surpassed a staggering 11 million views per month and 100 million lifetime views. Subscribers to their channel and fans on their Facebook page have also grown aggressively crossing over a million cumulatively.
Papon
Almost 10 years after he set sights on Mumbai Papon (Angaraag Mahanta) is hot property. A very gifted music artist, this Assamese native has performed all over the county. In 2012, he won the GIMA Award for Best Pop Album of the Year for his debut Hindi album, 'The Story So Far' and the same year he also won 2 awards at the JD Annual Rock Awards. His initial training has been in Indian classical music and traditional music (religious and folk) from Assam. His experiments include elements of ambient electronica, acoustic folk, Ghazals, new-age, and Indian classical music. He has also done a lot of work for Bollywood.
Maati Baani
Nirali Kartik and Kartik Shah that make up Maati Baaniare inspired by Hindustani classical music, but they often collaborate with artists from various countries which adds a certain freshness to their music.Recently they collaborated with 150 plus musicians across the globe through internet on Michael Jackson's classic 'Heal The World' sung by children from all over the globe creating a soul-stirring impact through the message of the song. On Mhaari Re Mangetaranother social-media led collaboration the duo gives a funky twist to the age-old popular Rajasthani folk song.
Kanchan Daniel and the Beards
If you are looking for some really cool homegrown blues, Kanchan Daniel is the band to listen to.This four-year-old band comprises of vocalist Kanchan, Mukesh Lobo (keyboard), Anand Kamath (bassist), Varoon Iyer (drummer) and Kush Upadhyay (guitarist). Kanchan, who is a clinical psychologist during the day, claims to have had no formal training in music, but her powerhouse vocals are something to die for. They The boys who usually sport beards (that's why the name), give a new feel to the rock blues, classic neo blues rock with soulful vocals, catchy bass hooks and blues guitar licks. The band has performed at various gigs in and around Mumbaifrom NH7, Echoes of the Earth (Bangalore) with Bandcamp this week. The next time you hear them, they will be playing their new singles Highland garden, What's it gonna take and Blackheart.
Nucleya
He is a one-man army under the onstage alias 'Nucleya' and is regarded as a pioneer of the dubstep genre in India. Beginning his career in the late '90s as a co-founder of Bandish Projekt along with friend and long-time collaborator Mayur Narvekar, Udyan Sagar which is his real name, decided to switch places with BP to 'work with different styles of music'. His songs Aakkad Bakkad, Bhayanak Atma, Bass Rani, Jungle Raja, Chennai Bass, and screen projections are something to look out for.
To be continued....