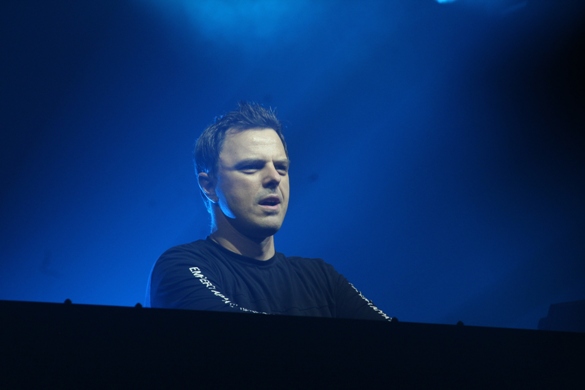 01st January, 2018
"I take back memories of my Indian fans": Markus Schulz
Markus Schulz is arguably a legend in the trance scene. With over two decades of DJing experience, being an international star in the Trance community and getting into many projects, Schulz is gearing for the New Year. Markus sits down with Verus Ferreira to discuss his career over the years, his upcoming album and plans for 2018.
Markus, you've played at clubs and music festivals, what makes the two different and which do you prefer?
The festivals are like when you go to a shopping centre and you see a window and you can see what they sell inside it. My festival set is like a window of who I am as an artist. When you go in to it you realise there is so much more there. I love playing festival sets because its so much more fun and there are fans out there discovering you and you just put on the best show you can, but in the clubs you like have to do really long sets and I have to spread my wings and fly a bit.
You had written a song called Destiny, what is the story behind it?
It's a true story, the lyrics are about two people meeting for the first time and at that moment your whole future hangs there before you, What are you going to do, do you brace the moment or are you gonna shrug it off and move and continue on the path that you are on. But if you embrace that moment, it changes your whole life and that's what 'Destiny' is all about. I met Adina Butar, and it felt like I knew her for many many lifetimes. The opening lines in 'Destiny' are ...Hello how did you find me, where have you been hiding.... I knew she was out there and when I finally found her, I'm like, 'O my god, where have you been', it's like an old friend you haven't seen in awhile and you have been looking for.
What is the most valuable thing you have learnt in the last 20 years of being a DJ?
The most important thing is what comes out of the speakers, all the politics, all the drama that happens behind the scenes and there's a lot that happens here in the trance scene, but the most important thing is what the fans hear and what's coming to the speakers.
You are also the founder of Coldharbour recordings, run a management company and also have own mix series. How do you manage to balance all this?
I have a great team of people who are working with me. We have a vision of finding likeminded musicians and DJs that like the same frequency that I want. We have a circle of likeminded DJs and producers, and it's great because you can make them collaborate with each other and everyone clicks with the same frequency.
You started off in the late 90s and we are nearing 2018, what do you think between then and now?
Well I was a teenager back then just learning my way, and I think it felt like another life. Just working in the studio, gaining enough knowledge that I can; now here I am considered a legend. To go from looking up to these amazing musicians Danny Tenaglia, David Morales, Jentil Bar and Jam and Spoon, these are artists I used to hold really in high regard and now to be in the studio with them, it's just amazing, kind of a full circle for me.
What are your musical selections after a tied day?
Lately I have been listening to a lot of soundtrack stuff, Hans Zimmer, Jeremy Soule and stuff like that. I just think that musically that I am trying to challenge myself and those kinds of artist and that kind of music, opens my eyes and challenge me quite a bit.
Do you have family back home?
Yes, I have brothers in Germany and I have a brother in the United States, my mother and my step father live in Arizona, and my father he lives in Germany and so yeah I have family all over the place. (Laughs)
With 2018 around the corner what are your plans for the New Year?
For the New Year I am doing a new album. I absolutely love the artists that I am working with right now, some names you might have already heard like Emma Hewitt, Nadia Ali, Nicki Flores, Brooke Tomlinson and a few others. In the past I would do an album and once it's released, I would take like six months off and then go back in the studio again, but ever since I finished the album 'Watch the World', I just kept going, I did the 'Dakota Nine Skies' album which just came out this week, and now I'm just going back into this new album project as well. I feel really good because I am at a great flow right now.
You have visited India many times, what is that you love and makes you want to play here every time?
India is a fantastic and passionate place. You don't see a crowd like this very often, it's very different in a lot of places like in Tommorrowland or Electric Daisy Carnival in the US. When I see the Indian flag, it's nice to see people come from all around the world and so I think I have to do my part and come to India and show my support as well.
What memories are you going to take back from India?
I think I just take great memories when I come here. I see the crowd and my Indian fans.