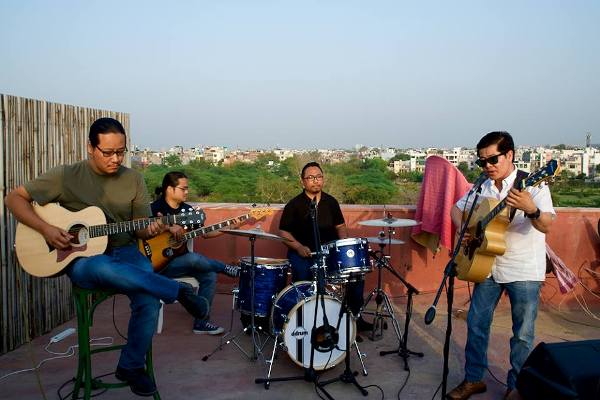 17th January, 2018
Simply The Blues: BLU
While we hear of many music competitions searching for pop and rock bands, very few look for the ultimate Blues bands. 2017 saw a battle of bands to unearth new and original Blues talent, which received an overwhelming response with entries from bands across the country. Two year old band BLU from Delhi, offered a fresh perspective on the Blues and alternative music and were declared winners at the Mahindra Blues Band Hunt 2017 which got them a chance to perform at the Mahindra Blues Festival 2017.
Verus Ferreira does a telephonic interview with the band members.
So how did the band come together?
Pranai Gurung: I saw Kapil in Balcony TV three years back with his solo project. I was interested with his sound and invited him for a jam. Rahul, Chewang and I have known each other for a long time and have played with different setups. We also have a similar taste in music, so it was a natural choice for me to invite them. It's been two years since our first jam.
The band formed in Darjeeling, but now based in Delhi. Why the shift?
Pranai:Actually all of us have been here in Delhi for over a decade, so technically this band was formed in Delhi, though we are all from Darjeeling, Kalimpong and Kohima.
Has there been any lineup changes down the years?
Pranai:No changes yet and we would like to keep it that way. We have Kapil Chetri on vocals and guitar, Rahul Rai on bass guitar, Chewang Lama on drums and myself Pranai Gurung on guitar.
Do all share the love for the Blues or do you also have other influences?
Pranai:Kapil is primarily the Blues guy who has been into this form since his school days. Rest of us started out with straight ahead Rock and Roll and later got interested with other forms as is the case with lot of other musicians. Now we know that most forms of music have its roots in blues.
Rahul: Yes, Blues is the common denominator.
Do you also shift to pop and other genres to provide a variety?
Pranai:Yes we've been trying to get different varieties but never thought about doing it for the purpose of doing a sell out during a show. We do try to pull in different ideas to make it appealing and gratifying to us and then hopefully that should transcend to the listeners. Piedmont to country to mountain to Chicago and modern blues, we've been trying our hands with all forms but within the idea of what a Blues is.
Do you play covers of Blues artists or are you into original compositions?
Rahul: We are a bit of both as we do play our original music and do cover a lot of Blues artists.
Pranai:We work on different grooves, arrangements (pauses). Blues like jazz has space to exercise improvisation and is inclusive.
Kapil: In this genre there is so much to borrow, take a little maybe if possible from one another. Covers, renditions by contemporary artists, bands are really essential to keep this genre alive. For example, when you listen to Gary Clark's song My Baby's Gone you can just feel the great Elmore James in it. So in a way Gary is keeping Elmore's music alive.
Pranai:We do like to interpret works of other Blues Artists in our best possible way. We have about four originals going as of now; three of which are heavily influenced by the old school country blues finger-style and the other one Delta Dreaming has a lot of Texas Blues style flavor in it.
Have you also released any albums, EPs, music videos to date?
Pranai:We finished recording two original songs in Kathmandu, Nepal and we hope to come up with the final edit by the end of this summer. We also hope to come up with an album by year end or release an EP. We have some videos of our performances on YouTube and other social media platforms. The latest video is an original on Balcony TV Delhi titled Stay.
You were selected as winners at the Mahindra Blues Festival this year. Can you tell us a little bit about the competition?
Pranai:It was a great experience and we are grateful to our friends and well wishers who encouraged us to take part in the competition and supported us. The team selected three bands for a final round. We had to perform three songs each at the final. The judges Ehsaan Noorani and Loy Mendosa selected us as winners. We played at the festival on both days. We believe more bands should get selected and also the ones selected should be given the bigger stages alongside main artist. There is so much talent here in India. There could be more than one band good enough to play at such a festival. Also it's a big platform and it really helps the band with exposure.
Do you think there were other bands who also had a chance to win?
Pranai:From the list we saw and heard there were few who were good and deserving. NokNok from Delhi were deserving and also Pennytrait from Darjeeling sounded good.
What do you think made you the ultimate winner?
Rahul: We played a tight set as a group and also what Kapil brings in to the band is quite unique in today's time. When everyone is looking for a modern sound he is the other way round, older the better.
Pranai:We did an original and also did our version of Mississippi John Hurt's Make me a pallet in piedmont blues style with room for everyone to improvise. Maybe that caught the judge's attention.
According to you, what is the Blues?
Kapil:Everyone has an experience to share; some beautiful, some painful, some hopeful, and that's Blues.
Who have been your influences ?
Kapil:Rory Block, Keb Mo, Taj Mahal, Kelly Joe Phelps.
Rahul:Honestly everything that I listen to and also the people that I get to play with.
Pranai: Miles, Coltrane, Monk, Wes Montgomery, John Scofield, Pat Metheny. I play with a lot of groups that work with different genres and it's always a challenge to justify the style. Last two years has been a lot of old school blues.
What do you think about the current Blues scene in India?
Rahul:There area few groups that are still actively playing this style of music.
Pranai:We didn't know of so many active blues bands till we saw the contestants. So it's a positive sign.
Who is your inspiration in India to play the Blues?
Kapil:There has been a lot good people that has come my way and inspired me a lot, but the one person who really inspired me to play blues is Rudy Wallang of "Soulmate".
Pranai:There have been many people who have inspired me including my father.
Do you guys have regular jobs besides playing in the band?
Pranai:Yes most of us work during the day as teachers either in some schools or institutions or as private instructors. We are also engaged with lot of different groups that keeps our schedule busy during the month. All of us session with many bands and get engaged with studio work.
What are your future plans?
Pranai:We want to try to get through some festivals in India and other places. We also want to play pub gigs as that can help us make the music more cohesive.