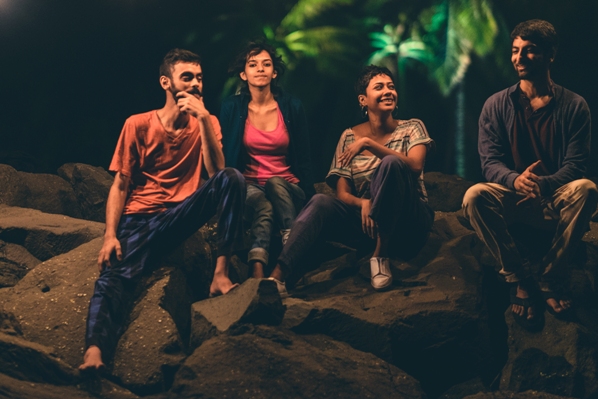 15th February, 2018
Cool Cats – Run Pussy Run
Our first brush with Gowri Jayakumar was when we saw her performing with her band at a music event earlier this year. Gowri has been around in the Indian indie scene for a while now, chucking a stable job as a journalist, for a career in music. And if you thought she made the wrong decision, going by her career graph, she certainly knows what she is doing.
Jamming with her smooth as silk alternative outfit, Run Pussy Run or collaborating with other indie artists, the Pune and Mumbai-based quartet are a regular on the indie music scene. The band won the Project Aloftstar MTV Asia Awards in 2015 along with a "Best Song writing" certificate at Hornbill International Rock Contest, Nagaland, the same year. Gowri who plays guitar and does vocals, formed the band sometime in 2014 and has since never let go of her guitar. She has written songs with her band and made music videos. Her burning fire to be a musician has taken her places.
Verus Ferreira spoke with Gowri a few hours before she went on stage at a music event to know more about her music, the band's debut music video Roaches and also the upcoming EP due to be released next month.
So how did music happen for you? Tell us about your early days?
I have been playing guitar for many years, even while I was a journalist. I quit to play music full-time, and have been doing that for over four years now.
What genre of music were you looking at performing when you formed Run Pussy Run and how did you meet the other members of the band?
Run Pussy Run plays a genre that we like to call "freak funk". Spoken word, harmonic drifting, versatile grooves and rhythms, and a focus on creating a musical storytelling experience marks the band's signature sound.
What do the other members of the band do besides music?
Everyone's a fulltime musician. Gouri Ranjit is also a piano and vocal teacher at a few schools in Bombay. I know Vaibhav Jaiswal (drummer) and Gouri Ranjit (keys, vocals) from this music school I studied at Swarnabhoomi Academy of Music and as for Azan Sherif (bass) well he is Vaibhav's flatmate.
What do your songs speak about, and how do you go about composing and making the song?
Song writing is a very private process for me, and typically stems from life experiences. However, once the seed is planted, I bring the idea to the band, and they start piecing it together with their perspectives, skills and influences. The upcoming EP (to be released in December) features songs like Roaches - about an obsession with a fear of cockroaches, Long wait to death, about just being defeatist and depressed sometimes, even when things are going good, one fails to see a glimmer of hope, and Octopus Mother a reflection of a spiritual experience I had in one of my travels. We are also working on a new song inspired by all the pet cats in the lives of the band members. I am the only one without a pet.
Surely you might have been asked this many times, how did the name Run Pussy Run come about?
I feel the name is like water, and can be moulded to one's interpretation, but I had written a song called See the pussy run, which explores the subject of emotional cowardice. Being female, I thought it's also good advice to my sisters.
You also have two other projects, 'Kozmi Cow' and 'Pulpy Shilpy'. Can you tell us what these two projects are about?
Kozmi Cow is an old nickname I used to have, and released my first album under this moniker. I don't use it anymore, it represented my singer - songwriter-acoustic works. Pulpy Shilpy is my electronic and music production project. It's still work in progress and I just released one song called Kaadal mannan as Pulpy Shilpy.
Being Pune based, how do you manage to co ordinate with your band mates in Mumbai for gigs and rehearsals?
It's been a lot of to and fro. Fortunately, when I come to Bombay, I have a space to stay with my band mates; typically I stay with Gouri Ranjit. It's been a bit hectic, booking jam rooms, covering travel, but we have managed to finish writing all these songs. It's just a matter of time before we release all of it. So it's all worth the effort.
As a soloist you have also dabbled into Bollywood and a bit of ad commercials sometime back.
Yes, I have done a bunch of jingles, hard to list them out. I have sung in two Bollywood songs Bach ke Bakshy by Sneha Khanwalkar for 'Detective Byomkesh Bakshy', and Hai tu by Alokananda DasGupta for the film 'Trapped'. I love studio work; it challenges me and opens up my attitude.
Do you plan to bring out an album of your original songs in the near future, starting with your new single Roaches?
It' all originals. So we released our single Roaches with a music video. The video launch was supported by two gigs which took place in August this year. The video is a collaboration between the band and Pune's Let's Make Better Films (LMB Productions) and Talera Institute of Fine Arts (TIFA). The song also features multi-instrumentalist Jose Neil Gomes on violin. It was a lot of fun, hard work, and a learning experience. The non-animated scenes in the video were shot at TIFA in Pune. The team we worked with were super efficient and professional. Since it's a collaboration, the video is largely the vision of the filmmaker Anurag Ramgopal, with bits and pieces from us. Following this release, we hope to crowd fund for the remainder of the EP in December.
But how did you actually draw the concept for the video with the idea of the cockroach?
The cockroach is truly just a metaphor for our addiction to living badly. Not living fully, to be comfortable with our fears and insecurities and lack of enthusiasm. On the surface, the song explores the protagonist's addiction to her fear for cockroaches, and at a metaphorical level, it explores emotional dependence on uncertainty and insecurity. The song is available for download on iTunes, Spotify and other platforms and the video on the band's YouTube channel
Musically, as an individual and together as a band, what is you final goal?
No final goal. Just plan to keep creating and keep sharing with all our listeners. It is for them that we do what we do. Else I'd just be home writing for myself and not trying to get it out there. But there have been those that have come for our gigs, listened, waited, anticipated. And I just feel tremendous joy in having something to give back to them.
What do you think of the current indie scene in the country?
I think I am in it.