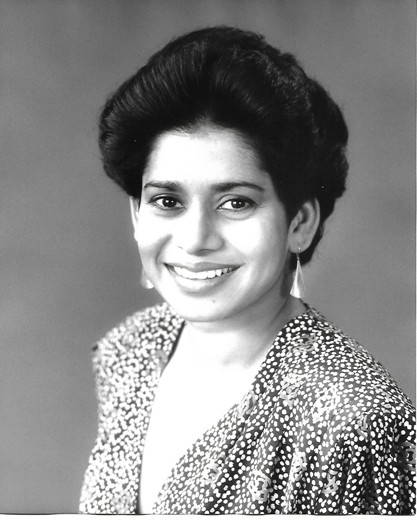 15th March, 2018
The Indian face of Opera = Patricia Rozario
Award - winning Indian soprano singer Patricia Rozario, OBE went on to study at the Guildhall School of Music and Drama in London and has performed at major venues all over the world. She also performed at Wembley stadium when PM Narendra Modi visited London. One of her most notable appearances was across Europe in The Marriage of Figaro conducted by Sir George Solti. She has also given concerts in the Royal Opera House in London, and performed when our very own Royal Opera House in Mumbai reopened last year. Rozario has made numerous recordings of the works of composer John Tavener. She is currently a professor at the Royal College of Music, where she is a member of the Vocal Faculty.
Can you take us through your musical journey? When did you decide that opera was going to be your chosen path?
Although I was singing publicly from the age of seven, I never really thought of making a career in Western Classical Music until I had been studying for four years in London and won a few prizes. Noticing people's reactions to my singing made me feel it was something I could do well. I needed some definite signs that I could make it before committing to this life. However in 1979, I met a pianist at the Guildhall School of Music, Mark Troop, and 2 years later we were married, thus my path in music was decided for me.
What childhood memories do you have with your family?
One of my childhood memories was hearing the voices of the great opera singers as I lay in bed at night. My father would listen to his records after we had gone to bed and I would lie awake listening to Caruso, Tito Gobbi, Maria Callas, Renata Tebaldi, Nicolai Gedda, Joan Sutherland, Victoria de los Angeles and several others. When my father visited Italy on work, he would bring back recordings and music of various Operatic Arias. When my voice started to get stronger and develop a good quality, I was able to learn some of them.
Can you describe the role your parents have played in your journey?
My mother had a lovely soprano voice and played the piano extremely well. She taught us all to sing, my 4 brothers – Francis Andrew, me, Peter, Collin and John Charles. My father had a tenor voice and loved to learn and sing Italian operatic arias. He also played the classical guitar and used to serenade my mother on Calangute beach, Goa, in their youth, so I've been told. We were encouraged to perform whenever we had visitors and at every party and family gathering. We sang together as a family in 4 part harmony. My parents encouraged us to take part in a local music and Drama festival SCADAMS, in Santa Cruz every year. Once I finished school and went to Sophia College to read English and French at undergraduate level, my parents put me in the care of a private singing teacher in Mahim, Mrs Bickoo Mehta, who had studied singing with an Italian during the war. After finishing my BA degree, I went the study at the Guildhall School of Music and Drama in London. My mother was very keen for me to pursue music, but my father was cautious and reminded me that I should study for 3 years and then return home to settle down.
So from Mumbai to London. How was studying music there?
I studied for 4 years at the Guildhall School of Music and Drama, followed by one year at The Opera Studio, in London. One continues to study through ones performing years too. My singing teacher Walther Gruner introduced me to the vast repertoire of German Lieder and I loved singing this music. He was always surprised that a little Indian like me could sing German Lieder with the right feeling and sense of style. He encouraged me to listen to singers like Victoria de los Angeles and Illeana Cotrubas and I learned a lot from their recordings. I was awarded a gold medal when at the Guildhall School by a famous English artist called Peter Pears and he invited me to come and study with him at his school in Aldeburgh, but I simply could not afford to pay for it and had to stay away. Something I have always regretted. I did Master classes with Hans Hotter and Hugh Cuenod in German Lieder and French Song and they were very helpful.
As Goa's most famous classical music export you were bestowed with the prestigious fellowship of the Royal College of Music (RCM) in 2012, thereby becoming the first Goan and only the second Indian (after Zubin Mehta in 1989) to feature on the list.
I don't pay much attention to awards but it is nice to know that people value the work that one has done.
What opportunities did this honour open up for you?
It is quite a significant honour and people are impressed when they find out. I imagine it makes people more approachable in social situations.
The Royal Opera House in Mumbai reopened last year after a gap of over 23 years. You performed at this place at the reopening of the venue. What memories do you have of the place?
I remember the Royal Opera House as a bus stop on the way into town. Once I started singing seriously, I always wondered what this place must have been like when it was first built. I heard that it was a cinema for a long time. About 4 or 5 years ago I heard rumours that the Opera House was going to be renovated. I asked friends to find about it but everyone drew a blank. Last July or August, while in Mumbai, I received an email from my friend Sanjoy Roy, introducing me to Asad Lalljee and we met. I was surprised to hear that the Opera House was being launched without any music and I suggested that they should have a short programme of music. I was invited by the Maharaja and Maharani to perform a 30 minute programme of Operatic Arias and Songs and my husband Mark Troop accompanied me on the piano. That was a most precious gift that I never imagined would come my way.
Can you tell us something about your own family back home in England?
In London I have 2 beautiful children; a daughter Olivia and son George A small family compared to all the cousins and Uncles and Aunts that I had in India.
With husband Mark Troop, you started Giving Voice to India, a vocal course. Can you tell us something about this?
We started Giving Voice in 2012 in order to share vocal technical ideas and raise the standard in India. We run a 5 day intensive course where 14 students work with us for 6 hours a day, exploring technique with me and working repertoire with Mark, who also deals with languages, style and interpretation. They record their sessions and also work with the teachers that we are training in order to have continuity until we return 3 or 4 months later. It has been 7 years and we have discovered quite a lot of excellent talent. We have also put on a few concerts and 3 Operas for the students to take part in. The latest was the Secret Marriage by Cimarosa at the Royal Opera House Mumbai, 4 sold out shows that everyone enjoyed.
What are your future plans / performances in this year?
On the 25th and 26th October Mark and I shall be taking part in a new festival Da Capo Sammelan, which we launched last year. This will be possibly in Old Goa. Then we return at the end of December to teach singing in Mumbai, Goa and one other city in the country.
Interviewed by Verus Ferreira