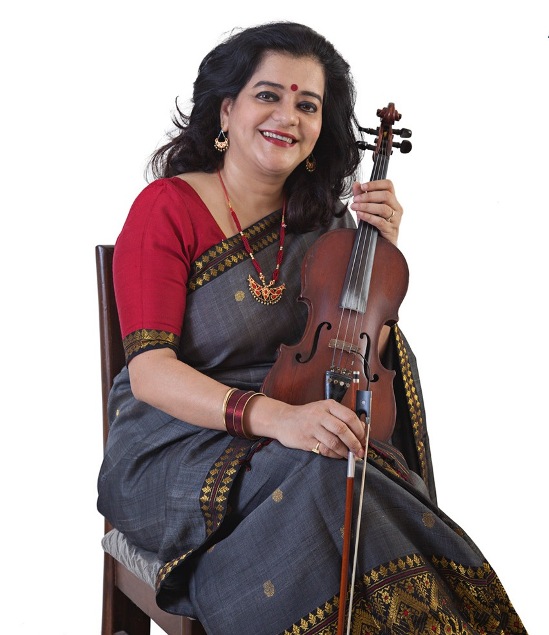 15th April, 2018
Joy Giving Fiddler – Sunita Bhuyan
Sunita Khaund Bhuyan is an award winning violinist and a household name not only in Assam but all over the country. Her energetic and soulful live performances put you in a spell. Sunita is a recipient of the Indira Gandhi Priyadarshini Award for excellence in music. She enjoys experimenting with light classical and folk fusion to reach out to a diverse spectrum of audiences. Sunita is also the Ambassador for "Joy of Giving" for Mother Teresa's campaign by Don Bosco. Infact in September 2016, she travelled to the Vatican for the canonisation event of Mother Teresa and received a 'blessings award' from Pope Francis for her work on music therapy with underprivileged children, cancer patients, and people with disability.
Verus Ferreira met up with Sunita Bhuyan a few hours before her performance at the Paddy Fields folk and fusion music festival held on the weekend.
Sunita, let's go back to Assam and tell us how music began for you.
I am an Assamese, born in Shillong and brought up mostly in Assam, Orissa and now in Mumbai since 18 years. Schooling was in a picturesque tea town in upper Assam called Dibrugarh in Little Flower School. I attended the famous Cotton College in Guwahati and did my MBA from the Gauhati University, My father Kabin Khaund is a qualified lawyer and my mother Minoti Khaund has been playing the violin for over 55 years now. My brother Pabitra Khaund a very talented singer. Childhood was a flurry of school exams, followed by music exams, visits to Kolkata to Pandit V.G.Jog's classes, evenings at concert halls either to watch my mother perform or other great musicians from different gharanas and styles. It was as though it was a way of life and the only religion. It has been more than 35 years since then.
So would you say your mother was the inspiration to take up the violin?
Yes I will. Music is a journey that has been a part of my life since I was 8 years old. It was a gift painstakingly given to me by my mother. At that time I did not realise the depth of the subject. As a young girl, I looked at it as something that took away time from my fun and friends. The violin which was my medium of learning is a tough and complex instrument and can be overwhelming for a beginner. It was a blessing that I got to learn the right technique at home thanks to my mother, my guru and was able to generate a few sounds soon after the initial years.
Do you feel that being the daughter of a music legend (your mum) puts added pressure on you?
There is absolutely no pressure... first of all it's a huge advantage to have your mother as your guru. Then again the legacy of a musicians' family as well as the gharana of Pt. V. G. Jog opens up many doors for us. The only pressure that I have is that I should not dilute my music and ensure that I don't play around when I play classical music, as my mother is a purist and I want to ensure I respect the discipline especially when one tends to carried away with the confusion of fusion
Do you remember your first appearance on a stage?
Town with my mother.
Do you always play as a soloist or do you have a fixed group you play with?
I have a very good group of musicians who always accompany me. Bhushan Parchure on tabla, Umar Khan on keys, Amar Sangam on guitars, Varun Sunil and Ameya Naik on percussion..I also have a group in Assam as well as in Delhi. By Gods grace I have collaborated with some really good artists like Pt. Vishwa Mohan Bhatt, Shivamaniji, to the all women concept E Factor that has artists like Saskia de Has, Merlin D'souza, Debopriya Chatterjee, Anuradha Pal, Swarupa Ananth, Isheeta Ganguly who joined me for women centric events.
What type of violins do you use at your shows? Do you have or use any rare violin?
I use an old German violin which was assembled by Mondol in Kolkata and certified by Yehudi Menuhin. I also have a sleek electronic violin which I carry but don't end up playing. My mother has given me her antique Czech violin which is 70 years old.
How many hours a day do you practice?
Not like before. But you have to give a few hours to be in form. The more I tour and perform I feel I need a break to take it all in and internalise the learning's or come back to form. For a classical musician nothing can compensate riyaz
What projects are you involved with currently?
I have just designed a leadership program through music for KPMG Learning. Academy called Khyal. Excited to start this though have conducted my program Sahakriya for several business groups One music video is in the anvil much to my friends pushing me. I don't have any you see. I would love to prove that "jo nahi dikhta hai, who bhi biota hai" (Laughs).
Is there any concert or event that you feel was a breakthrough for you in your career?
I kept wishing for breakthrough events and overnight success till few years back, but nothing happened. Jokes apart, my career has been slow but sure with certain milestones than breakthroughs. I started by accompanying my mother as a classical musician in various prestigious festivals and when I moved to Mumbai I stared conducting workshops for children and executives on the benefits of music. In the meantime I started working actively in Scotland and England and started incorporating Scottish folk, fusing it with Assamese folk. Another discovery was a wide range of ragas in Bollywood and then gradually moved to performing theme based events on women and diversity. At a women's event in 2010 in Mumbai, Gauri Yadwadkar of Times Music heard me playing Bihu on the violin and invited me to record an album with original Bihu numbers. This was a turning point...which broke a lot of myths...that folk can be played on the violin; a classical musician can also entertain and make people dance.
What genres of music do you love playing and what are the toughest?
I love playing folk fusion, Gallic (Scottish) and am somewhat learning to play Indo Jazz. I have promised my mother that I will focus more on classical which is of course the toughest. I am trained in classical in-depth and feel that nothing can be as deep and serene like it. But when 90% of the world wants you to play contemporary what does an artist do, you get sucked into the wave.
Do you have any favourite place where you are eager to play?
Royal Albert Hall... I have an invitation to go to Kargil which I hope works out
An artiste you look up to?
Dr L Subramaniam and Yehudi Menuhin have been my role model while I am simply awed by Vanessa Mae.
What's your dream collaboration?
Ustaad Zakir Hussain and Stephen Graphelli.
Do you have a family in Mumbai?
Yes my husband Surajit and son Ronojit who is an avid piano student of western classical.
What advice will you give to someone who wants to learn to play violin?
Never underestimate the power of softness and elegance, both in life and in music. Such a small and light instrument...it can create havoc on stage when needed and make people cry too.