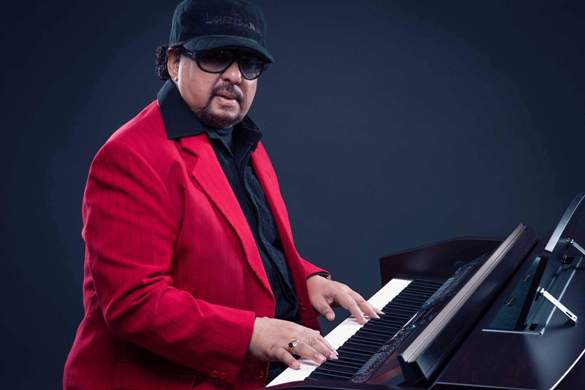 02nd May, 2018
India's very own Louis
"Man! If you gotta ask, you'll never know!" Louis Armstrong once opined in response to the age old question, "What is Jazz?" This is as apt an answer you are likely to get if you should ask this question. But then we thought, why not prod the best ambassador of the genre, the Godfather of Indian Jazz, Louiz Banks and see what he has to say.
With International Jazz Day falling on 30th April. Verus Ferreira goes back in time with 77 year old Louiz Banks to talk about his life, the journey of the relationship between jazz and India and the future of the genre in India.
Going back in time, tell us a bit of your childhood days and the music that influenced you?
I started off learning classical piano with my dad and went through all the grades of Royal School of Music syllabus tutored by my dad.Thena major transition happened.At the age of thirteen, I was taken to play alongside seasoned musicians in my Dad's band in the gymkhana club in Darjeeling, straight into the lion's den and that's when my hands on training began as a professional musician. I was already playing trumpet by that time,which was a great learning experience.I was also playing dance band style of swing music till one day my dad introduced me to the music of the great jazz pianist Oscar Peterson and my life changed. I went crazy and wanted to play piano just like Peterson. I was discovering the real jazz stuff and I loved it.
You changed your name from Dambar Bahadur Budaprithi to Louiz Banks. Why and what difference did it make to your life?
That's my Nepali name, but I never ever used it because my father began to call me Louiz, this was in Calcutta where I was born, and dad was already using his vocational name as George Banks and I became Louiz Banks, after the great jazz trumpet player Louis Armstrong. That's why I took up the trumpet. I guess the name change made a big difference because it was easier topronounce and was catchy.
So where did the first steps of music really begin?
In Darjeeling with classical piano and trumpet on the side.
What was the music scene back in Darjeeling and how did you proceed from there?
Darjeeling is a small town, but because it had all these great tea gardens which were managed by English people,there were quite a number of foreigners looking after the tea estates and they used to frequent the club where we were playing.We were required to play western dance music.Besides this, Darjeeling was the hub of Nepali folk and popular songs.
You then moved to Kathmandu? What actually happened there?
Yes, I moved to Kathmandu when I was in my early twenties and was already teaching in school. Dad had already moved to Kathmandu and so I joined him and eventually formed my own band and played at a five star hotel. By now I was addicted to jazz and it was here that I honed my skills as a jazz pianist. Around this time I also met R D Burman in Calcutta.
Meeting RD Burman was probably the stepping into Bollywood. Can you tell us something about it?
I came to Calcutta in the early seventies and formed the Louiz Banks Brotherhood, undeniably one of the best bands I ever had, with musicians like Braz Gonsalves, Peter Saldhana, Carlton Kitto, Bosco Monsoratte and hot singers like Pam Crain and Don Saigal. It was a great band. People still talk about it. Louiz Banks had arrived in Calcutta.
How did your musical career graph move up from this point onwards?
I moved to Mumbai on the invitation of R D Burman and played Bollywood music. Then I got my first jingles break and then on became the blue eyed boy of the advertising industry. It was during this tenure that I composed many memorable jingles and songs and was the music director for the iconic Mile Sur Hamara Tumhara. God has been good to me.
He also blessed you with someone special. So tell us something about it and your family.
(Laughs) In Calcutta, I fell in love with the exquisitely beautiful Lorraine, and over the years we have been blessed with four wonderful children. Gino, our youngest, is a great drummer and musician.He is carrying forward my legacy, my other son Neil, is into events and has his own company Gigatainment. Infact, it is with Neil's company that I am being able to curate and organize Mumbai Piano Day as well as International Jazz Day this weekend. My other son, Andre is on the Cruise liner and is associated with the Entertainment department, so yes, all my sons are involved in the entertainment business in different capacities, while my daughter is an amazing hair stylist.
Jazz had a considerable following with Jazz Yatra, do you see any chance of a revival?
Jazz has always played to a niche audience all over the world, it needs an educated listener. India is doing not too badly (pauses) hell....I have survived quite comfortably over the years, but now I am seeing a resurgence of jazz fusion music among young listeners, which is great. Suddenly jazz become hot music go listen to, that's really great.
Why do you think there is not much interest in jazz amongst youngsters?
Jazz is a passion. Either you love it or hate it, it's miles away from commercial music. If you are passionate about jazz, learn it, do not equate jazz with money only musicianship.
Does fusion with other genres help in getting jazz more accessible?
Fusion jazz has taken a great leap forward and is very much part of mainstream music.
Which are the most memorable shows you have done in India and abroad?
Every time I play with good musicians it becomes memorable for me
You have not been much in the limelight of late, what are you working on at present?
I am producing a whole lot of new albums of my new music and they are available on the internet.I perform a lot for corporate events, most of my public performances are in other cities in India or abroad. I am writing a lot of new music which I bring out as CDs. I keep busy recording producing and performing. I guess it's a natural progression for a dedicated and progressive musician.
Louis Armstrong was once asked. "What is Jazz"? What is your take on it?
(Smiles) Jazz is freedom. In jazz you don't follow rules strictly, you bend these rules. Jazz is the most democratic music in the world. It influences and embraces all types of music on this planet.It is so open ended. To me and a few others it is the greatest music in the world and it is the future. Long Live Jazz.
Interviewed by Verus Ferreira