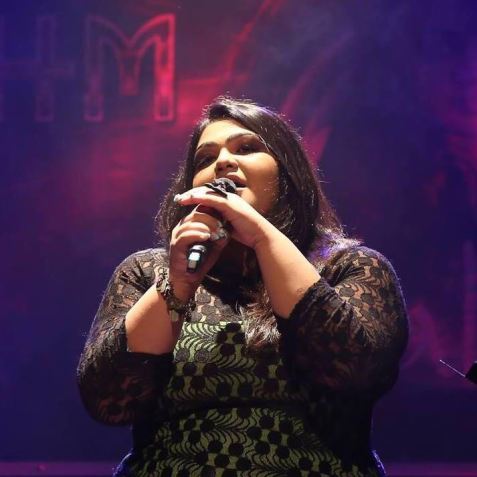 16th May, 2018
Born to Sing: Mallika Mehta
Mallika Mehta is considered the Adele of Mumbai and rightly so. One listen to her soul stirring tracks from Miley Cyrus' Wrecking Ball, or Rihana's Umbrella, Rachel Platten's Fight Song, or any of her two original tracks War Solo and Flame is Gone, and you know you are listening to a
singer with an ability to sing with good intonation and someone who is blessed with great talent. A promising singer who has a faboulous voice.
Mallika has been singing for over 10 years and professionally since the last three years. She sings in multiple languages and has often been compared to Asha Bhonsle, Shreya Ghosal and Sunidhi Chauhan.
Her two concerts in Y. B. Chavan in Mumbai has been well received. In her first concert "Rhythm", she performed 51 songs in a medley style in 4 languages in front of a packed auditorium giving audience a taste of her vocal ability.
This year on the 28th January, she had her 2nd concert "Fusion" where she performed with live orchestra and she sang in 5 languages English, Hindi, Gujarati, Punjabi and Spanish.
Mallika was also invited to open a concert for Kailash Kher, the Indian pop-rock and Bollywood playback star.
Her two solo songs War Solo and Flame is Gone, created waves in the music world. An alumni of Berklee School of Music, Boston In 2016, Mallika was awarded a scholarship for summer program at Berklee College of Music, Boston. Berklee is rated 2nd in Music in the world by the "The Hollywood Reporter". Its world-famous alumni include Meghan Trainor, Charlie Puth, Armaan Malik, John Mayer, Sadao Watanbe, Quincy Jones, Chaka Khan, Park Bon, Aimee Mann, Diana Krall, John Schofield, Sofia Boutella. She performed in various open mic's, choruses, events, concerts and ensembles whilst there.
Mallika has trained under world renowned celebrity voice teacher Liz Lewis of Los Angeles (who trained Britney Spears, Demi Lovato , Rihanna and Priyanka Chopra and others).
Mallika has been covered by the Indian and the International press widely and is slowly making her way to stardom. In a few years time, Mallika is sure to become one of the hottest female artists we have come to know. Do keep a look out for her.
We managed to chat up with Mallika to know more about her music, her love for Adele and of course what the future holds for her.
Which keywords would you personally use to describe your overall sound and style, if someone has never heard your music?
Some of the keywords I'd use would be Mallika Mehta Music; Adele Of Mumbai ; Pop Indie Singer ; Mallika's Mashups.
How does it feel to be called "The Adele of Mumbai" by international media?
Adele has been my role model ever since I heard the song Rolling In The Deep. Singing her songs has always been a thrilling experience. Being called The Adele of Mumbai is an honor and definitely makes me feel as if I were on cloud 9.
You've also been compared to Asha Bhonsle, Shreya Ghosal and Sunidhi Chauhan. How do you feel about the comparisons?
They all are stalwarts in the music world and in their respective genre. I am truly flattered even to be mentioned in the same line as them let alone be compared. Although I have grown up listening to their singing and they have a strong influence on me, I would and am working toward creating my own niche and be appreciated and recognized for the same.
Tell us something about the music and lyrics in your songs.
Both my originals War solo and Flame Is Gone are songs based on one sided selfless love and they talk about heartbreak. The lyrics are those which anyone in love can relate to. To me lyrics are the most important part while constructing a song and that's the reason why I pay much attention to them.
What key ingredients do you always try and infuse into your songs, regardless of style or tempo?
That would be the lyrics, hands down. Lyrics mean a lot to me. In fact I cover and practice songs with meaningful lyrics or those which appeal to me. So I'd try to infuse lyrics which can be connected to and those which people can feel when they hear them.
To sing 93 songs in 5 languages in your concert "Fusion" in front of a full house is not an easy job. How was the experience?
Fusion was a very different experience and feeling altogether. A very good one. I wanted to sing a large number of songs and I wanted to do so in as many languages as I could. Arranging the songs and deciding the best one was a difficult task but the outcome was wonderful. The audience enjoyed it as it was something new and moreover I had a great time performing.
Which are some of your favourite performances ?
I opened for Kailash Kher in his concert 'Kailasa' at the CIDCO Exhibition Centre, Mumbai and that was a different feeling altogether, a cheering audience of over 6000 people makes you feel so loved. I also recently performed at the Kalaghoda Music Festival 2018. It was honestly a great feeling, a super experience.
What would you consider a successful, proud, or high point in your career so far?
Every little gig, concert or article gives me adrenaline rush, small or big. But having 2 solo concerts 'Rhythm' and 'Fusion' with a crowd full of music lovers and then releasing 2 original singles War Solo and Flame Is Gone which were appreciated by many made me feel proud for sure.
What are your thoughts on formal music training?
I believe that some amount of formal training is definitely required. I learnt this when I went to Berklee College of Music, Boston for a summer program. Once I got back I realized how much I had learnt and the things I would have never known if I hadn't been there.
Do enjoy doing videos, and do you think it adds something to your artistic package?
For me videos have always been very important. I normally pay umpteen amount of attention on all my videos, be it my originals or my covers. I think its one of the best ways to engage your audience. I personally really enjoy making videos. It's a lot of fun shooting them, deciding different themes and locations and editing them.
How would you define 'success' regarding your craft? And what do you feel you would still have to achieve to consider yourself 'successful' in what you do?
Success to an artist is seeing their music or art being played, sung, heard and appreciated by millions of people. If my music is heard and enjoyed by millions of people I will consider it to be the most successful thing ever. I would like to be the one voice that people love listening to wherever they go and to be known by as
Singing in multiple languages is very impressive. That sets you apart from many other musicians out there who can't sing in multiple languages, so how has that been an asset to your career so far?
I have grown up listening to and singing songs in both English and Hindi and luckily for me they are both diverse but yet widely spoken languages. Since I sing in multiple languages it gives me a chance to sing in different styles and genres which is always a fun thing to do. But more importantly it gives me a chance to connect with people from different cultures, societies and countries. Apart from English and Hindi, I also sing in a few more Indian languages like Gujarati and Punjabi and am attempting to sing in a few more.
Professionally, where do you see yourself 5 years from now?
Dreams are meant to be big and so I like to dream big. I see myself touring around the world in the next five years, having at least 2-3 of my original albums and getting my music recognized and spoken about at every social meet. I want to do some playback singing as well.
Interviewed by Verus Ferreira
Follow Mallika on:
Instagram: @MallikaMehtaMusic
Facebook: Mallika Mehta Music
You Tube: Mallika Mehta
You can also directly contacat her on: 9821074741 or email at mallikamehtamusic@gmail.com