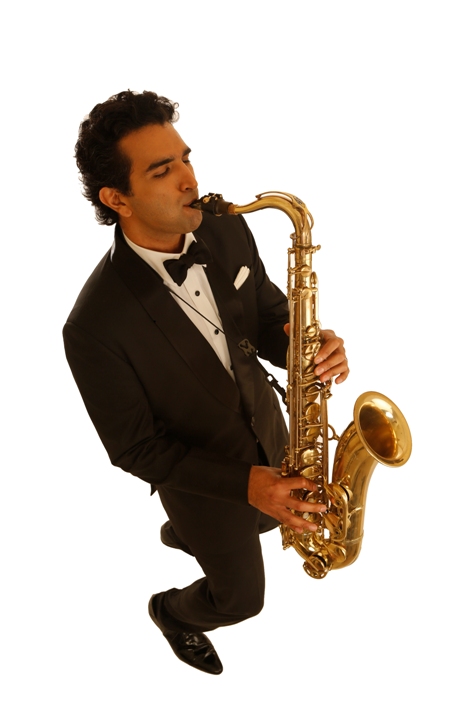 05th June, 2018
Sax in the City - Ryan Sadri
What characterizes Ryan Sadri, saxophonist par excellence, is an alchemical ability to put tone, texture and rhythm to the best use wherever he performs. His regular gig at Café Zoe brings about some futuristic stuff you may have never heard before. When members of the Royal Flemish Philharmonic Orchestra showed up with their instruments at the Café over Christmas recently, Sadri broke all barriers of music and had a massive jazz set with their double bass player, trombonist, drummer, all jumping on stage with his band. Sadri knows so much, he can play whatever he wants. He's not flamboyant. He approaches the instrument to communicate, through the language we know as jazz and beyond.
Verus Ferreira met up with Sadri, who is one of the very few saxophonist in the city who is trying his best to keep alive the jazz vibrations.
How did you get into music?
The love of music always filled our home. My parents would orchestrate a karaoke of sorts by printing out lyric sheets of their favourite songs and pass them to my uncles, aunts and cousins when they would come home. She would play the piano and we would all sing. That is what created an intrinsic love for songs within me. Like any good Parsi kid, I learnt classical piano from a very young age and like most, I grew tired of it after about ten years. That however gave me a good theoretic foundation. A few years later, while studying at St. Xavier's College, I started to hang out with musicians my age and got back into music through learning popular songs on the guitar from my classmates. I definitely learned a lot more outside the classroom than in it. My Mum at this point tried her hand at her favourite instrument, the alto saxophone but found it too difficult to pursue. It was then that she asked if I'd like to give it a go. This was in 2001. This is when I met the man who became my mentor, philosopher and guide, the amazing Mickey Correa. Apart from teaching the basics of the saxophone, Uncle Mickey taught me about the spirit of jazz and the beauty of its improvised art-form, from then on I was hooked.
So from then you began to broaden your base and move on.
While I was at St. Xavier's I met other musicians who soon turned out to be my band mates for the next ten years with my indie band 'Something Relevant' akaSTR which we formed in 2003. We discovered our instruments and learned together. We wrote songs, recorded our first album in 2009 'Feels Good 2B Live!' and toured extensively all over the country and internationally too it was all a very exciting journey. After 8 years we eventually grew tired of each other and went to music school Swarnabhoomi Academy of Music (SAM) in 2011 for a fresh and deeper perspective on what we were really doing. We graduated from there and broke up with our lead singer in dramatic (social media) fashion as he wasn't keen to pursue music any longer whilst the rest of us were hungry for more. No band story is complete without this drama is it? We went on from there to start our own studio Cotton Press Studio, where we recorded another album in 2013 'We Could Be Dreaming'. We were later cornered into changing our name from Something Relevant to Bay City Lights to massage a few ex-band mates' egos. We're all happy to look back and laugh at that now.
So how was it with the new name and one less member?
Actually Bay City Lights wound up quite soon in 2014, as we all found ourselves searching for something new. Music in general had evolved so much from the time we started in 2003 and I think it was a natural feeling for most of us to explore outside of our little group to see what was out there.
When did you get your first paycheck for playing music?
I believe it was from Not Just Jazz by the Bay for our show there on 23rd November 2003.
So now you were onto a solo career, how was it from being in a band to a solo musician?
After my stint with SAM, I once again went to the Swarnabhoomi Academy of Music to study Jazz Theory and Jazz Piano. I met some of New York City's finest jazz musicians who were on a teaching stint there. I'm still in close contact with them and over the past 2 years I've spent about 10 weeks in NYC getting deeper into the music that I love. Last year, I attended a Saxophone Retreat at Wooten Woods just outside of Nashville Tennessee. Here along with 50 other amazing sax players from around the world we spent time with some legendary musicians like Victor Wooten, Joshua Redman, Aaron Goldberg, Bob Reynolds, Jeff Coffin (of Dave Matthews Band), Bob Franceschini.
Have you met Kenny G and any other saxophone artists from the international music world?
Not Kenny G but I've mentioned the people I'm closely in touch with above.
You have been collaborating and experimenting with various artists, musicians and DJs at Café Zoe for your gig called Jazz Jam. Can you tell us what this jam is all about and how do you infuse jazz into these various musical settings?
The idea was to have a place where musicians and music lovers can just hang around. It's a very casual environment, which embodies the spirit of improvisation and jazz. We never know who's gonna show up or where the set is going to go. We usually have about 20-30 amazing musicians who show up and jam with us on a rotation basis. It's great because these are musicians we don't usually play with. I'm sure this will lead to a lot more collaborations outside of this room. Plus the audience gets to see raw talent on display which is quite endearing I think.
While your base genre would be soul and jazz, have you attempted to play other forms of music like electronica, classical works, etc?
When I play music, it's without thinking about genre. It's the listeners and critics who put them into boxes. I love all kinds of music and I'm constantly exploring. I currently play with the following setups: 'The 3 Stylers' which is an improvised electronica setup with DJ Uri on drum machines and turntables and Karan Joseph on synths; Then there is also the 'The Rynosax Band'which is my jazz/funk band with Karan Joseph on keys, Abhinav Khokhar on upright bass and Andrew Kanga/JJ on drums, we host the Jazz Jam every Monday at Café Zoe. Every once in a while this band swells into a Motown/Soul outfit where we feature singers like Rohan Mazumdar, Rachel Varghese, Edwin Joseph, Andrea Tariang to join us. There's also 'The Fanculos' an indie Ska/Dub/Reggae band which is fronted by Ramon Ibrahim. Then I also work with the 'The Rynosax Collective' consisting of DJ Amul and Anand Bhagat on percussion (electroswing/funk). I love infusing a jazz approach to pop music culture. Everyone wants to have a DJ set. DJ Amul is a master selector, his knowledge of funk and pop music is amazing. He also understands the live element of having to jam with a live saxophone and percussionist. Not many people play electro swing music which makes for great dance music. This setup is very popular for people looking to throw private parties. We have the Nariyal Paani Music Fest and Sulafest coming up soon.
How has the response been? Do you do covers, or also play original music?
A mix of both. Jazz standards, some cover tunes, some originals.
Have you done any work for Bollywood?
Yes I have. Those jobs for me are few and far between as I don't always enjoy that musical template. But there are some cool new music producers on the scene now and I look forward to collaborating with them.
What music do you like listening to? What are your fav jazz tunes?
I love r n b to soul singers like Bill Withers, Marvin Gaye, Sam Cooke, Prince, Leon Bridges, Ben L'oncle Soul, Alicia Keys, Aloe Blacc, Beyonce… I love jam & funk bands like Dave Matthews Band, Tower of Power, Cat Empire, Phish, Jamiroquai, Alabama Shakes. I love listening to slightly more jazz oriented funk bands like Cory Henry & the Funk Apostles, Snarky Puppy, Vulfpeck, Lettuce, Hiatus Kaityote, Robert Glasper, Esperanza Spalding etc. And I definitely love listening to my jazz heroes like Stan Getz, Bill Evans, Gerry Mulligan, Duke Ellington, Chet Baker, Miles Davis, Bob Reynolds, Jeff Coffin, Roy Hargrove. I also listen to a lot of new music, indie music, electronic artists like Gramatik, Cosmo's Midnight, FKJ, Milky Chance, London Grammar etc
Braz Gonsalves, Joe Pereira (Jazzy Joe) and now Shirish Malhotra, Rhys Sebastian has made the saxophone to an all time new level. What do you feel about this?
It's great that we have Rhys and Shirish making the saxophone more popular on our music scene. I love working with those guys. I do hope we have a nice horn section to boast of soon. Hope some trumpet player's surface soon.
What made you chose the saxophone among other musical instruments?
Unlike the piano and guitar which I love spending time on the sax gives you a deeper connect to the music purely by virtue of the fact that the sound emanates from your breath. Its an amazing feeling to be so in sync with sound being created.
Have you played at any overseas venues?
I remember our first international gig was at the Java Jazz Festival in Jakarta in 2009. It was a very exciting moment for STR. We were sharing the bill with other phenomenal artists like Mike Stern, Jason Mraz, Roy Ayers, Dave Weckl and many more.We've had some memorable tours to Indonesia, South Korea, London, Bangladesh and most of all our experience through four weeks of the Edinburgh Fringe Festival was really something else!
According to you, do you think that there are any obstacles in learning the sax for want of trained teachers or a good academy that offer the training?
The schools need to take the initiative and offer these instruments to students at a young age. It's not easy to get into it later on in life. Especially in large Indian cities where life is so fast paced and competitive. I hope more schools start incorporating wind and brass instruments into their music syllabus. No matter in which direction music evolves into, no matter how hi-tech we get with the electronic art form, there's nothing to replace the physicality and joy of playing on real instruments it's a beautiful thing.
Do you feel the cost factor is also one of the reasons why not many take up the instrument?
A good saxophone is not cheap. The cost is definitely a deterring factor. Which is why we need schools to invest in these instruments and make them readily available to interested students at a young age.
How many hours do you spend practicing the sax?
A couple hours a day. I always look forward to free days when I can spend prolonged hours working out new material and learning new techniques. The journey is endless.
Who is your inspiration for learning the sax?
Mickey Correa will always remain a big inspiration to me. I'm also constantly inspired by people around me who push their limits. Who have tremendous focus and determination to move farther. In India it's very easy to get lackadaisical
What are your hobbies?
I run and play tennis a lot. Love spending time outdoors. I kayak and trek a fair amount.
What are your future plans?
I definitely want to hone in on a sound I can call my own. It may take some time. But this year I definitely want to dedicate time towards that. Hopefully I can get into the studio by the end of this year to record another album.
What is your parting advice to youngsters?
Don't tie yourself down by genres. There's a lot of good in different forms of music. Go out and learn what that is. Definitely learn the piano... no matter what instrument you choose. Play freely. Don't just practice... but play.