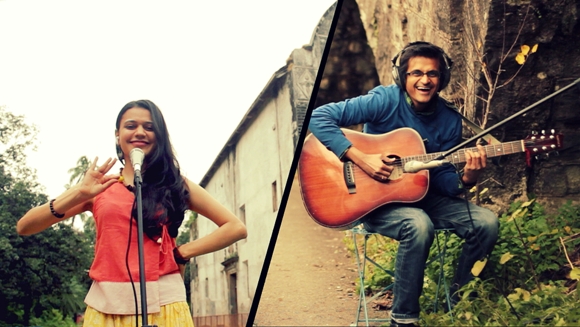 08th June, 2018
A Brimful of Fusion – Maati Baani
If you think you know what Indian fusion music is, think again. There have been many Indian fusion concerts and collaborations that state 'Indian fusion', but the best example is that of Mumbai-based fusion band Maati Baani who shows you how Hindustani Classical vocals can be fused with any kind of sound under the sun and still sounds cool. Maati Baani's music effortlessly combines elements of rustic folk, Sufi and various different genres of world music with Hindustani classical, funk and new age sounds.
Verus Ferreira recently caught up with bespectacled music producer/composer Kartik Shah (guitars) and Nirali Kartik (vocals) to understand how they collaborate to make music with unique musicians across the globe while still retaining the Indian core, something that has never been seen before.
Before we go on to the band, tell us a little about your musical background?
Kartik: In my family, I am the odd man out who chose music as a profession. To pursue music, I shifted to Mumbai where I assisted Pritam. I assisted him for some movies and moved to compose for television ad's where I used to do jingles for a very long time and then I met Abhimanyu Singh, CEO of Contiloe Pictures Pvt.Ltd. and slowly started doing television shows. My motive was to collaborate with different musicians across the globe, later I got married to Nirali and we both mixed our styles and made music together which lead to our popular project Maati Baani. We worked together since then for many popular shows collaborating with different artist across the globe.
Nirali: I am a trained Hindustani Classical vocalist. Kartik is not much into this, but is more into western music like blues, rock and roll. We both mixed our style together and came up with 'Maati Baani'. The idea behind it was to put Indian Classical music within the different sounds, cultures, languages and voices of the world.
So now tell us something about what Maati Baani means?
Kartik: The name means the language of Earth, Mitti ki Bhasha. Very simple.
Who would you call as your inspiration in music and why?
Kartik: My true inspiration is street musicians. When I travelled I witnessed many street musicians across the globe that were phenomenal and had the purest form of music. My eternal inspiration is Michael Jackson the King of Pop, I also like Ed Sheeran, they are the people who did what they wanted in their life and also, I am inspired By Abhimanyu Singh for his unique concept for television shows.
How has the internet helped you to get connect with musicians all across the globe?
Kartik: Nirali and I spend our time scouting musicians on the Internet. We approach them and make music with them completely online. I find all the musicians on the internet. I write to them and tell them to play for me. Basically it's a huge internet collaboration that's happening, where I'm using the energies from different countries, different musicians across the world to create one common soundtrack. I believe music is a one big project and not something just to sit in the room and do your song and release it for the audience.
This gave way to a series called Music Yantra. Can you tell us something about it?
Kartik: The Music Yantra series was launched in February 2016 and has charted new frontiers in creating music that is led by social media collaboration. We collaborated with over 70 musicians from 20 countries in a series of 6 songs and webisodes. It is the use of rare exotic instruments, folk tunes of India, talent of street musicians coupled with elements of world music from Jazz, Flamenco, Func, Folk, Rock, Blues, R&B that makes every note of The Music Yantra stand out. One of our initial and most popular tracks is Baawariya which was in collaboration with American clarinetist and music composer Shankar Tucker. We have also done a tribute to Michael Jackson in The Making of Heal the World. We have also worked with Zila Khan, Vidya Vox, Supawoman. There are also self help videos on how to make a video.
What are the challenges you have faced doing this kind of music?
Kartik: First of all, it's a challenge to deal with strangers to create music where you have to explain them everything that needs to be done perfectly, because you cannot compromise with music. The time zones of different countries have challenged us and we have to work day and night to match their time zones. But all the challenge that we faced was fun. We made new friends and explored the diversities.
What makes you different from the rest of bands who play fusion?
Kartik: My approach to music is different, because I believe in collaborations across the world. I don't call a musician and say, "let's meet at Bandra studio and record some music". I will find someone in Paris and tell him that this is the track. I guide him, I Skype chat with him, I rehearse with him and tell them that this is to be played and book a studio for them so that they go there and record a sound and send it back to me. It's difficult, but it's something you won't get that sound. For example in the TV series Samrat Ashok we used an instrument called alboka, it's an instrument that is played in certain European region. It's a very rare medieval instrument.
You have composed title songs for popular shows like Maharana Pratap, Samrat Ashoka, Devon Ke Dev Mahadev and most recently the title song Jaago Jaago for the patriotic TV show '21 Sarfarosh'. How was your experience with the track?
Kartik: 21 Sarfarosh is a very good initiative taken by Abhimanyu Singh. It is a patriotic show story of 21 sardars who battled with1600 Afghan soldiers. Jaago Jaago uses hard rock fused with sitar for the visual landscape of India in 1897. From street musicians in Berlin to famous Indian classical musicians, I used a wide range of sounds for the background score of the show. There are 2 sections of the song. One which says "why you're fighting for this land it is just a piece of sand", the reply he gets is "If I apply this sand on my head it becomes my mother and I have to fight for my mother". We have also used some great soundscapes from different country and tried on the background score we have used a lot of epic sounds and used a lot of Sufiyana Punjabi in the score because the show is based on Punjabi characters.
Do you think the western culture music is taking over the Indian classical music?
Kartik: There is a tremendous western culture right now, but the good thing in India is that people don't forget its roots. Even today, people go to the temple, they pray, follow the traditions. I think whatever we do, should be balanced no matter how much western we become. Our core is folk. If you listen to our tracks though it has western arrangements our core is very Indian. The song 'Karpur Gauram' and 'Baawariya (Maatibaani feat Shankar Tucker) the arrangement is very western using foreign musicians but the melodies and compositions is very classical.
Any advice for upcoming artists in music industry?
Kartik: The only advice to budding composers or any artists who wants to get into the industry is that one has to be original in any arts field and has to be out of the box. The point is to make music that is eye catchy, unique and the sound should be defined very well.
Interviewed by Verus Ferreira