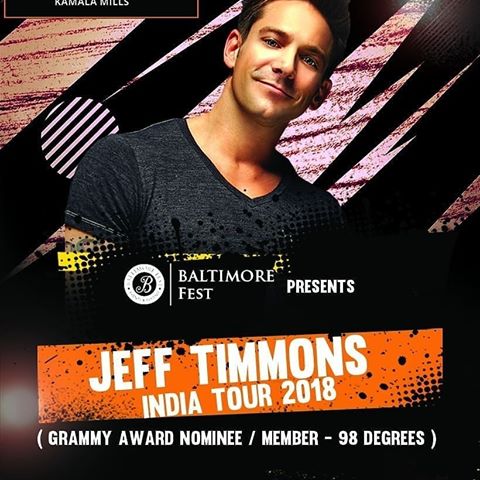 01st August, 2018
A higher degree of music - Jeff Timmons
American singer Jeff Timmons of 98 Degrees was in Mumbai recently. His band was one of the first pop groups like the Backstreet Boys, Spice Girls and One Direction that have come and gone.
98 Degrees, which was formed back in the 90s with Timmons, Justin Jeffre and brothers Nick and Drew Lachey, may not be making music anymore, but songs like Give me just one night (una noche), Invisible man and Because of you got millions of 98 Degrees fans to continue to swoon over their hit songs While rumours are in place that they are performing again as a quartet, it remains to be seen if that happens after the band took a hiatus in 2003.
After the breakup, Timmons released his first solo album "Whisper That Way" in 2004 and followed it up with "Emotional High".
Verus Ferreira caught up with Timmons for a short interview.
Can you tell us what really brought you to India?
I was originally supposed to come to Mumbai to host and judge a beauty pageant in a few cities, but also to get a feel for the music culture there and meet artists for possible collaborations. The monsoons caused the pageant to be postponed to a later date, but my team and I thought since much of the travel agenda and logistics were in place, that it would still be a good idea for me to come to India, get a grasp of the music scene, meet a few people, and perform to get people familiar with who I am.
As a band with 98 Degrees, what really was the highlight of your career and the band?
There are so many highlights, that it would be difficult to pinpoint one. We were blessed to have so many great and memorable experiences. I would have to say having collaborated with Mariah Carey on a song that became #1 on the US Billboard Charts was a big one for us.
Since the breakup of 98* in early 2003, you have been on your own, what have you been doing?
I still perform with 98 Degrees as well, so I'm lucky to do both. I love the freedom of being a solo artist because my music is so much different than the group's. I create most of my own in the studio from the ground-up; the production, singing, writing, engineering, so everything has a very personal touch to it. There's nothing like the camaraderie of being in a group though.
Every boy band fan of 98 Degrees would want to know what was the real reason for the band to split. Can you enlighten us?
98 Degrees never really broke up. There were no bad feelings amongst us, we just all went different directions career wise, had families. I started writing and producing for other artists, TV shows. I dabbled in some solo stuff, but mostly got behind the scenes and started producing TV shows. We didn't really split. After 6 straight years of touring we were a bit burnt out and decided to take a break. That break became longer and longer, until we eventually got back together in 2013 and toured with Boyz II Men and New Kids on the Block. We had so much fun, we've been touring ever since. This year we're embarking on our 2nd annual holiday tour starting in November.
You have only one album as a solo artist and one album which you released online. Anything planned for the future?
The first album was my first attempt at doing things in the studio on my own. It was a small project that was actually released on a jazz label. The 2nd album I released for free in exchange for email addresses. I did this in 2007, and wanted to see if we still had fans out there. I received over 1.2 million emails. I was amazed. I've been writing a bunch of material for a solo release. It's a matter of narrowing down the 100 plus songs I've done, and getting the proper collaborations and guest stars, and then we'll do it.
In Mumbai, you collaborated with Badshah. Can you tell us something about this collaboration?
I tweeted Badshah because I'm a fan. I was surprised to learn he is a fan as well. I just learned that when I was leaving India, so we're trying to put things in motion to make that happen now. It would be an honor.
There were also rumours about a jam with AR Rehman; Did you work out something with him too?
I was texting Mohombi back and forth before I got to India, and he suggested that I work with AR Rahman. He had just collaborated with him and had a great experience. I'm hoping we can make that one happen, too.
How did you like performing in India and how was the experience?
Performing in India was a dream for me. To be an unknown artist and in a matter of a few short hours being embraced by a culture that was hearing me for the first time was something I've never experienced before.
Any memories you have taken back home and do you plan to visit again?
There were plenty of memories made in a very short period of time. The diversity in music was interesting. I think the main thing that I've been telling everyone is that the culture is so warm and respectful of one another. Everyone made me feel like family, but what is more important is the loving vibe that the people have for one another no matter what walk of life. It is something I'll never for get, and without sounding silly it changed me in a way.
Are you in touch with the band members of 98* and can we hope of a reunion someday? We've been back at it since 2013, and I don't see it slowing down any time soon. We're having too much fun. You can see what we're up to on our socials or on our website.