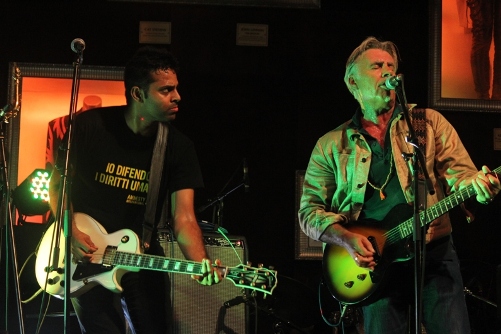 14th August, 2018
Alluring to the Stars - Alluri
The name might not strike a chord immediately, though we have seen him at NH 7 last year. This globetrotting young singer might seem like your next door neighbour. He's got a musical talent which he is very passionate about, so much so that The Sex Pistols bassist followed him to India to jam with him recently.
Alluri has made a name for himself in the international music arena as a songwriter, composer, who now splits his time between Italy, India, and the UK.
His sound blends a host of styles and influences from across the globe together into a unique whole. A diarist to his core, Alluri's debut album 'Man of Truth' wrote itself during a six-month travel break between completing his Masters in Finland and returning home to India.
Though Alluri's forte is English, Alluri wrote an album in Telugu out of love of his mother tongue. He has worked with Grammy award winning producer Tommaso Colliva on the single Evari Kosam. This is the first time a Telugu album was recorded in Italy using Italian session musicians and played live to audience internationally. His music features vocals in his native language Telugu which breaks away from English and carves a niche for himself.
His successful performances at the international stage include the Cambridge Folk Festival – July 2017, Sofar Sounds X Amnesty – Milano Sep 2017, Transmusicales – Rennes, France Dec 2017, Tallinn Music Week 2018 – Estonia April 2018 and in London – 12 June 2018.
At his recent gig at Hard Rock Café, Worli, Alluri kicked off his set with a mix of Telugu and English songs, followed by Glen Matlock doing a brief solo set, after which Alluri and Matlock performed together. Sharing the stage with him was saxophonist Domenico Mamone - who has played with the likes of Red Hot Chilli Peppers & Tom Jones, bassist Roberto Dragonetti, Calibro 35, Davide Arzuffi on drums and keyboardist Pietro Ubaldi.
At a press meet at retro pub Door No 1 in Bandra, Verus Ferreira met up with Alluri to find out more about his musical escapades.
So can you tell us something about yourself and your background?
Well, I've been writing songs for the last 6-7 years. When I was pretty young I was forced into western classical violin and piano, but I never really took to it. When I was 4 or 5, I initially used to play violin, but I never enjoyed it, I wanted to play cricket instead. When I was around 12, this cousin of mine, gave me to listen to classic rock songs like Smoke on the Water, Comfortably Numb, Another brick in the Wall; When I heard Smoke on the Water, I told my dad to buy me a guitar. Since then I always used to listen to rock n roll songs, play them on the guitar for friends, something I always did. Every week I used to fall in love with songs, you know, week after week, you learn them, play them on the guitar, and after 10 years of doing that more or less, I started writing my own. So for the last 5-6 years I've been doing music.
So at what age did you start writing songs?
When I was about 24…….. very late. And of course I had started speaking English on a daily basis only when I was around 11 or 12, until then English was just a subject in school, it was not something I spoke at home. We spoke Telugu. So it took me a while to wrap my head around English. I started writing when I was 24, my first album came out in 2015 in England which was recorded in Brightland, England, and then after doing that, I sort of felt, why am I giving myself to English completely. Through all this suddenly I felt like writing Telugu and one day I wrote a few songs which is now my second album.
Ok so, you were raised in India, when did you move out to England?
So when I was about actually 17, I went to England, I was there for about 4 years, from 2013 upto 2017. I did a bachelors in music technology, but that course never had anything to do with singing or writing or playing, it was always, you know, recording in a studio and sound setup, but this was a passion on my side which was always playing. It wasn't until I finished my master's degree in 2011 that I started to write.
How did you mix around with the people there to get a chance to get into the studio and make music? Do you have contacts there or something like that?
So ya, I sort of built demos in Hyderabad in 2013, that's all in my basement at home, then went in 2013 with my first sort of demo album and a nothing really happened, honestly. I came back 3 months later. And then in 2014, someone had listened to the demo CD, and he liked it. It was a producer in the UK, and so he put me in a studio and someone there decided to co-produce it. I played the guitar and the bass, I wrote the songs and sang them, and that is how the first album came out.
Okay, so do you put in Indian elements into your music? Like now you've put your second album out which is in Telugu.
No the first album, it's purely western. It's sort of rock and roll. Guitars, bass and some keys, and drums of course and me singing. For my second album, the only difference is that I have to write in a different language, therefore the melody is slightly different because of the language itself, but apart from that you see the harmonization to any of the music, it is a western thing.
But do you think there is a market for Telugu music? There is Avial which makes music in Malayalam, so they have a different kind of a rock sound, so are you trying to make Telugu rock or something like that?
Well, essentially I got more attention from festivals in England after my second album because it's something different, nobody's done that before and I actually came on that came through my own journey of writing songs in English.
So what do your songs speak about? What are the topics do you really talk about?
Well, its love songs, you have a bit of politics, inter personnel politics within people, sort of things you go through in life, end up expressing a few things
Personal experiences?
Yes, absolutely. And sometimes a bit of storytelling here and there to add, you know, its story telling at the end of the day, it doesn't have to be only about what you go through. You serve the song essentially. You sit down you write, you write, you get a good idea and then you expand on it.
So what is the Italy connection to it now?
In London after my first record was done, music producer Stephen Budd started to manage me, (he actually manages a lot of producers in the UK and some festivals there), and he sent my Telugu demos to different producers, one of them being Tommaso Colliva from Italy. Colliva produced music for the band Muse and sort of won some Grammy with them and all that. He liked the songs and invited to his studio to record with him, and that's how the second album happened.
But they were okay with you singing in Telugu…
Ya, absolutely, for him it was something exciting, something he had never done before, so for him it was recording in a new language. For me it was a lot of fun.
So do you have a regular band which you travel with?
Right now over the last one year, I have played gigs in Cambridge, France and England. I've been playing with an Italian band and they are actually coming on tour with me.
That's good. So do you plan to go back to England and make music or do you plan to settle down in India?
No, right now I see myself being in India, and if I have gigs, I go wherever gigs take me.
So this is going to be like your career in music?
I played at a gig in Estonia earlier this year at the Tallinn music week. That was a lot of fun. Good reception there.
So now coming to this tour, how did the meeting with Glen Matlock happen?
I played this gig in France last year and I decided to cover the Sex Pistols song Anarchy in the UK, half in Telugu and half in English. The manager sent the song to him and he liked it and tweeted about it.
I watched the YouTube video and was quite amazed. You sang very well.
Oh, thank you
What made you cover the song?
(Smiles) So actually I have my nephew to thank, he's like 2 years old now. I didn't know I was going to cover that song, it just happened. I was at home just practicing in Hyderabad, and my nephew had just woken up, so I stopped playing, but my sister told me to continue playing. I wanted to scare him away but he started dancing. I played this song play this song in France and for some reason I decided to play it half in Telugu and half in English. And that's how all this happened. So I have to thank him.
So you have a concert coming up in Hyderabad. Can you tell us something about it?
I am bringing together a collaborative live Telugu rock music concert in Gachibowli Indoor Stadium, Hyderabad on August 18. The concert, in partnership with Italian musicians Paolo Raineri (trumpet), Roberto Dragonetti (bass), Davide Arzuffi (drums), and Pietro Ubaldi (keyboard) joined by Hyderabad musicians Ranga (flute) and Murli (tabla). It is a ground-breaking venture that will be a congregation of the very best talent, and will enable a new generation of fans to see, hear, and feel my music. I will be playing 12 songs from my album 'O Katha: Tales of This Telugu Man'. I had written this album three years ago when I was suffering from an identity crisis after having exclusively written songs only in English. I have played these songs in England, France, and Estonia; hence singing these songs in Hyderabad finally is an absolute thrill. There will be some old Telugu covers too. An exciting local talent will be opening the show, so it is going to be an exciting night and I believe nobody in Hyderabad should miss it.
So is Alluri your real name?
It's Alluri Shriram
Okay, last question; is there any family into this kind of music?
No, both of my parents are not into arts field in all. But my father always encouraged my sister and me to take music. She plays the violin and piano. She's done a PhD in musicology. So she studies music now, doesn't play as much.
Interviewed by Verus Ferreira