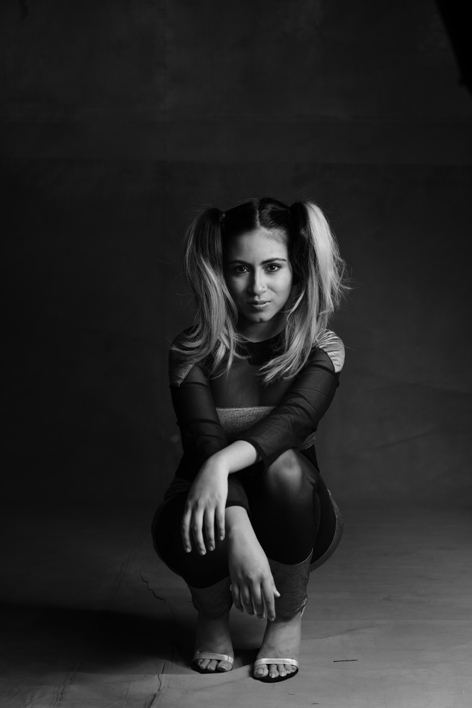 14th October, 2018
Stories from Candyland - Komrebi
New Delhi's electronic scene just got better and it's because young lady Tarana Marwah aka Komorebi has slowly made a name for herself, thanks to her fascinating electronica tracks and album 'Soliloquy' that is gaining momentum all over. Besides being a songwriter and vocalist, the 20 something lass who left the shores of Vancouver in Canada for a music career in India, brings eccentric beats, layered with harmonic melodies and synth work that allows the listener to traverse new sounds and sonic worlds. On her album, she tells her stories in an intimate and hypnotizing way, almost as if luring us into Candyland, the imaginary realm that the album is set in.
In a telephonic chat with Verus Ferreira, Tarana throws light on her music, her new album and why she is so besotted with Japanese culture.
From Canada to New Delhi, what made you to decide to start your music career here?
I pursued western classical music in Canada and after my family decided to move here, I tried my hands at whatever was available to me. Amateur bands in school, choir at college and finally, sessions and real performance acts, post.
So did you train in music back in Canada?
Yes, I started learning piano at the age of 6 at Tom Lee Music Academy. My teacher's name was David, not sure if he's still alive, but we would sit and learn classical western music in a tiny shop at Downtown (Vancouver). Some of the invaluable knowledge I took away from our various conversations including how to bow and not to feel embarrassed on stage.
Your real name is Tarana Marwah but you also go by the name Komorebi. What is the reason for this?
I wanted to keep my personal and professional avatars separate. I feel like my moniker describes my music, and allows me to take on a different avatar as soon as I walk on stage. Shy-Loud. The name 'Komorebi' is because the work is inspired by all things in Japan.
You are an ardent follower of Japanese culture and have used Japanese anime in your music and in your videos. How did your interest for Japanese influences come about?
I used to watch anime while growing up and be blown away by the production and efforts gone into writing the original music for the soundtrack.
How is it for a female artist to make music in a mostly all male dominated space?
It's interesting. Sometimes you are lauded for being a female producer. Sometimes you are not taken seriously. It really depends on the company, but for the most part I feel it's important to continue to let your actions speak for themselves. Let your work inspire other women and shut down the argument.
You were in two other bands Tankbundh and River. What were these outfits and are you still part of them?
TankBundh was one of the first bands I joined when I was 17. I tracked on the most recent album and will be a part of the process for its release. However, I am not currently involved in their live set. Speaking of River, it is a beautiful trio and we have a lot of music on hold, since the band is on hiatus.
You also perform as a soloist as Komorebi and you play as a duo with drummer Suyash Gabriel live performances. Can you tell us something about this setup?
I'm exploring many different avatars with the act. Just made the live set more elaborate, including more instruments and vocals. Perhaps looking into a DJ set. Suyash is my session artist and a damn good one at that.
You recently released your debut album 'Soliloquy'. Tell us something about the album and the song writing process.
Thank you. All I can say is that it's a very honest album and very close to me. I wrote most of these songs in a very turbulent phase of my life. It was a dream to track the music at Cotton Press Studio in Mumbai, with Rohan Ramanna as my engineer. We spent a lot of time understanding what kind of sound I was going for and who my influences were. I got to work with guitarist Mohini Dey, Warren Mendonsa and Sohrab Nicholson who all sound like a dream and have done so much justice.
The song Time features Mumbai-based producer-vocalist Sohrab Nicholson. Can you tell us something about it?
It's a complex song, with a disturbing topic. The video was a lot of fun. We wanted to create this dystopian world and show a protagonist fighting off eerie creatures and evil forces. The animated video is created by Siddhant Aggarwal and also features art by Siddhartha Iyer.
Most of your tracks before your album had very little vocals, but the album comes packaged with a lot of vocals. What influenced you to add vocals in the album?
I realised that sometimes it's good to try new things and explore new territory as an artist. Singing was the first step, now there will be more. Perhaps new languages, more social topics, different collaborators, new instruments.
You also designed the cover inlay of the album. Can you share your thoughts on it?
All designs and artwork have been done by Pakhi Sen. We had various meetings where we sat and discussed ideas and influences for the cover. I wanted it to combine elements of comfort and horror which kind of reflects in the music as well.
Any interesting stories to share about the artists you collaborated on the album?
Tracking at Cotton Press was phenomenal and so inspiring. Most of the music was produced on my laptop. Rohan was extremely patient while tracking vocals, he made sure to take care of my demands. I'm very particular about pitch and layer my several harmonies. We made sure to track a lot of the room as well. As far as the art and fashion go, what I wanted to do was direct a bigger project, involving others and so I curated a team of special people who were enthusiastic about art and creating something from scratch. Candyland is an expression of emotion, an escape from reality. We'd like to create this environment digitally and on stage, through our varied forms of expression. I had the pleasure of working with Pakhi Sen for clothes and album artwork. Pakhi and I had various meetings where we explored our favourite influences from Japanese and Korean fashion. We sat and explored styles from Brands like KYE, Rocketxlunch and famous faces like Biblee from Korea. I brought in my own favourites like Iceland's Bjork and Grimes from Canada.
Have you done any songs that have references to your personal life, friends or family?
Little one was written for my younger brother, Rishi Marwah. The rest would be unfair to disclose.
To someone who has not heard about your music for the first time, how would you explain what kind of music you actually produce and what genre would you feel it fits in?
I'd say you're walking straight into a bizarre mix electronica, trip hop, alternative, electro-pop, all with nostalgic elements of the orient, neon, and copious amounts of glitter.
You have an undying love for Japan and its culture, have you visited the country or plan to visit it one day?
I have an itinerary and crew ready to travel. One day. Soon.
Interviewed by Verus Ferreira