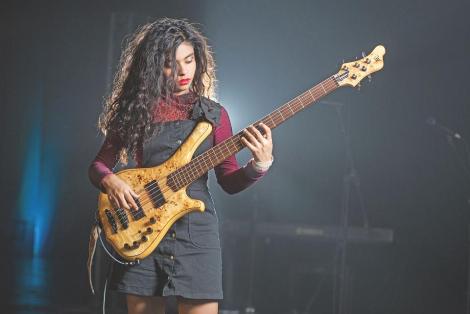 31st October, 2018
Rock the Bass – Mohini Dey
20 year-old bass prodigy, Mohini Dey, has a lot on her plate. Having worked with MTV for Unplugged Seasons 1 and 2, and Coke Studio 2 and 3, she has already built a very strong network. With A R Rehman, Louis Banks and Ranjit Barot for mentors, she has managed to make her music more play than work.
Verus Ferreira spoke to the young artiste to explore the cheery and talkative girl behind the bass guitarist.
Can you tell us about your early days when you first started playing the guitar?
I started learning at the age of 3 from my father. He was practising his music as he use to do every day, He would plug in the guitar with the processor as we did not have an amplifier at that time. So he put the headphone in my ears to make me hear. One day, when he was practising, he noticed that I was keeping up the right tempo. He was shocked and happy at the same time that for a 3-year-old to enjoy it. He kept thinking why not train me? He also realised that there were no women bass guitarists in the country at that time. So he took it upon himself to train me. At the age of 3, I was just playing around with the bass with basic exercises on it, I seriously started taking lessons when I was 5.
Is anyone else in your family also into music?
Yes my father Sujoy Dey is a prominent bass guitarist, while my mother Romia Dey is a Classical Singer and my sister Esani Dey is alead guitarist
Can you tell us something about your first stage show?
My first show was when I was 9 eyars old. It was for my father, the show was called "Keep Music Live" in Kolkatta. The concept of the show was to not have any electronic music and just keep it live. With technology becoming so advanced, the mistakes can be corrected, but in those days the song had to be recorded in one go if one artist fumbled, everyone had to take it from the top. So that was the concept of the show. I did a little performance with my sister. I also would accompany my dad with his recordings at studios and for his live performances. At times I would also do sound checks for dad.
How did the opportunity to work with AR Rehman come about?
My dad is great friends with Ranjit Barot who works closely with A.R Rehman. He is like my second father. He introduced me to the music world. Once I started working with other musicians, my dad thought it was time for me to get introduced to Ranjit Barot. One day he asked me if I was free to come and record. So I went to the studio for the recording. After the recording was over, he mentioned it was for AR Rehman. I didn't know it because I never asked. For me it was like, if Ranjit uncle has called, it would be for his work or someone special or important. I came and worked as I would for any other person. And then I came to know it was for A.R Rehman. I was like wow that is really nice. The funny part was, I didn't know how famous he was, because I was more inclined to jazz music and would perform on weekends with Rajit Baron, Louiz Bank and various jazz artists at a club like Blue Frog. So I wouldn't listen to any Bollywood or Rehman songs. So I came home, I told my parents I recorded for him, they were very proud of me. So I googled him. I knew Humma, Roja and Humdum as these were the most amazing hit songs, I was like wow, he is the man behind these songs. I was super excited that I worked for him. The next day I got a call from him and he complimented me on my music and asked me if I could be a part of Coke Studio. And that is how we started working together.
Tell us about your experiences of playing with AR Rahman.
Its been five and a half years that we have worked together. We are like family now. He is such an open, a humble person and very down to earth. He is very easy to work with We know each other's families very well, his daughter and I are good friends.Once he called me at 2 in the morning for a recording as he had to send it to Los Angeles urgently, I was like sure. Who would have known I would get a call directly from A.R Rehman. Even now when I look back and think about it, I feel very blessed that I am a part of his life in a good way. I am very happy working with him. He is such an open-minded person. He always makes sure his musicians are treated well and his musicians are used in the right manner. He never thinks it's my show so it's only me. He features every musician, if one musician is known for something, he will make sure he uses that element in the show. Not every music director does that. He is easy going.
How has your playing changed ever since you started working with these noted artists?
Of course, my playing has changed, not because of playing with noted artist, but because of my hard work that I have put in for so many years of practice. I practice now as well to keep myself abreast with the technology. Because there are so many people who are talented and they come up with innovative stuff. I keep watching stuff on YouTube and it is inspiring and encouraging. At the same time, it makes you push the envelope and makes you a better version of yourself.
What qualities do you think are important to you being a musician?
Dedication, patience, sincerity, open minded, well aware of time management, when you work with other musicians. When you work with so many bands, you have a lot of material that you need to keep track of and remember. One gets only 24 hours, you won't get 48 hours for yourself. So, one has to manage your time in a right manner. If you have taken up the commitment, you have to be sincere. Also, time management keeps you well prepared. If I have a show after a month, I would learn the song, now, and keep it ready, so there is no last minute preparation, and sometimes one can get last minute gigs. So it is better to be prepared for our job is unpredictable. We have to be ever ready all the time.
How is a typical day for you? How much practice do you do every day?-
As a kid I used to practice for 7-8 hours a day, My life is music, is what I wake up with, sleep with, eat with. But as a musician, I consider my whole day as practice, because even when I am eating, I am listening to music. Listening also helps a lot. As I do a lot of ideation.When I am home alone I practice for about 4 to 5 hours. Earlier I would skip meals as well, I was very dedicated as a kid, I would start and finish something and then only do other things. I am very sincere that way. People sometimes are like, let's take a break, but I am like, no let's finish this and then take a break.(Laughs)
What are the qualities/lessons that you have learnt working with these musicians?
What I like about AR Rehman is that he is very calm and he doesn't get aggressive. He is easy to deal with. He is such a big man, he has such a big band, with so many musicians to deal with. Sometimes he can get a little impatient. But he keeps all his patience together and he just keeps his mind clear in spite of having so many other things on his mind. That is something to learn from him, no matter how much you have on your hand one has to be calm and focus on the work at hand.
What kind of bass guitars do you use?
I use the lead bass, electric bass, acoustic bass. I endorse Markbass Amps and cables, Mayones basses, Gruv Gear, Lathon Basswear, SITstrings, Boss Pedals.
Where do you see yourself in the next 10 or 20 years and what do you finally want to achieve?
I think I would be married by then. (Laughs) I don't know, I don't wish for anything, I don't demand anything. I have always wanted to have a simple life with very simple demand. I love fashion, I love to get dressed. These are simple things that give me happiness. I love meeting new people, I love to eat food. I am in a very happy space in my life with things shaping up for me. It has all come to me in my way. It is the journey I am taking. I have never chased it, never wanted it. It has come to me. I have taken up the challenges that came my way and have succeeded and I am what I am today. People respect me for the person I am and the work that I put in.
What kind of music do you listen to when you are free?
I like to listen to many individual artists, drummers as well.
Which bass guitarists do you look up to from India and the world?
Jaco Pastorius, Victor Wooten, Marcus Miller, Hadrian Feraud, Anton Davidyants, Mark King, Federico Malaman Bruno Mars, George Bensen, Rush,
Your advice for young musicians?
Just be focused, do not waste time behind random stuff. Be it any field, if you have to do anything, you have to put in a lot of hours and compromise, sacrifice on a lot of things. This is true to any field, not only music. Your hunger for that thing has to be addictive. If you are not desperate for it, it means your hunger is not that strong.
What are your future aspirations?
I would probably be working in the U.S very soon. As I have been working a lot in India and nothing new is coming up. I will be travelling to the U.S this year, it will open a lot of doors for me.