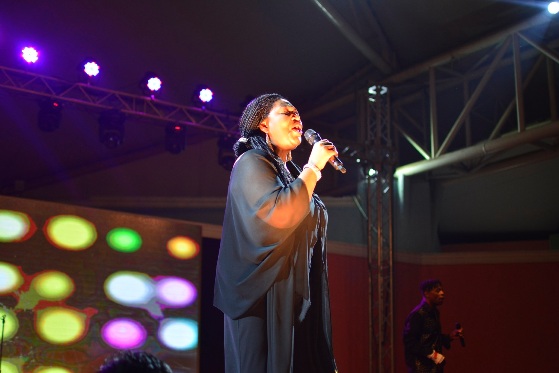 13th May, 2016
"Music is a healer and a gift from above" – Liz Mitchell of Boney M
The living legend of the disco era, Boney M featuring Liz Mitchell delivered a stunning performance at Dublin Square, Phoenix Marketcity, Kurla, Mumbai recently. Mitchell and her troupe got the audience dancing to their record-breaking hits such as Daddy Cool, Ma Baker, Rivers of Babylon, Brown Girl in the Ring and Ra-Ra-Rasputin. It was truly a memorable evening for fans who witnessed the electrifying performance of the one of the biggest disco orientated pop acts. Liz Mitchell, along with the other band members Toni Ashcroft, Paulette and Jacinth took the audience through an unforgettable disco-pop experience.
We managed to get an email chat with Liz Mitchell a few days before the concert. Here is what she said.
How do Boney M songs survive time and generations who still love the music.
I think 70s was very special time. Melodies ruled. Rhythm ruled and dancing climaxed. Music is the healer and a gift from above. The music I recorded later also represented that. So the beat may have changed but the message not, hence we survive.
What songs of Boney M do you like very much?
Daddy Cool is an all-time favourite as is Ma Baker
Going back in time, how did the name Boney M come about.
A phone call from Marcia Barrett in February 1976 persuaded me to return to Germany to join a new group being assembled by record producer Frank Farian which would become known as Boney M. Though the group's initial purpose was to simply lip-synch for TV and discothèque performances of Farian's song "Baby Do You Wanna Bump", Boney M. soon became a legitimate recording group with Mitchell, Barrett, and producer Farian as the vocal core.
After the band parted ways in the 80s, didn't anyone think of a reunion later.
I will never say never. Cause our lives are in God's hands. If it is Gods plan it will surely happen. It was Gods plan when we met and he allowed us to do great things together. He will again if it is in his plan.
What have you heard of India?
I have been to India before and I loved it then. I hope this trip will be as fabulous as my previous visits.
What memories will you take back from India?
It is not my first time in India though it's been a while. I love it very much and hope to have as much fun as possible sharing with the people of India. Look forward to my concert on 21st November at Phoenix Marketcity, Kurla.
Interviewed by Verus Ferreira