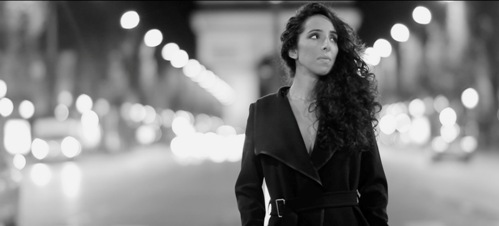 12th July, 2016
"I find Urdu / Hindi a very poetic language. I call it the language of love" – Tripet Garielle
Tripet Garielle is a versatile UK born and bred singer. In a short span of time she has gained a vast fan base because of her unique and soulful voice. While primarily influenced by Bollywood infused sounds, her style covers many genres and languages.
Although, Tripet had never been taught any Indian languages; through true determination and dedication she managed to achieve her dream to sing in a dialect she could not speak but admired a lot. To overcome her biggest challenge i.e. singing with the correct accent, she spent years studying 'Indian Language and Literature' and worked tirelessly with expert vocal coaches Chiranjib Chakraborty of India and Nisar Daniel of Pakistan.
She has collaborated with many renowned professionals; starting with the musical genius Jawad Hyder on the music of her debut single Palkaan in 2014. Palkaan had South American jazz acoustics infused with a Bollywood vibe hitting all major Bollywood music channels and was an overnight success.
For her debut solo album 'Woh Pal', she joined forces with renowned vocalist/ guitarist / director cum producer Atif Ali.
In 2015, she released her lead single Woh Pal. This smooth romantic acoustic Bollywood style love song garnered her great praise and interest from all. Most recently, Tripet released her second single called Aa Vee Jaa, an urban Bollywood style sound. All her songs from Palkaan to Woh Pal have a very universal sound that draw listeners from all walks of life around the world. Although the songs are in Urdu / Punjabi / Hindi they still speak a universal language; the language of the heart.
We chatted with Tripet over email. Excerpts from an interview.
How and when did you get interested in music and singing?​
At the age of 11, I used to sing along to Raja ko Rani Se from Akele Hum Akele Tum on a tape recorder. And I used to replay it and hear my voice. I never cared how my voice sounded, but I used to get drawn into the Bollywood melodies as my father was always into Bollywood songs and films. 6 years ago I took my poetry into songwriting and then I started writing my own songs in Hindi. I used to call my Indian friends and get help for translation since I knew what I wanted to write, but I didn't know the language well enough to do it alone. I never realised ​what a mammoth task it was​, but I had a strong​ desire to sing in the language of Bollywood. I had a lot of people telling me to stick to singing in English for accent reasons. But I found ways to work on the accent. It took 6 years to develop​ myself​ vocally ​and also to get a handle on the accent​;​ ​ ​ I​ have a long way to go. I just started out for fun. I never intended for it to be a career. But now I can't live one day without working on my music. To​ ​pul​l​ off the accent and ​the singing itself, I had to work ​hard and still I am​, but​ there is a​ drive deep down within me that keeps me ticking, that drive is my music because I'm so in love with it.
Growing up did you always want to be a singer. If not what is it that you wanted to be?
I have enjoyed singing since a young age, although I never took it seriously enough to start my career. But music has always been a part of my soul. I am artistic by nature; if I had not been a singer, I would have been a writer or something that required me to be creative.
Where does your love for music come from? Do you come from a musical family or was it something else that pushed you to pick it as a profession?
My father loved listening to Bollywood songs and watching the movies. I had no other connection to this world other than growing up listening to Hindi music. But I had a desire to do something which would bring the artist out of me and so I chose to sing. It was a hobby initially, but now I can't live one day without working on my music. I had to work ​hard not coming from a musical background or knowing the language but​ there is a​ drive deep down within that keeps me ticking and that is my love for music.
Tell me a little about your debut solo album 'Woh Pal'. How did the idea come about?
After I released my second single Aaz Ma Le, I knew that I needed to do something a lot more promising to really get noticed. So I signed up to work with Atif Ali. He wasn't convinced of me as an Artist (since I didn't have much experience) but he was interested to work with me due to my voice tone. We started off with Rung Jaoun (the song from the album). We enjoyed working together and we worked on more songs over Skype, as I was in the UK and he lives in Dubai. This slowly manifested into us realizing that we could make an entire album with our songs. To turn this idea into a reality, I left my whole world behind to come and record in the UAE with him over the space of 4 or 5 months.
What is your second single about?
Aa Vee Jaa is a story of longing for a loved one at the most celebrated time of the year (Christmas). The song talks about heartbreak with a little attitude both lyrically and musically. I really love the vibe of this track, more so because of the way it is visually presented.
What is it about the Indian language that fascinated you enough to learn it so well that you could sing in it?
As I told you, I have been attracted to Bollywood songs from the age of 11. I find Urdu / Hindi a very poetic language. I call it the language of love. I think its because I have only listened to Bollywood music, that I have grown fond of the language of Bollywood.
A lot of your songs have a lot of fusion in it. Is there a key to fusing two genres perfectly?
Musically, this is the genius of the music director. Vocally, I love throwing my voice, but have learnt the art of singing for different genres and modulating my voice accordingly. I think understanding the song and its journey, helps maintain the flow while mixing different genres. Also, a lot of practice is necessary to vocally get the perfect balance and blend in the song.
Have you wanted to become a Bollywood playback singer? If given the opportunity who would you like to be the voice of?
I am aspiring to have the opportunity to be a playback singer. I love recording. I have learnt the art of making love to the microphone. I can modulate my voice to cover various ranges. But since Priyanka Chopra and Katrina Kaif, are my favourite actresses; I would love to be their voice. Overall, I just want to create magic with my songs, be it for anyone.
What are the future projects that you are currently working on?
I am working towards my 2017 album alongside the launch of my debut solo lbum 'Woh Pal'. This album is full of twists and turns melodically from one song to next and flows like a series of mini fairy tales. I want to tell stories through my songs and therefore, I want to create albums rather then just releasing singles. Visually, ​I have​ planned videos for 4-5 songs from ​the​ full album of 12 songs.
What are your three favourite Bollywood numbers that you could listen to on repeat?
Khayalon Mein by Shreya Goshal; Lag Ja Gale and Yeh Zindagi Usi ki Hai by Lata Mangeshkar.
Any Bollywood singers or music directors that you would love to collaborate with in the future?
A R Rahman, Mohammed Irfan, Rahat Fateh Ali Khan, Arijt Singh…. the list is countless.
Interviewed by Verus Ferreira