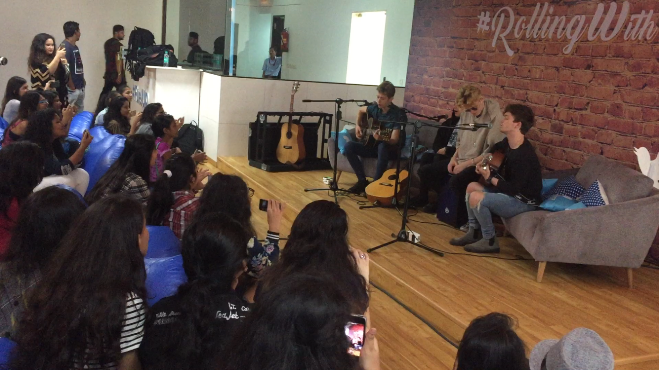 31st August, 2016
"I think it is very important for an artist to reinvent yourself as much as possible" - The Vamps
In a bid to bring music fans closer to the indie music scene and to international artists, Twitter India and music monthly Rolling Stone India magazine have teamed up to kick start a new bi-monthly partnership.
Called #RollingWith, this curated partnership will see Indian indie musicians and visiting global acts perform live at the Twitter India #BlueRoom, and the performance will be broadcasted live on Periscope via @RollingStoneIN to reach fans across the country and the world on Twitter. Prior to and during the performance, the artists will also engage with fans on Twitter via exclusive video Q&As and more.
The first session of #RollingWith was kicked off with British pop sensation The Vamps. 30 lucky fans of The Vamps got a chance to meet the band and question them left, right and centre on all aspects from their formation to what they like about India. From understanding what the band looks forward to with respect to music, to glimpses into some of the fun things they have done in India, this session of #RollingWith was a fun, interactive and exciting affair!
For those who missed out being a part of the live session with The Vamps, you can recap all the fun by following @TwitterIndia and @RollingStoneIN and following the conversation with #RollingWith. Check out what the fans asked the cute lads.
What does it mean to be a part of this band?
It's very cool to be a part of The Vamps because I like to think we are similar kinds of people. We are quite easy going, we get to travel to new countries like India and we have a mutual passion for music. It's nice to kind of express that together.
How different is it to be in your early 20's and living in the limelight?
Within The Vamps we try to be as normal as possible. We are quite normal actually; Brad still lives with his parents, which is lovely. I have only just moved out myself and it is very weir really. We are normal guys, just that we are doing a really cool thing. We are really lucky to be given the opportunity. And everything we do, like coming to India and things happen and we are like that's amazing and we still views things like as everyday amazing thing. So for us, we don't really notice a massive change transition as things happen. We still maintain our friends from home and we are very close with our families. And obviously we are best friends. And each thing that happens we see it as anyone else would see it and that is crazy. Today we have come to India and there are these people from the other side of the world who have come to see us, it's crazy. So we don't really see ourselves as particularly famous or something like that. It's just four guys like doing something ridiculous.
Describe each member of the band using a song title?
Connor, you could be 'Wake up on a Plane' maybe because he kind of very sleepy sometimes. Conner and James would be 'Runaway' cause they are always running away. Maybe Tris would be 'Last Night' because of last night, because you liked the dancing. Brad would probably be 'Can We Dance' because he can be quite cheeky. I can imagine him speaking to a girl and asking 'Can We Dance?'
How challenging is it to have your own vision?
We do get compared to Metallica and Slipknot. I think for us, we have always been of the mindset that there is enough space in the music industry and people are allowed to like more than one band. And just by people comparing you doesn't mean you are the same. And that's fine by us really. We are just trying to establish ourselves for what we are and hopefully people will recognize us when they hear us on the radio. For us, we want people to know our sound which we think we have kind of developed now.
When you came to India, anything that shattered your conception of India?
It is kind of good to have come to India with no preconception really. Because everything that has happened to us in the past week is a new kind of experience. So the fans have been incredible, the people have been very nice. So we think you have a lovely culture of like looking after people and everyone seems to be like very communal. Even the lovely guy who gave me his tweed waistcoat, that was lovely. It is a big thread that runs through Indian people; it's very nice to see.
What do you think about Indian fans?
The fans are Beliya! We are so happy to be here because we have seen so much of support over the past few years over our social media from you guys. And we kind of wanted to come and give back all of the support you have given to us. We want to come back and do a bigger and better show. We were actually recording a new song last night; again in Hindi.
What is the craziest thing you have done in India so far?
We got into a car with Shekhar and he gave us a lift from one place to another and we were genuinely scared for our lives for a while. But he is a great driver; we are still here so it is all good. Arriving at the airport both here and in Delhi was quite crazy as well – lot of fans which is nice.
Which other Indian artists will you be teaming up with in the future?
We are doing another son with Vishal and Shekhar. We also have another song in the making that Tristan is quite impressed with but we cannot talk about it yet.
What is your favourite Indian food?
Butter chicken. And butter milk. You need the milk because the chicken is so spicy. I had a cottage cheese paneer thing every day and that was very nice. I had a dosa for breakfast; it was very good.
What's your favourite thing about India?
I don't know. I think it's been nice to meet you guys because the highlight for us is meeting new people and you are our fans. Also, your food is very nice. Your traffic is not very good. But your food's good.
What is your perspective of India?
I didn't know what to expect. I heard that you like drinking tea and that's good cause I like drinking tea also. Also you have very nice food. But from a Vamps perspective, we can on Facebook and Twitter, we luckily have a lot of fans from India and we haven't had a chance to visit so we were kind of hoping and we are very pleased to see that there is a lot of love in India. Theekhai?
What would you like to carry back from India?
We were given a nice sculpture of Ganesha. We got given some plants which are really really nice but we can't take them on the plane; otherwise we will get arrested on the other side. We were also given a jacket. There was a really nice dude, a director, Bollywood producer. He had a really nice tweed kind of waistcoat on. He was a lot bigger than me; he was taller and bigger. And I just said, 'That's a really nice waistcoat. Then he came back 5 minutes later and he said, I want you to have my waistcoat.' And I was like, I put it on and it was a bit like a tent. But I have a guy's waistcoat which is really really nice.
Where do you see yourself as a band 5 years from now in an industry that is so social media driven, trend driven and record driven even?
I think for us it is very important, I think for any artist it is very important to reinvent yourself as much as possible. And kind of almost move with the times and yet retain your identity. So even when we started with covers, it is very easy to get lost on YouTube. With covers if you do not do it a bit different and someone hears it for the first time and thinks so I haven't heard this before and I want to go and carry on listening to that. And what we have tried to maintain is do something fresh and new and exciting and I think the third album coming out very soon, we have done that again. We have challenged ourselves as a band; we have taken on a lot of different music styles into the music and a different approach to song writing as well because that develops us further as musicians and songwriters. And in 5 years, we hope to be continuing to do that and making new music and seeing more Indian fans.
When are you going to be back in India?
We are planning to come back in October, which is soon. We are looking to add India to our World Tour. We were not sure if we would turn up and there would be no one here. But there are people and we want to go out and play a big show for them with like a world tour set and bring it to India. So we hope we do this next year.