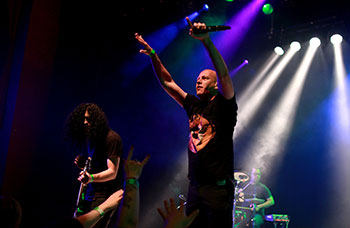 03rd March, 2017
"We enjoyed this world music festival in a winery" - Infected Mushroom
Israel based Infected Mushroom have a huge fan following in India. The musical duo from Haifa both produces and performs Electronica. On an average, the band completes 120 live annual performances around the world yearly andhas millions of followers. Infected Mushroom have performed at some of the biggest music festivals around the world including Coachella and Burning Man. Infected Mushroomhas been twice ranked amongst the world's "10 Best DJ's" by UK's DJ Magazine!
On the occasion of its 10th anniversary, Sulafest brought the trance act to the vineyards on the last day of the festival. Verus Ferreira met up with the duo Erez Eisen and Amit Duvdevani for a short chat a few hours before they could go on stage.
How did you guys come up with the name Infected Mushroom?
Funny story, we took the name from an old Israeli punk band that broke up. They never took this name out of the local scene and we felt it was more fitting in the world of trippy electronica, so we stole it haha.
Going back to the time you started, can you tell how it all began for both of you in 1996?
At that time, we were solo artists making Psy-Trance… a mutual friend at a record label got us together and said we should try to collaborate. After a few songs we realized there was something special. Check out "Duvdev&Shidapu" for some of the old stuff pre-IM.
Do you think that Trance is very much over the place when you also have new DJs playing house, techno and EDM music?
Yes but that's okay. One of the best aspects of Trance is its ability to incorporate various sub-genres of electronica. If an artist is stuck to one style, they will eventually fade away. It's important to be able to read the evolution of style, and to use all the tools to make the best music possible.
Have you even tried going into a new genre of music?
Infected prides ourselves on trying new things; we have downtempo music, hip-hop, breaks, electro, dubstep, trance. We get bored if we do the same thing all the time. But no matter what style we make you can always hear our signature "infected" sound.
Amit do you have roots in India, if yes, how often do you visit the country on a personal visit?
Yes, I spent a lot of time in Goa back in the day. We would stay for months at a time. Now that I have a family, I don't go back unless I'm playing a gig, but I really enjoyed living there for that time in my life.
You have visited India a few years ago, what was your experience then about the country?
We try to visit every year. We always love it. Amazing food, lots of energy on the dance floor, and genuinely kind people!
Is there any new music you collaborating with any artists?
We have been enjoying RIOT's remixes of some of our latest tracks such as Kipod, and We Are So F*cked.
You have a new album this year 'Return to the Sauce', when can we expect to see it being released?
It was released on 27th January, it'll be a return to the roots, something fun for the old-school Psy fans!
Do you guys love eating mushrooms, infected or not?
Yes but at this point, non-Infected are the best for us haha
Interviewed by Verus Ferreira