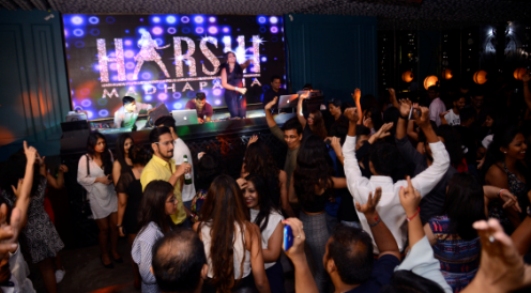 02nd June, 2017
Harshi wants to keep her birthday promise
The gorgeous and talented singer Harshi Madhaparia recently celebrated her birthday with full madness with her friends. She grabbed a mic and jumped on the podium to sing her new song Wada Jo Kiya, which the crowd went crazy on. The song released while she was on a concert Tour in the US and has already touched 5 million views on Zee Music in less than 2 weeks. Harshi rocked the night away with the crowd and her friends at a party in Mumbai. She kept her promise, "sabko daru pilana padega".
We met up with Harshi on the eve of the release of her new single.
Recounting your past, tell us something about your childhood and how you got into music?
I had been inspired by my brother, who was a contestant of Saregamapa. He got into the Top 6, and he was travelling everywhere, so even I thought let me give it a try. Also my mother had always stayed in London, she always asked me to do cultural activities like garba and Bollywood songs. I was always into dancing and singing.
How did you get into Indian Idol?
When I hit 19, my mother let me do Indian Idol. They were auditioning in UK for Indian Idol 3, where I got selected and that bought me to Indian Idol 3 and India.
What change did Indian Idol 3 bring in your life. What were you doing prior to that?
I was in Business Management initially, and working for the government in HR. Then I was selected for Indian Idol 3 and got into the finals. This changed my life 360 degrees. I started singing, travelling and learning classical music. There was a total change in my lifestyle.
After coming to India what were the challenges that you faced?
There are many challenges that I faced, specially adjusting to the culture of India, was my first biggest struggle. Then learning Hindi was again a huge struggle. I had absolutely no contacts in India, so had to start everything from scratch.
What was your strategy once Indian Idol was over, What had you planned for your career?
Luckily, I had met some really nice people, who helped me, introduced me to our music contacts and also introduced me to some event people. Then I had started doing some events, that was my survival strategy to earn a living here. Then I got into playback singing, I did a song with Mika Singh Raat Saturday ki Hai and with Ankit Tiwari and DJ Bravo Yager bomb.
We just heard your song Wada Jo Kiya, would you want to say something about it?
Yes I recently released my single Wada Jo Kiya. It is a song that you can sing in every party. It goes like "Waa Jo Kiya, woh nibhana padega. Sabko Daaru pilana padega" and this applies to every happy occasion. I was in love with the song, the first time I heard it and I told Ramji Gulati, I want to do this song.
Are you trying to get into Bollywood because that is the next step after Indian Idol?
Of course I am, I did a song with Mika Singh Raat Saturday Ki hai and the other song was Yager bomb with Ankit Tiwari for Tum Bin which was a nice groovy party number.
Do you plan to do any original music down the line or you plan to do just Bollywood stuff?
Absolutely, I have done Wada Jo Kiya which was my first original song. I have one more coming up Squats Lagake Hips Hilake which is a nice fitness/clubbing song. Its a very peppy number, so you can dance on it on the dance floor. Its 2 in 1 kind of a song, done with Aditya Narayan, as he is with Zee TV it would release with a good label.
Do you plan to relocate to Mumbai or you plan to work from London?
I absolutely love India. My mom keeps calling me "Harshi gharpe aa jao, ghar pe aa jao" and I say "Maa mujhe India pasand hai toh main idhar hi rahungi". Most of my friends are in India. So I think I will stay here permanently.
So do you have anybody in music in your family apart from you?
Yes my brother, he was a finalist of Saregamapa and he was singing with Salman Khan and travelling to Japan. His name is Paresh Madhaparia, known as "Pardesi Paresh", and he was very famous in Gujarat.I thought let me follow his footsteps.
You recently celebrated your birthday, what is your resolution?
My resolution is" Work hard, Party hard, Have fun and just Enjoy whatever you do."
Interviewed by Verus Ferreira