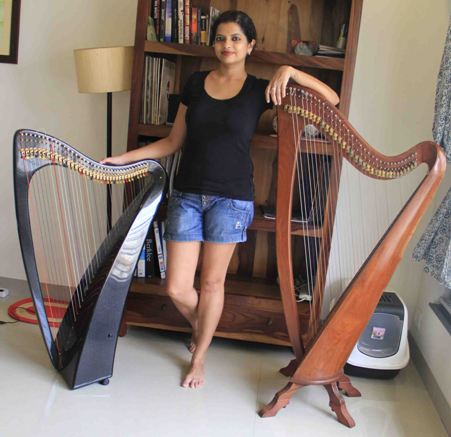 20th July, 2017
Angel of the Harp - Nush Lewis
As an instrument of beauty in both sound and looks, the harp not only looks elegant and catches the eye of everyone around, the harp sounds wonderful from even the first notes pluked. Harpist Nush Lewis from Mumbai has been playing the harp for a while now. Your heart will melt when you see her sitting angelically behind the world's most glamourous instrument producing the most exquisite sounds.
Verus Ferreira met up with Lewis to know more about her music and the beautiful instrument she plays.
You were born and raised in Kuwait and later moved to India. Tell us something about your early growing up days.
Well, I grew up with two music-loving parents and an older sister. Music was something that we were always connected through. I think that was because I was born outside India, the music that I was exposed to was a good amalgamation of genres from traditional Arabic music, to Western pop music on the radio, home had a mix of old western retro music clubbed with old Bollywood. From Kuwait I moved to Abu Dhabi with my family to complete my schooling and after that I moved to Bangalore to do my degree in Media, Literature and Psychology.
After sometime in Bangalore you then moved to Chennai.
Bangalore to Chennai was pretty much a last minute decision. For a long time I thought I would get into filmmaking and would do music on the side. It was only after I finished my degree that I realized that I wanted to take up music professionally. So I floated the idea with my parents very cautiously by telling them that I wanted to do Music Production, purely because it sounded like it made more money. They, of course, were very supportive and I then got myself enrolled in the KM Music Conservatory in Chennai where I joined as a vocal major.
How did you get into playing the harp and making it the instrument that would define your future?
During the first couple of weeks at KM the past batch was going to graduate and had their graduation ceremony. At the ceremony our music theory teacher, Alison Maggart, who is also a harpist, performed. That was the first time I ever saw anyone perform on the harp. The instrument by itself is quite magnificent and has pedals and different coloured strings. That's what got be curious. I wanted to know how this instrument worked because I knew it sounded gorgeous. So I requested her to just do a trial class with me knowing well that I would never commit. But there was something about that first class where I learnt to place my fingers on the strings and pluck four notes. Unfortunately for me at the time the vocal program was not going in my favour for various reasons. But there was a certain kind of peace that I felt when I was in my harp class with Alison. The trial class lead to another and another and before I knew it I was practicing the harp more than my vocals. That was the turning point I guess. I ended up switching majors and the rest is history. I did play a bit of piano as a child but not enough to be good.
What were the difficulties you faced while learning the instrument?
I completely believe in just being persistent with a new found passion. And that persistence is what got me to learn a decent amount of skill and technique on the instrument.
For those not familiar with the harp, tell us something about the instrument?
I believe that every country has some form of the harp. Like the Greek Kanun, the African Kora and in India the closest thing to a harp would be the Swarmandal. The western classical harp has evolved a lot over the years and today what is used mainly for classical music and orchestral pieces is the 47 string pedal harp. The harp is exactly the piano without the hammers and the black keys.
What are the different kinds of harp available and which one do you usually play on?
There are different kinds of harps but in the Western music realm there is the concert pedal harp, Celtic folk lever harp and the Paraguayan harp.
What are the sizes of harps made in the world? Which do you use and does it occupy a large space in your house?
Harp sizes can range from 8 strings to 47 stings. I have a 36 string folk lever harp. It doesn't occupy much space as it's an instrument that stands vertically.
Transporting a harp from one place to another can be quite a problem, how does one take care of an instrument like this?
I have the luxury of just loading my harp on the back seat of a cab and traveling. If I am flying with the wooden harp I ask the organisers to book an extra seat on the flight to carry it on board with me. But now I have a harp made of carbon fibre and I can check it in with regular luggage but it always goes as fragile and is hand picked and dropped to me.
Besides yourself are there many harpists in India? Are you in touch with any international harpists? Have you collaborated with any of them?
Yes, there is another Indian harpist in India, Meagan Pandian and we are in touch with each other. The harp community around the world is a rather small group so it's easy to connect with them. I've met many, but we haven't collaborated.
When did you get your first break?
My debut performance in Mumbai was in 2011 for Sidd Coutto's solo album launch for "Sunny Side Up".
When did you start to use the name Nush Lewis instead of Anushka Lewis? Is it to give your name an international appeal?
Nush was what everyone in school called me.
You play originals and sometimes covers? What do your songs talk about?
My songs are basically my stories and life experiences. I've moved a fair amount in my life and I think it's those transitions and the people I've met along the way.
You released a six track EP 'Fused; in 2015. Tell us something about it.
'Fused' was an EP of stuff that I had penned down in the first two years of being a harpist. It is a moody and dark with a touch of surrealism.
You did a couple of musical collaborations sometime back. Can you tell us something about it?
I've collaborated with some interesting people over the past couple of years. Some of them being Whirling Kalapas, Chandana Bala and Sandunes. Of these my collaborations with Chandana and Sanaya were really eye opening. With Chandana, I got tune my harp to a Raag and play on top of a composition of hers. With Sanaya it was using the harp sonically in a different way.
Do you have a band that plays with you on a regular basis or do you perform solo?
I do have a band but I can perform with various set ups. Right from a solo to a duet, trio and band.
Do you think that you have been supported by many people including Symphony Orchestra of IndiaI to perform at gigs?
I work as an independent artist so I am my own support system to get gigs and perform more.
The harp is usually part of a live band ensemble; do you want to be part of a major live orchestra one day? Maybe go international, have any offers come in?
It would be great to be a part of a large ensemble or an orchestra, I just don't think I'm cut out for it. I selfishly like to compose my own music and perform it with other musicians.
You now have a producer Ayan De; do you feel your music has taken off on a new tangent with his help?
I started working with Ayan in 2013 and it's been great. We have great chemistry and a great working relationship. He adds a wide range of sonic ideas and elements that help lift the music I write and I think that's what a good producer is about. He has great vision when it comes to the overall sound of a song and has a great pair of ears.
What are your future plans?
There's a lot that's being planned for 2017. We've already started work on the untitled second EP. We will be playing in Delhi and Mumbai in July and in the coming festival season. Ayan and I are also launching our new art property called OffSet.
Interviewed by Verus Ferreira