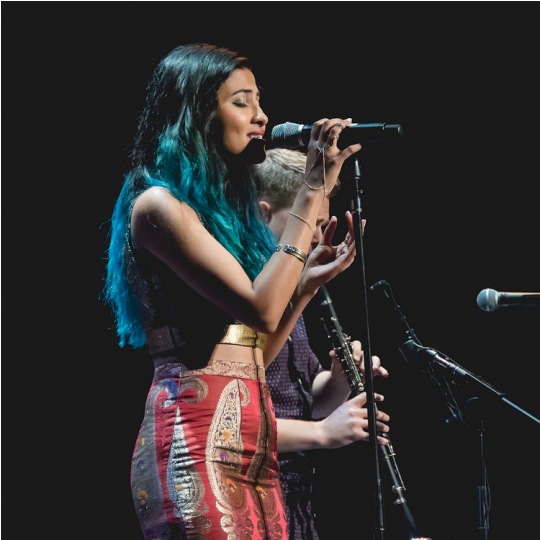 31st July, 2017
Desi voice - Vidya Vox
This year's YouTube FanFest held for the fourth time in Mumbai, had a stellar lineup with a dynamic mix of music, comedy, dance, fashion and much more. The fest also had its widely popular YouTubers from around the world, one of them being the very pretty Indian born Vidya Vox. Vidya has built an incredible fan base from India and around the world with thousands of fans and was delighted to be in Mumbai. She has performed in some amazing venues around the world, including the White House, NCPA and Webster Hall.
Verus Ferreira met up with Vidya for a short chat before she went on stage for her performance.
Vidya, you have been in the music industry for the last several years, how old is the Vidya Vox channel?
The Vidya Vox channel is about a year and a half old and for me in the music industry it's been about four or five years.
How did the name Vidya Vox come about and why the name change when you are actually known as Vidya Iyer?
Well actually the idea came from Shankar (clarinetist and composer Tucker) who came up with it and that's how he labels all my vocal tracks when I record. We thought of 'vox' which is actually 'voice' in Latin as it sounded really good and made a statement like Vidya Voc (Voice). I was looking for something that sounded really cool and also very good. We were all the time wondering what to add, should it be Iyer or something else and then one day when we were recording, Shankar just thought of this name and we decided to use it.
So how was this transition from Chennai to the US happen?
Well I was born and brought up in Chennai and then when I was about nine-years-old my parents moved to the US with my sister. I have been singing since I was five years old. My guru D.K. Nargarajan was in the US living in Maryland, so my sister and I learned music from him. So I have been singing with my sister all the time. We met Shankar at a youth retreat and became friends and ever since we have become good friends.
Academically where do you stand?
I did psychology from the George Washington University and also medicine. But after I graduated, I was on a pre – medicine track, studying for MCAT. You see I like science but I love music. So when I was preparing for my exams, I was singing on weekends with Shankar and his band. I was confused what to do, so I followed my dreams and decided to take up music.
Did your parents have any objections to what you wanted to do?
Well not really, my mum is infact totally on board, and when I first told them that I wanted to quit after I finished doing my course in studying pre - medicine, they just asked me if I had a plan in mind. I told them that I had planned to head to India to do music and start my YouTube channel, they were like …. ok fine go ahead.
Do you plan to shift to Mumbai to concentrate on your music?
Well it would be US and Mumbai for my work, I live in Los Angeles, so I would be coming back and forth when required. I also lived in Mumbai for a year, before I moved to Los Angeles, but we have moved permanently over there now and it's also closer to family
You said you also have a sister Vandana. Is she also into music?
Vandana is with me in the US and she is doing advertising full time. I really don't get a chance to perform with her very often, though it has been here and there sometimes, though not much as I would like to.
So what music does she perform?
She performs with me at times and infact we did a collaboration last December when we visited Kerala for Christmas, where we did a Kerala folk video song 'Pallivalu Bhadravattakam'. This song's vibe inspired Shankar and I to write our own original lyrics and English tune.
So do you speak Malayalam?
Yes, I do speak a little of Malayalam and also a Tamil. A bit of Hindi too.
Any musical training you've done so far?
Yes, I did grow up and learnt a little bit of Carnatic music and then after college I learnt Hindustani music with western vocals.
So how do you usually start making these mash ups with Bollywood and Western Music?
It usually starts off with a track that I really like, something that appeals to me and from there I go to my phone and check something out, again which I really like, and then I put this and that together and have something really great at the end.
So when you do these mashups what do you really look for in a song?
Well it has to have a similar tempo and similar scales, like Major or Minor scales as that's the only that way they will mash up. Otherwise they won't. Also the vocals don't really matter as much as the music. The vocals can be used anytime and that really doesn't really matter so much. It's the music that pulls and connects everything together.
So can we expect an album from you very soon, now that you just released and EP?
Yes, the album should be out this summer I hope and yes we did release this single EP 'Kuthu Fire'.
Music is connected with dance, so do you like dancing?
Aah yes I do like to dance, like I did a bit of Indian dance when I was young, but now I teach hip hop classes now…. just for fun
So is it the US or Mumbai, better friends in US or Mumbai?
(Laughs) Both actually. We just had a three city tour of India covering Mumbai, Chennai and Bangalore and the love and affection that people have shown me is amazing. I have met people in so many different places and people who I never knew have welcomed me, so it really great to be here.
So what is your ambition and what do you wish for in the future?
Well hopefully I can continue to put out original music and still last and I think mashups are amazing and cover songs are awesome, but I really want to continue doing original music and make something out of it.
So you have a boyfriend or not?
(Blushes as Shankar Tucker stands around) (Laughs) So you know and you need to find out. (Laughs) Well I can't tell you…. this is something that is personal
So any message to your fans in India?
Thank you for the support and I am so grateful to you for being there for me.
Interviewed by Verus Ferreira