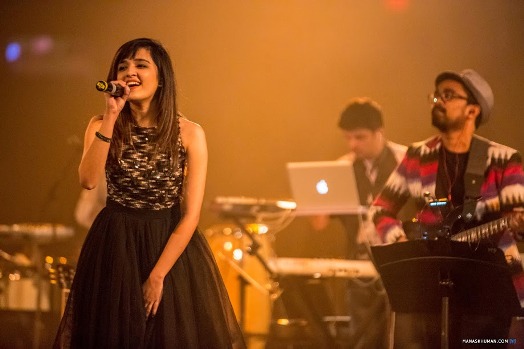 21st August, 2017
Kiwi export - Shirley Setia
Shirley Setia is a 22 year old Indo-Kiwi singer, performer from Auckland, New Zealand. She makes cover songs which can be found on her YouTube channel.The Cancerian is not only a famous singer, but also a former RJ on Radio Tarana with her show "Showtime with Shirley". At a relatively young age Shirley has made a name for herself in a matter of a few years and is today a much loved performer by the Indian audience. Last year Shirley won two music competitions: Big Golden Voice award show in Big Digital Sensation category and Outlook Social Media awards.
In Mumbai to perform at the YouTube Fanfest this year, the petite singer Verus Ferreira met up with the singer at the Fanfest to know her rise to fame.
You have a large following on social media, how do you think you managedto achieve this great feat?
Thank you so much. I have over 2.5 million followers on FB now, which is truly overwhelming. It has been a series of things which led to this. I feel I'm honest with my followers; I'm also very interactive with them on social media, be it taking their suggestions, speaking with them live, or engaging with them in various posts. Since I've been the person handling my social media, it allows me to better understand my audience.
What has been the selling point for your music?
I've always tried to make music with the purest of feelings and emotions. I feel that it's the emotions that connect with every soul, and that could possibly very well be the reason.
How has the journey been from the time you took part in a T – Seriescontest to your success today?
So actually it was in April 2013, when T-Series ran a competition for which I recorded a cover of the Hindi songTum Hi Ho from my parent's house in Dannemora, East Auckland. I not only won the competition amongst tens of thousands from around the world, but in turn I also gathered a lot of views for all my YouTube uploads.It has been challenging for sure. I never thought of pursuing my passion as a full time professional back then. I was naive, merely finishing high school. But taking that spontaneous decision is what led me to then keep pushing my limits. My parents saw my eagerness and allowed me to take the leap of faith to move to Mumbai and pursue my dreams.
You recorded this video wearing pajamas, we came to know.
Ha-ha yes, while recording the song I was wearing pajamas. This video was uploaded on 19thApril 2013 and after the success of the video I was labelled "The Pyjama Popstar" by The NZ Herald News.
Have you done any music training? Do you play any musical instrument?
I am not yet formally trained, but I am surely considering vocal coaching lessons to help me understand the techniques behind singing. I sometimes play a Ukulele, but I'm definitely no where close to being at the "pro-level"…..Ha-ha.
We heard that you are planning to make your base in Mumbai?
Yes, infact it's been a year since I made the move, and I'm absolutely loving it.
Do you have any siblings, what do they do and are they also into music?
I have a younger brother, Shane. He often sang in the car with me whenever we used to go on long drives, ha-ha but no. He's actually a sportsman, loves his cricket and wishes to become an international cricket player one day.
What do your parents feel about yourchoice of career?
My mom and dad, Firoza and Raj, are very supportive of my choice of career now. Ofcourse there was a long period of time when we often had disagreements as they were concerned for my future as there is no one from our family (even relatives) who is even remotely close to this field/industry. But they are really happy now, and always motivate me to keep doing better.
Musically what are you up to as of now?
I am currently working on originals and travelling is keeping me busy as I'm touring India for live shows and concerts. It's great to see so many different cultures within a nation. I feel truly humbled to be experiencing this.
You presently sing cover songs, when can we hear you sing a couple of original songs?
After the release of my debut original Koi Shor, which was composed by Ravi Singhal, I've received so much of positive feedback and love from fans for originals. So I am dedicating all my time into working on them, while being on tour.
You are originally from Daman, how often do you visit the place?What memories do you have of the place?
I try to visit as often as I can, however now that I've had a really busy schedule it has been difficult. But I last went a couple months back, and it's always great to be in Daman. I remember playing with my childhood friends on the terrace of the apartment we used to stay in in, riding on my little bicycle with them and by God's grace we're all still in touch and our friendship is still as strong as it was when we were kids!
Soacademically what are you doing presently?
I recently finished graduating in BCom from The University of Auckland.
Mumbai or New Zealand, better friends here or there?
Ha-ha I've lived most of my life in New Zealand, and I have been only a year in Mumbai so I feel it's unfair to choose. But honestly Mumbai has given me so much of love so far, that I rarely feel homesick!
Do you have a boyfriend?
No, I don't. I'm dating my work at the moment
What are your future plans?
Ah, my future plan is to simply go with the flow. Had I planned out my future 4 years back, I would not be in India right now. So I'm trying to work as hard as possible and do it with all my heart.