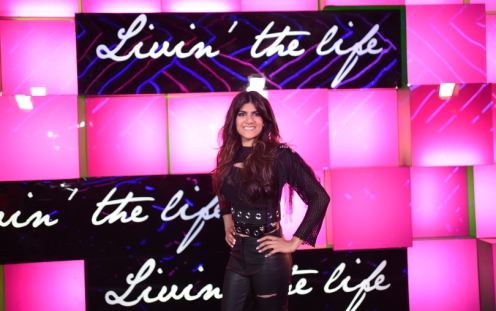 14th October, 2017
The Spice Girl – Ananya Birla
With a surname that could get her anywhere, Ananya Birla doesn't wish to fall back on it and instead she is keen on building her own legacy. At 22, Ananya is many things; intelligent, passionate, with a sharp entrepreneurial mind, and forging her way into a music career, a dream she nursed while studying at college. Daughter of business tycoon Kumar Mangalam Birla and Neerja Birla, Ananyais determined to rise above the pack, follow her heart and make a difference.
With her international debut single Livin The Life doing well for her, Birla dropped her second single in July this year in time with her 23rd birthday. Titled Meant To Be' the single sees the singer-songwriter sporting a brand new personna, highlighting her artistic maturity and musical evolvement since her debut.
Verus Ferreira, met up with Ananya where she shares her life story and dreams.
You have a rather hefty lineage to live up to, branching out to music, you seem to have done what ruled your heart leaving tradition behind.
Following one's dream has always been part of my family's lineage, so I would be taking it forward not only with music but with my businesses as well. I hope I can make my parents proud and eventually the entire country proud of me.
Did you have the freedom to do what you wanted during your childhood days?
I remember when I was about 13-16 years I had a deadline to come home by 10 pm, which I followed very diligently I must say. At present too, my parents have given me all the freedom in the world, which I truly respect and try to use in the best way possible. Other than that, my childhood was filled with many different things. My mother made me do many different activities all the time. My days were very packed and therefore, even now I am used to keeping my schedules very tight and busy. As a teenager when I was at Oxford (University) studying Economics, I learned a lot about life, had a lot of fun and met some really good people. I have made many friends from all around the world. So overall it has been a great journey so far.
You did regular school but then dropped out and began taking home schooling, why did you opt for this?
There were a couple of reasons, one being that I did not understand the schooling systems at all. I felt like there was a lot of wastage of time during the class, so I dropped out. At home schooling, I was actually completing one whole school day in about less than 4 hours; which normally would take around 7-8 hours at school. Also, I wanted to invest some more time in my entrepreneurial journey which started with Svatantra. These were the two biggest reasons.
So what is Svatantra all about. What was the purpose and what goal were you looking for in this?
The basic purpose was to reach out to as many people as possible. I am a woman entrepreneur and I wanted to address two situations; one of financial inclusion and the other was to support other women entrepreneurs in rural India, which fits in my mission of financial inclusion. My actual goal is for Svatantra to become a universal bank. And currently where we stand, the next step from being a microfinance company is to become a small financial bank.
You also started another venture MPower. Can you tell us something about it and what was the idea in starting this?
MPower is a venture which aims at creating awareness about mental health and alleviating the stigma around it. Basically it educates everyone about what mental health means, and why is mental health so important. It emphasises on the importance of taking care of your mind as much as your body. So it is all about creating awareness about importance of mental health. The idea behind it sprung with certain experiences in my life at Oxford. There was a helpline which I was a part of, I saw people suffering, I saw the stigma around it, which got to me. I felt I had to do something for this cause. The best way to start is in your home country. India has highest rate of suicides in the world, which hit me hard as well.
How did the decision to take up music come about?
I have always been very passionate about music, and I think eventually I reached a stage where I thought, if something makes me so happy I should make a career out of it. Because what's better than waking up in the morning and actually following your passion like it is your career. So I had composed many original songs and I started pitching them to different people, and then there was a song "I don't want to love' which I haven't released yet. I pitched it to the record label. After some deliberation, they got back to me as they really liked the song and signed me up as an artiste. This is still one of the highest highs of my career.
A few months back you released your first single Livin' the Life. Does the song focus on your life and how you live it?
The song is about an experience I had in my life. Through that experience, I learned that for me 'Livin the life', as the term goes, is all about spreading love and making people smile and enjoying the process through it. So I sort of want to break the stigma of people who may associate 'living the life' with fancy cars or things like that in terms of physical assets. For me 'Livin' the life' is all about seeing people smile and enjoying their journey.
When can we expect a full length album from you?
Well, it's a creative process and these things take time. I on concentrating on making good, hi-quality, relevant and impactful music and hopefully will have an album out by early 2018..
Do you play any musical instruments; did you take any training in music?
Yes, I playthree musical instruments, the Santoor, the Guitar and I know the basics of Piano. I frequently use my instruments to compose my music. I also sing while playing the guitar. I did not take any formal training in music at a young age. However, I was in the school band in London, so at that time there was a lot of vocal training going on. Looking back now I did have vocal training during my childhood; but at that time it was more likea lesson in pursuing something I was passionate about.
Who has been the biggest inspiration in your life?
I think my forefathers, my Grandfather especially and my mother, together have been my biggest inspiration.
Who are your favourite artists you look up to?
My all-time favourites are Eminem and Kurt Cobain. A current favourite is Ed Sheeran. . Other than these two I love Ellie Goulding's voice. I love Justin Bieber's new album 'Purpose' as well.
Are you an animal lover?
Yes, I am a complete animal lover, especially love dogsand I play with my little pet, a Yorkshire terrier called Skai.
Do you have a boyfriend?
(Laughs) No. I wouldn't be able to do justice to a relationship right now given my current schedules.
What are your other future plans, businesswise and personally?
Music presently is my priority. My business so far is really doing well and I feel blessed to have some great leaders in my team. Looking at my entrepreneurial baby Svatantra gain a banking license is what I am aiming at next. Reaching out to more people with Mpower Minds, and eliminating the stigma associated with mental illness is another. On a personal level, a big learning curve is keeping myself updated by reading books, doing short courses. but more so leaning towards achieving a higher level of self-awareness by always being authentic and true to myself.
What is your message to our young readers?
If you have a dream, own it, work hard and go for it. Age is never a barrier. And gender shouldn't be.
Interviewed By Verus Ferreira