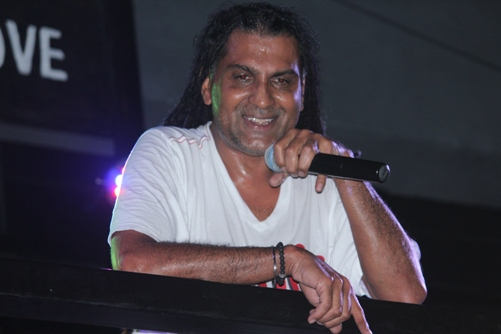 01st November, 2017
The Don Returns - Apache Indian
The Brit-Asian Steven Kapur a.k.a. Apache Indian needs no introduction. He has been around for over 25 years with a distinguished career that many of today's artistes will envy. Apache took his vibrant sounds of Dancehall, Reggae and Raga around the world fusing his distinctive vocal style with Indian, Jamaican and English music. Chok There, Arranged Marriage, Don Raja, Boom Shack-A-Lak, Make Way For The Indian, to name a few became anthems. He returns to his roots with an out and out Reggae album 'In Ja' (or 'In Jamaica').
Verus Ferreira met up with the Don Raja when he was in Mumbai recently performing at Raasta in Khar to find out more about his new album and what else he has in store for fans.
It has been over 25 years since you came on the scene. Did you ever think you will still be making music? Yes, very much. Music is a part of my life. I don't think I'd ever stop making music. The most important thing is that it's still relevant and people still listen to my music and fortunately, we have a great fan base around the world and it is they who keep me going. From all the requests and all the stories that I hear, this is what motivates me to be honest. Otherwise, I'd probably be making music only for myself and would listen to it at home, but I've travelled the world and people from all across the world have given so many requests and I have received so much love that I almost feel like it's a duty for me to make music for them. I'm working with a fresh team now, so it's almost like a new beginning, and so I'm looking forward to another 25 years from now.
Tell us about your new album. What was the inspiration behind this and how is this different from your previous albums?
The album is called, 'In Ja'. It's a complete reggae album. That's how it's different from the others. All my other albums have been a little fusion and bits and pieces of other things. This album is all about my love for Reggae music and we are also celebrating 25 years of signing with Reggae Record Label - Island Records. I wanted to do something special to pay my respect to the kind of music that got me into this field and made me who I am today, which is Reggae. So for all my fans all over the world, this is to celebrate 25 years.
You have a mix of English and Hindi in your songs, so have you done the same with your new album?
No, not with this album. I wanted to particularly keep this album away from any sort of fusion or mixes. Maybe in the future, I may carry onto making fusion songs, however, this time it's pure Reggae music.
Your style and music still appeals to Asians and non-Asians? What is the special connection that makes you their favourite?
I don't really know. I think people have realised that my music is genuine and honest. I am very proud to be an Indian and hence, I will always try to bring that element when I can into my work. So, I guess it's just my honesty. Reggae fans all around the globe will definitely enjoy this one and won't be disappointed because what you see is what you get and it's not just another gimmick.
You pioneered 'Bhangramuffin', a term no one knew. How did this come about and influence your music?
It's basically just the element of Indian sounds and language mixed with Reggae. I mean I was a first generation born in Birmingham, U.K. and hence I had a lot of influence of the Jamaican culture, the language, the sound, as well as the British culture and I also had my own Indian culture, the sound and language, and its influence on me. So all that fusion is what I transferred into my music. My music represented who I was and my personality and people slowly started to relate to that from different parts of the world. 'Bhangramuffin' is a label I don't personally like, but I guess that is a term people used to put it all in one box and I'm fine with it.
You made a statement about arranged marriage in your songs, do you think people took this seriously keeping tradition in mind. Did you manage to get the message home?
It was a difficult song to write and I guess people got it because I paid respect to religion and to the tradition of arranged marriage and tried to understand the idea of arranged marriage in the song. The last part of the song said, "when is the right time to tell my girlfriend" and that was actually the real side of it. The British view of it and what I was trying to say was that people grow up and they do have boyfriends and girlfriends and people resonate with the real thing like that. In that respect, I think it worked. People accepted it around the world from Jalandhar to England to America. It was appreciated all over and it became one of my biggest songs.
Early in your career, you also worked in a Tamil movie, were you trying to check out the scenario and see if it was the kind of music you wanted to pursue or films?
There wasn't much thinking behind it. The film industry is massive in India. The record company's writer from Universal Music suggested that I work with A.R. Rahman and I went to work with him at an early part of his career and mine. It was a great experience using different languages, using my style combined with his style, using some of the Tamil words and finally making a song called 'No problem'. That then went into a movie called 'Love Birds'. They then shot the song in London. Prabhudeva had choreographed the song. It became very popular and much appreciated by everyone over the world and the best part is, it brought me a lot of Tamil fans everywhere. (Laughs)
Have you collaborated with any Indian singers for any of your songs?
Yes, over the years I have collaborated with a few Indian singers like A.R.Rahman, Asha Bhosle, Jazzy B. I've worked with some Hindi singers, some Punjabi singers. I actually love it because it's all original and its great to be in a position where you can work with Indian, Jamaican and English singers and so on.
Which are your favourite Bollywood films?
I wasn't really a big fan of Bollywood films because back in the days there was a lot of dancing and singing with very bright colours. However, I like the new movies. I recently watched this movie of Mr. Bachchan titled 'Pink'. It was a very good movie, with a new story and different twists. I would actually like to make a movie about my life.
What is your other interest apart from music?
I like sports and I always wanted to be a teacher in a sport. I love cooking. My cooking is the same like my music, (Laughs) it's like a fusion, of Jamaican, Indian and different flavours and all. I couldn't cook before, but now this is something I really enjoy.
This is your second visit this year. What are your plans?
Yes, there are a few plans to do some Bollywood songs and definitely promoting the album on this visit. I'm here on tour of Mumbai and all of India for the album.