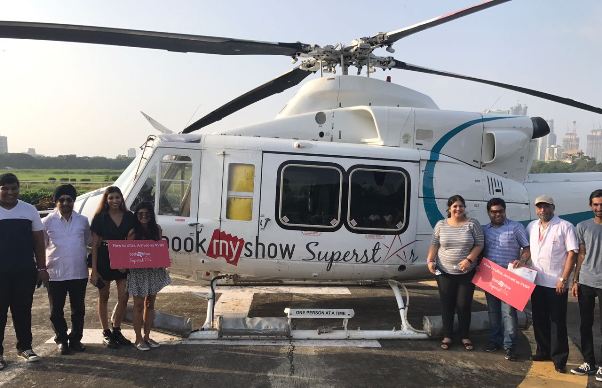 08th September, 2017
BookMyShow Superstars arrived in style at the Chainsmokers concert in the backseat of a Chopper
And it's a wrap! Mumbai city was buzzing with energy and excitement, as thousands of music fans spent their evening humming and swaying to the beats of Closer, Something just like this and Don't let me down (Which nobody was). While everyone went back home happy and content, some were more thrilled than the others.
BookMyShow, the official ticketing partner for the Road to Ultra Concert, gave six lucky 'Superstars' an opportunity of a lifetime to arrive at the Road to Ultra Concert in style and élan. Travelling in an air-conditioned 10 seater Bell 412 EP chopper, these Superstars travelled from the Pawan Hans, Juhu Airport to the concert venue Mahalaxmi Racecourse to enjoy one of the most awaited musical events of the year.
Once they reached the Racecourse helipad, they were received personally by Anil Makhija, Vice President - Service Delivery, BookMyShow. The superstars were euphoric with this once-in-a-lifetime opportunity and couldn't stop expressing their excitement.
And, if this wasn't enough, BookMyShow invited 5 other lucky fans from Mumbai for a backstage tour of the concert and a grand after-party. The famous five got the chance to have special access to the artists, click loads of selfies and catch all the behind the scenes action during their backstage tour. They had a first-hand experience of the crew-set up, met the team behind the Road to Ultra concert and continued to party in the evening with their favourite artists. Not just this, they also get upgraded to a Diamond category pass. Now that's what we call a dream come true.
An excited Prathamesh Renukdas, age 19, said, "I never thought I would get to attend the Chainsmokers concert! But to actually fly to the concert in a chopper was the best thing ever! Thank you BookMyShow for this. And love you Chainsmokers. This is truly and unforgettable experience."
Ashish Hemrajani, Founder & CEO, BookMyShow said, "All conversations at BookMyShow begin and end with our users. It has been our constant endeavour to add value and redefine entertainment experiences for them. We were equally thrilled to make the Road to Ultra concert extremely special for our lucky Superstars by flying them in a BookMyShow Superstar chopper. It was our way of thanking our customers who have been choosing us to meet their entertainment needs for over a decade now."
The Superstar program is BookMyShow's first ever benefits programme that has identified a base of its most loyal customers and will offer them a wide variety of rewards and benefits.