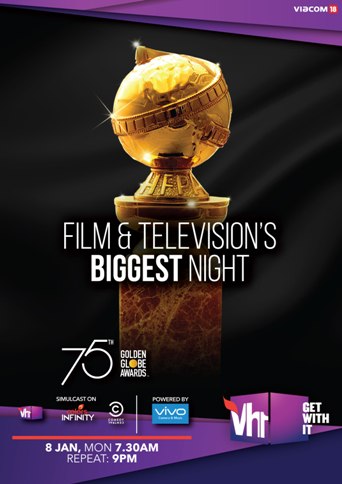 07th January, 2018
Viacom18 kicks off the International Award Season in 2018 with the 75th Golden Globe Awards
As the New Year brings about a new season of International awards; Viacom18 is all set to bring the best of them on their channels. Viacom18 commences the year with the 75th Golden Globe Awards; where viewers will see the best of American Film & Television compete for the most coveted award in the industry. The star-studded evening, along with superbly impressive and power packed performances will air on channels across the English Entertainment cluster under Viacom18's banner, on January 8, 2018.
The 75th year of the awards will also witness a special celebration, as Will & Grace stars Eric McCormack and Debra Messing host a two-hour long, star studded Golden Globes: 75th Anniversary Special day prior to the grand awards night.A nostalgic walk down memory lane; the special will relive the best moments across the last 74 years of the Golden Globe Awards, and will feature Amy Adams, Jake Gyllenhaal, Julia Roberts, Nicole Kidman and many more. Viacom18's English Entertainment channels will simulcast the anniversary special for Indian viewers, on January 7, 2018.
This year, leading the pack with seven nominations is The Shape Of Water, closely followed by The Post and Three Billboards Outside Ebbing in the movie category. The Shape Of Water dominates the nominations with contendersacross three categories-Best Picture, Director and Best Actress.While in the TV category, Big Little Lies leads with 6 nominations, shows from Colors Infinity like The Good Doctor, Fargo, Better Call Saul, Mr. Robot; and Comedy Central hit series, Will & Grace, are also in race for the coveted title. Crediting her incredible impact on the world of entertainment, philanthropist, producer and actress, Oprah Winfrey will receive the coveted Cecil B. DeMille Award.
Following the legacy of Jimmy Fallon, Ricky Gervais, Amy Poehler, and Tina Fey, the renowned comedian and commentator, Seth Meyers, will host the awards.
Commenting on the simulcast of the Golden Globe Awards, Hashim D'Souza, Programming Head – English Entertainment, Viacom18 shared,"In our continuous effort tobring the best of English content on our channels this year, we are thrilled to kick start January with one of the most prestigious awards, airing simultaneously across all our English Entertainment channels. With a delightful mix of acclaimed TV shows, movies and music, the excitement generated by the Golden Globe Awards is unparalleled. We aim to make the experience even more exhilarating through on-ground integrations planned for our consumers"
To make the experience more gratifying for viewers, Vh1 is celebrating the glamour of the night with special red-carpet nights & split trivia nights at nightspots across 15+ cities. In addition, specially curated playlists, gym workouts and styling sessions at salons with bloggers are being curated to get the audience ready to kick off the awards season.
Catch the best of TV and films, as they compete for one of the most significant awards, 75thGolden Globe Awards, on Monday, 8th January only on Vh1, COLORS INFINITY, and Comedy Central.