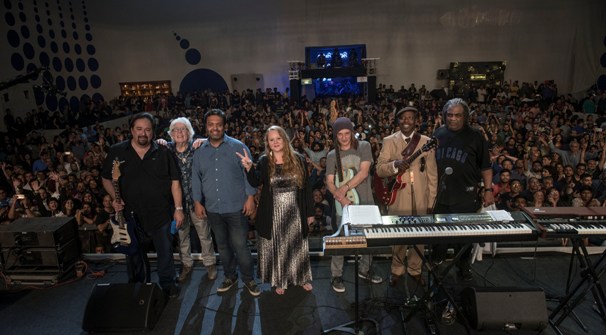 13th February, 2018
John Mayall is the crowd puller at the Mahindra Blues Festival 2018
The iconic Mehboob Studios witnessed Mumbai's biggest celebration of blues music on the weekend with the Mahindra Blues Festival that boasted of a line-up of the legendary marvels from across the globe.
Among the hundreds that thronged the festival on both days, guests enjoyed a potent mix of rhythms and surprises on the eight edition of the festival. Day one performances included a soul-stirring gig by Layla Zoe, followed by Balckstratblues electrifying act. Coco-Montoya enthralled the audience to a delightful musical extravaganza, followed by John Mayall's surprise entry. Watching the two perform on one stage was exuberating for all blues fans; it was a phenomenal end to day one. Day two saw the legendary 'Wolfman', Walter Washington perform to some extraordinary numbers captivating the mood of all music fans present.
The Mahindra Blues Band Hunt winners; Arinjoy Trio gripped the audience on both days of the festival with their entertaining beats. The festival's grand finale saw a terrific performance by John Mayall; the blues legend perform to some popular numbers, followed by an all-star act with all performed treating the audience to blues brilliance, and leaving them in anticipation for Mahindra Blues Festival 2019.