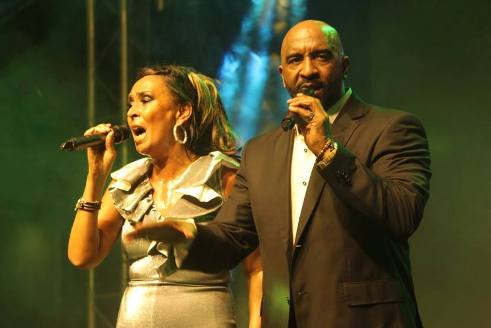 24th May, 2018
Mumbai hosts its biggest D.I.S.C.O night
It was DISCO night in Mumbai. Esther Maria Hendrika and the bespectacled Robert Walker that make up a later version of Ottawan, brought back the disco sound of the 80s band Ottawan on Friday night 11th May at Dublin's Phoenix Market City, Kurla.
At the one hour show, the duo, performed a few original tracks they have composed down the years, but it was the hits D.I.S.C.O, Hands Up, You're Ok, Shalalalala, which got everyone dancing. You will hear these songs played at just about every birthday party and they still remain catchy tunes to rewind the 80s with. Dressed in a shimmering gold body hugging dress reminiscent of the 80s, Esther was the showstopper, her vocals bang on like she once sung years ago.
In an interview just before the show, Esther revealed that she joined the band much later to do the live performances when original members Annette and Jean-Batiste Patrick left. She then used to work with Jean, but when they broke up, she started her own band with Robert Walker. The vocals you hear in the original songs, says Esther, are hers, as she claims Pat and Ann were only the faces of the group and were seen on TV shows. Most of the songs got to the top of the music charts all around the world when they were released and according to Esther "the producers didn't expect the song D.I.S.C.O would become a success, and once it did become a hit, the producers were looking someone who could perform on TV and that was Pat and Annette". Bet you didn't know that.
Robert has a musical background and has played in other bands before he met Esther. He joined the group when a producer was interested in putting him in a group. "We kind of gelled with each other and I became the male lead singer of Ottawan". A talented individual he plays five musical instruments including the trombone, trumpet and the clarinet.
Is Disco still playing around these days we question? "Its still there" feels Robert "they just rename it something else for marketing purposes. They call it house, trance, it's really up-tempo." Theduo who is on their second visit to India have heard little of Indian music and Bollywood's King Khan.
The evening also saw an opening act, the very talented Glynis perform a few cover versions.
KCT Entertainment, who brought the duo, also plans to bring The Vamps, The Bellamy Brothers and Air Supply this year.
n Text and Photos by Verus Ferreira