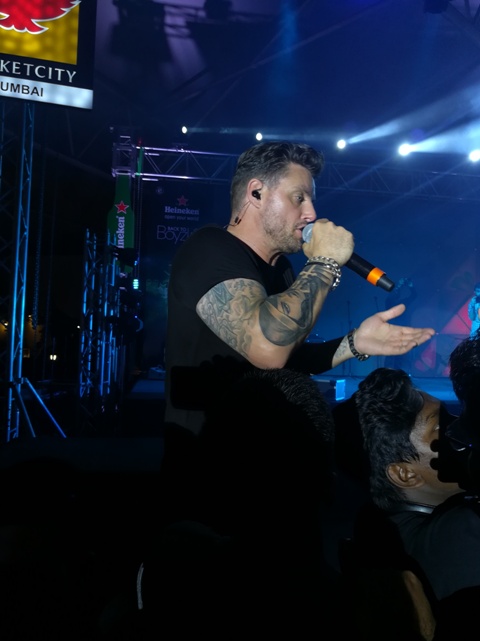 24th May, 2018
Percept Live's FLY with BoyzLife is a rousing success.
Percept Live, the creators of Sunburn, Asia's biggest music festival, bought down the legendary 'Boyzlife' under their Live Intellectual Property, 'FLY' which witnessed a floating crowd of 4000 enthusiasts in Mumbai and Bengaluru. Westlife's Brian McFadden and Boyzone's Keith Duffy joined forces to create 'Boyzone' that made its successful debut performance in India on 19th May 2018 at Dublin Square, Phoenix Marketcity, Kurla Mumbai and 20th May 2018 at JW Marriott, Bengaluru.
The legendary and talented artists performed many of their chartbusters including Westlife's hits Swear It Again", Queen of My Heart, I Have a Dream, Uptown Girl, You Needed Me, and BoyzLife smashhits such as No Matter What, I Love the Way You Love Me, Words, Baby Can I Hold You and Love Me for a Reason.
Fans across Mumbai and Bengaluru had a blast as they swayed to the evergreen melodies of Brian & Keith. As the party progressed, guests were seen in high spirits, dancing to the music as also enjoying the specially curated F&B experience. With amazing SFX and state-of-the-art technology, Percept Live ensured that guests enjoyed a larger than life experience and walked away with amazing memories of the 'FLY' Music Festival.
Percept Live's 'FLY' Music Festival is an International Live Music Festival cutting across multiple genres that brings together the biggest and most legendary names in the world of live music entertainment. The very first edition of 'FLY' was launched in 2015 in Mumbai and saw the iconic English singer-songwriter and musician Ed Sheeran belt out popular pop, acoustic and folk numbers to crowds that had travelled pan India to witness him live.
The Boyzlife show has already been performed for over 20,000 adoring fans since the pair came together in 2016, and this was their debut performance in India. With Westlife, Brian McFadden enjoyed 12 UK and Ireland number 1 hits whilst with Boyzone's Keith Duffy enjoyed similar success with five #1 albums that sold over 25 million copies worldwide.
Brian McFadden and Keith Duffy, Boyzlife stated, "As Boyzlife this was our first India tour and we were totally excited for it. But we did not except this small and inexpensive gig to be this AWESOME'.
Following that, the main event was on stage and the masses in attendance went overwrought. A trip back to the pop culture of the 90's is the best one could describe the exhibition put up by the power pack duo. With other hit numbers performed, the crowd got a taste of the best of both the worlds. The audience, of every age present, had an evening full of melody, memories, love and excitement.
With inputs by Behzad Khambatta
Photo of Keith Duffy by Behzad Khambatta