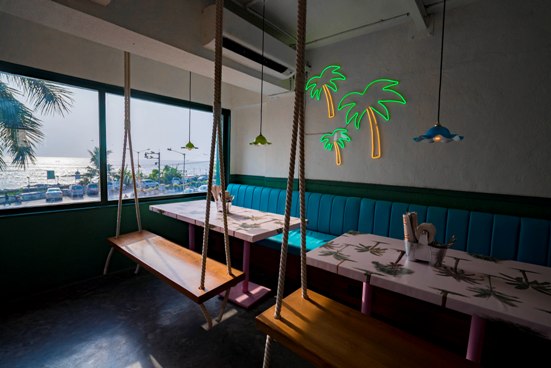 26th May, 2018
Love on the Rocks at Carter Road Social
Remember when we used to sit by the rocks, talking about love, life and the mysteries of the universe, while the careless whispers of the waves crashing upon the Carter Road promenade, felt like music to the ears? Time to be kind and rewind, for the good times are close. Like really close - cue *drumroll* Carter Road SocIal is a go this Friday!
Whether it's the refreshingly tropical vibe of Social #20 in India (#10 in Mumbai), or the soothing palm and coconut tree wallpapers of the space, jazzed up with just the right amount of kitsch-meets-sparkling neon signage, the overall effect sure reminds us of the more important moments in life (#LoveOnTheRocks, anyone?) And if you needed any more reasons to head down this weekend, #SocialSupports has got the Carter Road community sorted - all proceeds from the sales on the 25th, 26th and 27th of May will go to supporting the Bandra West Residents Association, United Nations World Environment Day 2018 Initiative, the Bhamla Foundation and more charitable organizations!
Riyaaz Amlani, C.E.O. & MDImpresario Handmade Restaurants (parent company of Social) says, "Carter Road means so much to so many people, and it's one of the best public spaces we have. We are thrilled to be a part of this community, and bring Social #20 here. With a renewed commitment to developing a hotbed of creativity and creating a space that thrives on synergy for young entrepreneurs and inspired minds, the energy at Carter Road Social is palpable. As always, we will continue to challenge norms across the board, including food and drinks."
This outlet celebrates all that's wonderful about Carter Road. True to its iconic location at the very junction of the Carter Road promenade, Swapna Nair, Chief Project Manager, Impresario Handmade Restaurants designed this outlet with the intention of breathing sun, sand and sea into every nook and cranny of its space. Complemented by summery pastel shades of baby pink & variants of green, and flanked by embroidered cane-like chairs alongside comfy lounge seating, it's the perfect view of summer (without the heat, thank you!), all within crawling distance of the Arabian Sea. The walls, patterned with tropical motifs, also boast some killer artwork by Manipuri artist Sony Thokchom!
With plants dotting the floor (and ceiling!) and palm trees just a breath away, this floral masterpiece is the true summer escape! The undeniable pièce de résistance here, of course, is the breathtaking view of the setting sun from the sweeping glass windows of the outlet, accompanied by majestic views of the entire promenade, laid out against the crashing waves and the hustling bustle of life on Carter Road.
Always at the forefront of innovation, Social's patented blend of participative events, stimulating workshops and of course, the most happening gigs in town, are sure to bring a whole new dimension to this already iconic spot. And if you've ever dreamt of having an office by the beach, look no further - you'll be able to use the Social workspace here to live out all your fantasies of sipping 'DOPECOFFEE ROASTED TODAY' while looking out onto a vista of setting sun vis-a-vis gentle sea breeze in an Instagram worthy work space, sure to fire up those creative juices.
Speaking of which, Social's signature dishes have travelled all the way to this beachside paradise, and injected the promenade with a whole new buffet of options to choose from! Be it the Goan Prawn Curry or the Gunpowder Calamari, the menu's got plenty of nautical inspired fare alongside classics such as the Death Wings and the now infamous China Box.
When it comes to their signature prowess with libations, these masters of mayhem have once again given us a *run* for our money! To keep the chill going, they've got an all-new cocktail menu – Carter Road Social Classics, with tropical specials like the 'Freaky Tiki' (spiced up with jalapenos) and 'Fool's Gold' (rum, guava juice, coconut milk & more!) to not only quench your summer cravings, but also help you (re)discover #LoveOnTheRocks (the bar signage says it all ;)
For truer nostalgia #feels, try the 'BerrySharabi', served up in a paper bag, or keep that beach vibe going with the 'Bomb Shell', served straight up from the seashore; while 'The Open Sesame', with lime juice and rum, and the pretty 'Lady in Pink', which combines soothing watermelon with refreshing mint, serve as the perfect antidote to the insufferable Mumbai summer!
And no, they haven't forgotten Carter Road's resident #FitFam, aka its frequent runners, joggers, biking enthusiasts and yogis - keep your eyes & ears peeled - Social is planning to make your morning cool-downs a whole lot easier. While they're definitely not going early to bed, they're going to be early to rise - you can try out their range of fresh cold-pressed juices from 7am! And that's not all - they're making Carter Road *cool* again by getting those mangroves clean and green again (keep an eye out if you want to lend a hand!)
In a nutshell, #TBT got nothing on Social's newest outpost at Carter Road, which is all set to help you update your memories of one of Mumbai's most iconic sea fronts, with tons of amaze 2.0!
Hours: 7:00 am to 1:00 am
Facebook: /SocialOffline

Instagram: @SocialOffline

Twitter: @SocialOffline
Website: www.socialoffline.in
Address: Gagangiri Premises Building,Carter Road,Bandra-West, Mumbai - 400052 Number: 9152017974