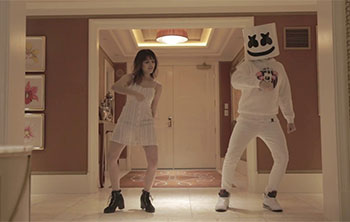 18th June, 2018
Marshmello And Shirley Setia collaborate for the first time
India's top grossing digital star Shirley Setia is currently stationed in Las Vegas promoting a tourism campaign for Brand USA as well as working on content curation for her next few professional commitments.
Being a huge dance music enthusiast, she had the good fortune of meeting one of the hottest names in the dance circuit- Marshmello, who has visited India on several counts. The two met up at Marshmello's hotel to film some cool content and Marshmello also took to Instagram to display their stellar Bollywood moves on Badshah's Kaala Chashma. He captioned his post on social media which has garnered over 7 millions views in 24 hours as "Bollywood here we come!" hinting at a possible bollywood project collaboration between the two.
Shirley Setia states, "My manager Aayushman Sinha reached out to music mogul, Moe Shalizi to see if they'd be up for a quick meeting since we were both in the same hotel. The video was such an impromptu idea since I realised he's such a big fan of Bollywood culture. music and dance. I'd love to do something with him in future."
On the work front Shirley is working on numerous independent Hindi and Punjabi songs and also on a few massive international collaborations. With Jab Koi Baat crossing 60 million views and Koi Vi Nahi crossing 30 million, Shirley is confident the next one will be even bigger than both.