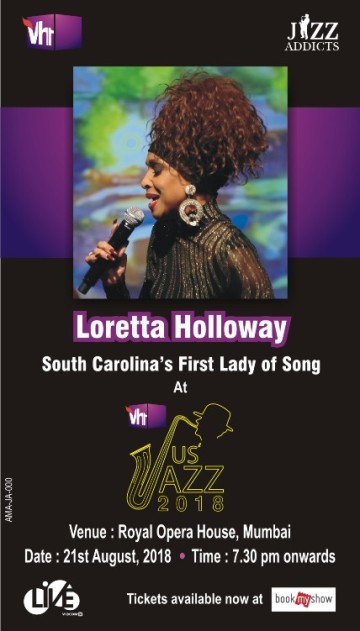 09th August, 2018
Jazz Singer Loretta Holloway to perform in Mumbai
After making their mark in the live music scene of India with many genres such as EDM, Rock, Pop, Hip Hop, Folk and more across varied entertainment IPs, Live Viacom18 and Jazz Addicts now come together to create a sublime jazz tour property in the country called Jus' Jazz. This property aims to bring to the Indian audiences the finest world-class mainstream and classical jazz from around the world.
Jazz Addicts, founded by Pradip Bhatia and Apurva Agarwal, is an association of jazz enthusiasts who have several times in the past brought blue-ribbon jazz to the Indian stage. Live Viacom18 and Jazz Addicts have joined hands with Jus' Jazz to fill the void of jazz that clearly exists in the soundscape of this country. As part of Jus' Jazz this month, bringing her exuberantly unique take on jazz to India is singer Loretta Holloway – also known as 'South Carolina's Official First Lady of Song'.. The singer will embark on a two-city tour including Mumbai and Bangalore.
Speaking about the tour, Saugato Bhowmik, Head, Live Viacom18 and Consumer Products, Viacom18, said, "At Live Viacom18, we constantly endeavor to cater to the diverse needs of all music lovers. We have always created properties across multiple genres and we are very excited to try our hand at jazz with Jus' Jazz. With this event, we hope to revive the romance with the cherished traditional rhythmic jazz music and bring it back to India. We are delighted to partner with Jazz Addicts who will help us bring this extravaganza to all the jazz enthusiasts in the country."
Pradip Bhatia, co-founder of Jazz Addicts, adds, "Jazz is a way of life for us. My partner Apurva Agarwal and I have been passionately organizing jazz shows for years now, and it makes us very happy that this time Live Viacom18 is sharing their diverse experience with live music with us and Jus' Jazz. Loretta Holloway is a unique and special jazz personality and we are thrilled to bring her to India for the first time along with Live Viacom18."
The ticket sales for this concert will go LIVE exclusively on BookMyShow on Tuesday, August 7, 2018 with ticket prices starting at just INR 499.
Tour Details:
August 21, 2018 | Royal Opera House, Mumbai
August 23 & 24, 2018 | Windmills Craftworks, Bangalore