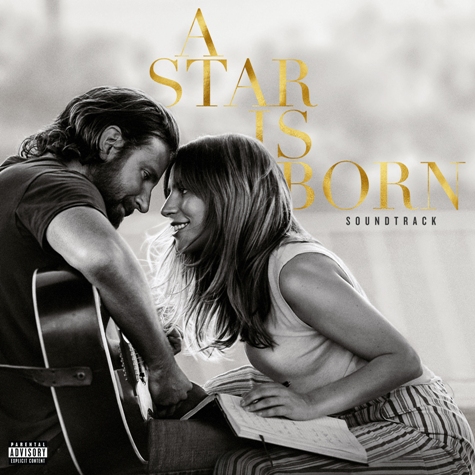 11th September, 2018
Get the OST of 'A Star Is Born' now
The official motion picture soundtrack to 'A Star Is Born' which features new music from six-time Grammy Award-winner Lady Gaga and director Bradley Cooper – is now available for pre-order via all physical and digital retailers. The album is due from Interscope Records on October 5th, the same day the film opens.
Featuring 19 songs in a wide range of musical styles, and 15 dialogue tracks featuring those moments that will take listeners on a journey that mirrors the experience of seeing the film, the soundtrack to A Star Is Born follows the musical arc and romantic journey of the movie's two lead characters: Bradley Cooper's Jackson Maine, and Lady Gaga's Ally. The soundtrack includes Shallow and Maybe It's Time, two songs featured in the instantly iconic trailer to A Star Is Born.
In 'A Star Is Born', a new take on the iconic love story, four-time Oscar nominee Bradley Cooper (American Sniper, American Hustle, Silver Linings Playbook) makes his directorial debut and also stars alongside multiple award-winning, Oscar-nominated music superstar Lady Gaga in her first leading role in a major motion picture. The film also stars Andrew Dice Clay, with Dave Chappelle and Sam Elliott.
A Star Is Born was produced by Bill Gerber, Jon Peters, Bradley Cooper, Todd Phillips and Lynette Howell Taylor. Ravi Mehta, Basil Iwanyk, Niija Kuykendall, Sue Kroll, Michael Rapino and Heather Parry served as executive producers. The screenplay was written by Eric Roth and Bradley Cooper & Will Fetters.
Warner Bros. Pictures Presents, in association with Live Nation Productions, in association with Metro Goldwyn Mayer Pictures, a Jon Peters/Bill Gerber/Joint Effort Production, A Star Is Born. The film is distributed worldwide by Warner Bros. Pictures, a Warner Bros. Entertainment Company. It is rated R for language throughout, some sexuality/nudity and substance abuse.
Pre-order the soundtrack to A Star Is Born here: http://smarturl.it/ASIBSoundtrack