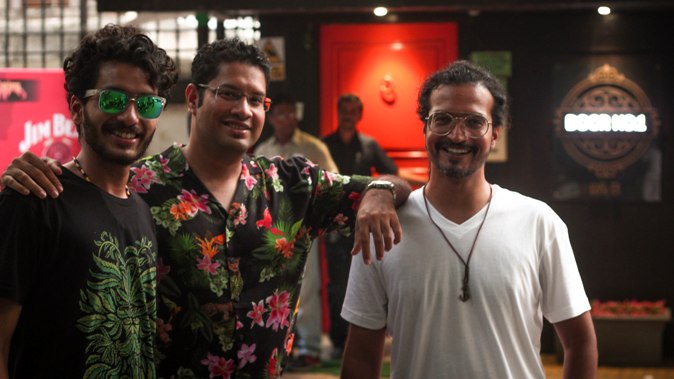 03rd October, 2018
Retro Bar Door No.1 gets its own Indie band
Door No. 1 – The Retro Bar was launched in 2016 in the cosiest of locations in the ONGC Colony of Bandra Reclamation, Mumbai. The owners Mihir Bijur and Vishesh Khanna opened the venue keeping in mind the fun yet intimate ambience of a house party coupled with the nostalgic feel of good quality Retro music.
Their eureka moment hit them after a couple of pints, a couple of night-outs gone wrong and a couple of conversations with the public in general when their idea of the need for a retro themed place to hangout was reinforced with great gusto. Their brand pays heavy tribute to the yester-years and just stepping foot in Door No 1 captivates you with a wave of reminiscence where the décor makes you feel right at home, the 'chakna' and classic cuisine transports you to a simpler time and of course their USP sound always brings you back; hungry for more.
Their lust for perfection has been epitomised by their in-house DJ, Russel; the brand ambassador of UDG Gear India and winner of MyFav Awards 2015-16 in the Rock and Retro Category. They even have dedicated tribute nights to icons like Sridevi, KapoorKhandaan and more.
Door No 1 is suited to anyone who wants to get out, relax and have good time. The venue is even divided into the dance and chill areas so that no matter your mood, the retro bar got something for you. Door No 1 has in a short time become endeared as a classic spot not only by its patrons but also by critics and accreditors with Door No.1 being awarded 'The Best Retro Bar' in all of West India (Indian Restaurant Awards – 2018) and 'Best Pocket Friendly Bar' (Times Food and Nightlife Awards – 2018).
After achieving that target with great aplomb Door No 1 then set its eyes on its next target; providing a platform for Independent Music to take centre stage not just with exposure but with adequate financial compensation as well. Why Indie Music you ask? In today's market the demand for live music hinges predominantly on renditions of popular tracks. Creativity and artistic talent are neither appreciated nor financially rewarded which has not only hurt Indian Talent but has also been slowly killing it. No more says Door No 1, as they embark on their journey to push creative talent into the spotlight.
To that effect, the Restro Bar has taken on 'Pratham' consisting of Kushagra Mathur, Anurag Prasad and Ameya Naik, their very own Hindi Indie band which as the name suggests is the first case in India where a bar owns a band. The band debuted during the Sunday Jamfest on 30th September 2018 and will be a feature to perform on the first Tuesday of every month at Door No 1. With Pratham they look to give their audience a nostalgic taste of their rebellious side through music and create a platform for as many artists as possible to bask in the spotlight that they deserve.
Their desire to help the music community has been so large that they decided to work with Tilt, (a company with a similar Indie mind-set) dedicated to providing a platform for local talent and art and being their voice in cases of adversity, and support their 'Jam' property dubbed Sunday JamFest which provides a stage for musicians to network, meet up and make music on the spot or put our their work. They even have a 99 Rs. menu running during the Jam so that it's economical for people to come and enjoy themselves.
Pratham is currently a three piece set-up featuring Kushagra Mathur on Vocals, Anurag Prasad on Guitar and Ameya Naik on percussion dutie. At launch the band performed a mix of covers and orginal material which went down well with the music loving crowd who attended the event.
Kushagra Mathur the lead vocalist of Pratham is a singer-songwriter and composer from Suncity Jodhpur settled in Pune since '09. Despite being a computer engineer by qualification, he's always been a musician at heart, performing live for 10 years across the country and not looking back even once. He has even opened for acts like Indian Ocean, Lucky Ali, Usha Uthap and Sanam along with his other band members.
Ameya Naik is a music composer and the percussionist of Pratham. He conducts various musical workshops for corporates and produces music out of his own studio. His latest track for the Ganesh Utsav Bappa re sung by Shankar Mahadevan, is currently running on renowned TV channels.
Anurag Prasad the guitarist and back-up vocalist of Pratham is a singer-songwriter and composer based in Pune and has been performing live since 2012 with multiple bands. His experience includes working with nationally renowned radio stations. A sound engineer by profession and performer by choice, his vocal and guitar skills as well as his national award for producing leaves him as cool as a cucumber on stage where he feels at most home.
Door No.1 has fulfilled their objective – To give back to society and create history along the way by being the first Bar in India to have its own Hindi Indie band, Pratham