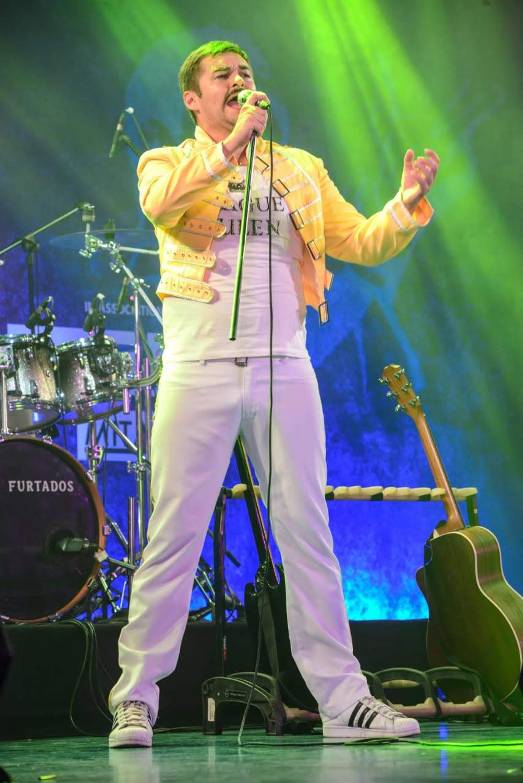 09th October, 2018
Concert Review: Prague Queen's rhapsody leaves Mumbai asking for more
You could say that this was an unexpected rebirth of rock band Queen, the moment Prague Queenvocalist Jaroslav Bresky took to the stage on the opening One Vision. Things built from there. Bresky grabbed his sawed-off microphone stand as the band swayed into the rapturous Kind of Magic, Save Me and the tingling Under Pressure. The Rang Sharda auditorium in Bandra reverberated to the music of Freddie Mercury's Queen and the songs that he gave us.
The group Jiri Jirsa on drums, Frantisek Raba on bass guitar, Pavel Zboril on lead guitar and Martin Otruba on keys, captured the music of Queen, building up song after hit song on the massive playlist that Freddie Bulsara left behind.
The 100 minute concert, the first ever in Mumbai, brought all the hits with it. Bresky's connection with the audience was similar to Freddie's undying love for his fans. Bresky's absolute mirror image and movements were reminiscent of the man he tried to emulate, from the stage movements, mannerism and histrionics of the original Queen-Freddie Mercury; he showcased it off with practiced ease. Dressed in an all white outfit with matching track shoes, Bresky's yellow jacket was ummissable as he belted the hits we all love. You could make out that he tried to sound his best on songs like Somebody to Love, the rocking Crazy Little Thing called Love, Another One Bites the Dust with Raba on the bass kicking it off well. Bresky vocals were sharp, though on a few songs you could feel him missing on the highs on the Parsi lad's high notes.
But then this was a Tribute act and credit must be given to Bresky to pull off some of the most difficult songs like Too Much Love, the repetitious Friends will be Friends, I Want to Break Free. On the acoustic love ballad Love of My Life, Bresky's vocal prowess was at its best. Pavel and Bresky were a sight to watch. The co relation and emotion in the track was bang on accurate and authentic the way you would expect a performance of Queen's songs.
On Bohemian Rhapsody you had Mercury sitting at the piano, but here we had Martin taking control on the first bars of the song, playing Queen's most famous song. Bresky was all powerful on this strange and gorgeous piece with his band storming in behind him in majestic stride, and an audience of around 700, singing the lyrics from a seemingly deep-rooted memory, as if this was what they had waited for all evening. On Radio Ga Ga, the crowd responded with a collective gesture, slapping hands overhead and pumping fists as Bresky pushed them on with his sonorous roar.
From baroque pop to hard rock, disco, rockabilly and funk, it was there. The show ended on a high note to Freddie's final song The Show Must go On chronicling his efforts to continue performing songs despite his illness elated to AIDS which took away his life on 24th November 1991. Bresky appeared in a beautiful red robe resembling the Queen.
While Bresky had no buck teeth, he definitely sported a small paunch, a well manicured moustache and a look close to Mercury. His tall stature befitted the style of the icon he tried to portray. Guitarist Pavel Zboril's curly hair was a tad similar to Queen's Brian May. His fingering on the strings was cut well on all songs. Prague Queen crafted an elaborate blend of layered guitar work by both guitarists, overdubbed by precise vocal harmonies by the flamboyant Bresky.
The show which has helped Prague Queen become the most successful Queen Tribute band in the Czech Republic and one of the best Queen Tribute bands worldwide, surely gave the crowd its money's worth. Precise live rendition rock legend, near original arrangements and keys, visual similarity and perfectionism brought together a band that exudes class.
Freddie's second cousin Jehangir Bulsara was also present at the show and when called on stage recalled fond memories of his cousin.
Today, over 27 years after Freddie Mercury passed away, Queen's legacy as one of rock's biggest and most controversial bands remains alive, thanks to Prague Queen who have taken it on them to bringing the magic of Queen alive again.
If you missed the show, and especially if you were a Queen fan, particularly Freddie Mercury, you missed something really great. But we do hope the folks at The Fourth Dimension who brought Prague Queen down; bring in more such Tribute acts to India in the near future.
Reviewed by Verus Ferreira
Photos: The Fourth Dimension.