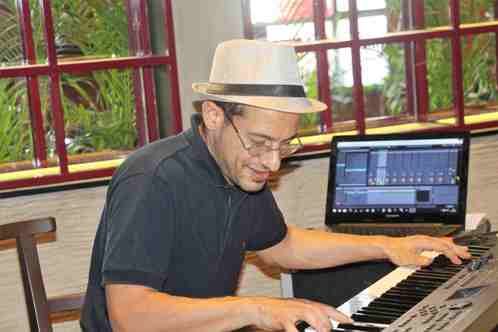 26th October, 2018
StreaminLive presents For The Love Of Music in association with Vh1
Helmed by Niloufer Rohira, StreaminLive began its musical journey in November 2017 and has actively participated in promoting live western music in Mumbai and Pune.
Throughout this journey, they have successfully hosted various gigs and events at city restaurants, clubs and private/ corporate showcases. Their events are focused on highlighting the musicians' hard work, creativity, talent and genius. As a celebration of the past year, the musicians and their music, StreaminLive in association with Vh1 is all geared up to present their first concert 'For The Love Of Music', on 9th November 2018 between 7.30 pm and 10.00 pm at St. Andrew's Auditorium, Bandra.
The evening will see a collective of 12 musicians coming together under one roof, bringing you music like you've never heard before; Jazz, Latin and Funk-RnB. Karim Ellaboudi - master jazz pianist, has curated the music for the event. The artist lineup for the evening includes renowned names such as Elena Friedrich Sciubba – A vocalist with a unique timber, warm tone and great clarity with many exceptional international performances in her kitty; Shreya Bhattacharya – A full time jazz vocalist with interests in RnB, Neosoul etc.; Lydia Hendrikje – A singer and composer from Germany who finds inspiration through her performances with global artists; Karim Ellaboudi – one of the most in-demand sessions players in the Indian music circuit; D.Wood – an American bassist composer, co-founder of the Bombay Jazz Club and Head of the International Music Program, Whistling Woods International; Avishek Dey – a bass player from Kolkata known for his versatility and vocabulary on the instrument; Abhinav Khokhar – an Indian bass guitarist - pianist known for his unique sound and concept; Clement Rooney – a jazz piano player and a composer from London who also enjoys creating sound installations; Rahul Wadhwani – a pop/funk/jazz keyboard/piano player who has been travelling around the country on projects with sought after artists; Aron Nyiro – Hungary born drummer who has played jazz drums for every major Hungarian music festival and with many well-known musicians; Emmanuel Simon – Band Leader and Musical Director, The Latination (an Indian latin-jazz band), a percussionist and a trained western classic pianist with an M.A. in Indian Instrumental Music and Shirish Malhotra – A saxophonist, performer, recording artist, teacher and multi-instrumentalist with experience in a wide and eclectic range of musical styles.
Speaking on her love for music and the event, Niloufer Rohira, Founder & Partner, StreaminLive says, "Not many things bring us the joy that music does. I would like to give back, in my own small way and show my appreciation for those who are instrumental in bringing us that music." In the process of pursuing a passion for music, Niloufer began voice training. She met people from the live western music industry and realized that there was a gap between musicians and the way in which they were being promoted".
She felt that a lot more needed to be done for musicians to be appreciated, their talent to be showcased correctly and for more people to be brought into this fold. She felt that more venues and platforms were needed in order to ensure that live western music grew and flourished in this country. So, StreaminLive began its journey with little steps and Niloufer strongly feels that it has made a difference in this short period of time.
This has been possible only because people in general, individuals, venue owners and corporate companies are coming forward to join hands with the brand to encourage and promote the best of live western music to this country.
Niloufer hopes to continue with this effort, using all the experience she has gained in the hotel industry and in the corporate world as a business woman, to further this cause and make it hugely successful.
Details:
What: StreaminLive presents For The Love Of Music
When: Friday, 9th November 2018; 7.30 pm
Where: St. Andrew's Auditorium, St. Domnic Road, Bandra West, Mumbai,