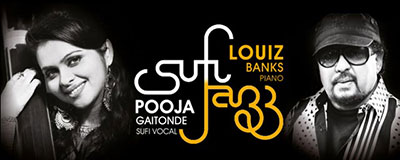 26th October, 2018
Louis Banks and Pooja Gaitonde come together for Sufi Jazz
One of the most sought-after and brilliant artiste Pooja Gaitonde (Sufi Vocal) shall be performing along with veteran piano artiste Louis Banks and a host of other talented artistes namely Jayanti Goshar (Rabab), Ojas Adhiya (Tabla), Vinayak Pol (Drums), Mohammad Shadab (Dholak), Avishek Dey (Bass) and Rhys D' Souza (Saxophone), in a unique event titled 'Sufi Jazz' on Tuesday, 30th October 2018 at Nehru Centre, Worli.
Louis Banks has been spearheading the Jazz Movement in India for the past three decades. He has been singularly instrumental in bringing a high standard of Jazz performance for jazz devotees in India. A two time Grammy nominee, he is the man behind some of the most popular pieces ever heard in our country which includes Mile sur mera tumhara, Hamara Bajaj, and many more.
Jazz is the most widely celebrated genre of music in the World.... From the US to Europe, even in Asia. The foremost musicians in the world are jazz musicians. Jazz like classical is all about improvisation and merges well with all the forms of music. For the first time, this would be experiencing Sufi in a new avatar.

Sufi music on the other hand is the devotional music of the Sufi's which has been inspired by the works of Sufi Poets. Qawwali is the most well-known form of Sufi Music and is the commonly found in the Sufi Culture in South Asia. Sufi love songs are often performed as Ghazals. Today, Sufi is widely used across platforms of music including Bollywood.

Event Details:

'Sufi Jazz'
Date: Tuesday, 30th October 2018, 7. 30 pm
Venue: Nehru Centre, Worli.