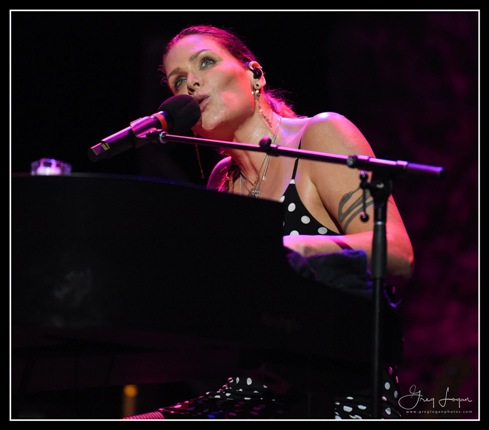 30th November, 2018
Beth Hart, Charlie Musselwhite, Sugaray Rayford, Brandon Santini to headline Mahindra Blues Festival 2019
Asia's largest blues celebration and Mumbai's pride, the Mahindra Blues Festival, is back with its ninth edition featuring the biggest acts from across the globe. The two-day celebration in the Maximum City of Mumbai is a major draw for blues fans from across the country.
Boasting an incredible line-up of acclaimed international artists at the iconic Mehboob Studio on the 9th and 10th February 2019, this music extravaganza is all set to enthral audiences with its high energy and vibe.
The heavy hitterson the list that will steal your heart are blues experts like Beth Hart, Charlie Musselwhite, Sugaray Rayford, Brandon Santini along with Arinjoy Trio representing the Indian act. They have come together to put togethera high octane yet soulful and exquisite evening forMumbai audiences.
The Blues Magazine once dubbed Beth Hart as "the ultimate female rock star." The Grammy nominated singer/songwriter is riding a creative tidal wave with big hits on her recent album, "Fire On The Floor." With a career spanning more than two decades in the blues industry, Hart has always been praised and admired for her "daring, brooding and angry" performances on stage.
Fifty years of non-stop touring, performing and recording, Charlie Musselwhite has won 35 Blues Music Awards, been nominated 12 times for the Grammy Awards,taking home his first Grammy winin 2015 for his collaboration with Ben Harper on Get Up! Charlie may be the only musician to get a huge ovation just for opening his briefcase.
Sugaray Rayford is an American electric blues singer and songwriter, who has recently marked a big hit with his fourth album "The World That We Live In." His church-honed vocals have unquestionable gospel influences, infusing his music with a certain sincerity that is increasingly hard to find.
Often compared with James Cotton or Paul Butterfield, Blues Blast Award nominee, Memphis vocalist and harmonica player, Brandon Santini is a true dedicator of tradition blues with a modern colourful style of playing.
The winner of the Mahindra Blues Band Hunt, 2018, Arinjoy Trio is an amalgamation of three people who share a common hunger for the blues. Led by guitarist Arinjoy Sarkar, it comprises of Sounak Roy on drums and Aakash Ganguly on Bass. The trio performs a wide variety of blues music, from old school to contemporary.
Speaking about the festival's mileage gained over the years and the announcement of its 9th edition- Jay Shah, Vice President, Head – Cultural Outreach, Mahindra Group said, "In the last eight years, we have witnesseda huge following of the blues genre of music in Mumbai and across India. We have grouped the international artists from blues industry on the basis of distinct admiring traits, style and dedication towards the tradition of the genre. The ninth edition will go a notch higher and extend a weekend to people that will last them a lifetime."
Tickets are on sale on bookmyshow.com with daily passes available at Rs 2,500, season passes for Rs4,000, while students can attend the festival at Rs1,200 per day. Premium Enclosure Season Pass, which is inclusive of F&B will be available at Rs15,000.
Event Details:
Dates: 9th – 10th February, 2019
Venue: Mehboob Studios, Bandra, Mumbai
Tickets:www.bookmyshow.com/