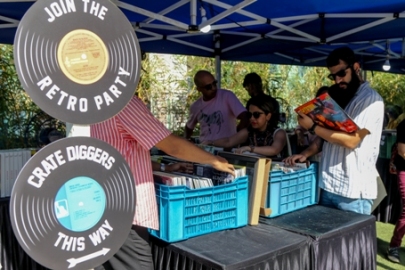 04th April, 2019
Its Record Store Day on 13th April with amazing titles to choose
On Saturday 13th April, The Corona Gardens (Ex Bunglow 9) in Bandra (West) will transform into a Vinyl haven for the music enthusiast. With the biggest sale of Vinyls and an entire day dedicated to the record culture, The Vinyl Pop Up will host a distinctively intimate and interactive experience for everyone.
As more music listeners yearn for a personal and physical experience of listening to Vinyls, Sony Music offers you an opportunity to start or add to your collection with this one - day Vinyl Pop Up Sale with over 2000 + imports of limited edition Vinyls and exclusive Record Store Day Releases!
Last year The Vinyl Pop-Up at a South Mumbai venue saw a massive turn out and audiophiles were excited to own their favourite Vinyls. All the limited edition Vinyls were sold within 15 minutes of the pop-up opening and sold out all Pink Floyd, Led Zepp, John Mayer, Linkin Park titles. This year there are plans on by curating multiple events.
Your Saturday could look like this:
Browse from the biggest range of Vinyls
From classics to cult bands, we've stocked your all-time on huge discounts for the first time. Rummage through a range of albums from Classic Rock Legends like Pink Floyd, Led Zeppelin, The Doors, The Beatles, Santana & more to the Evergreen Hits Linkin Park, Coldplay, Nirvana, John Lenon, Bruno Mars to name a few
Watch one of the best local acts
Catch the live gigs on the Outdoor Stage starting 4 pm with an amazing lineup of some of the coolest indie singers including names like Nikhil D'Souza, Mali, Tejas Menon, Aarifa & Ramya Pothuri with an all-star performance and showcase by Kadak Apple records
Dance the night away
The indoor electronic stage revolves around the 45" vinyl record culture. It is a massive dance party where DJ's Zokhuma (Arman Menzies) and Eng (Kunal Lodhia) spin select records from House, hip hop, 80's, 90's, , trust us, you'll be dancing all night long!
Get treated to a true audiophile experience
Allow yourself to truly immerse in a personal vinyl listening session hosted by Sennheiser. Sit back and experience the Hi-res sound of a vinyl on the World's Costliest Headphones – The HE1 by Sennheiser. We heard it costs more than a Mercedes itself… Nough Said!
The time when one could hold a record or feel the warmth of the analog sound is here so head to Vinyl Pop-Up on the 13th of April.