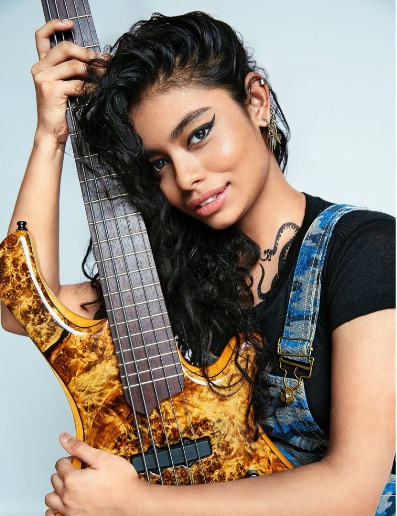 24th December, 2017
UPAJ is back with its next edition and it is mighty exciting
UPAJ, which opened to a full house last year, is back to enthral the audiences yet again with four dynamic artistes Tabla maestro Zakir Hussain, prodigal Sitarist Niladri Kumar, skilled keyboardist Zubin Balaporia and the young, talented Bass player Mohini Dey.
​UPAJ literally means "harvest", while in Indian classical music it is a term used for the enthralling "improvisations" done by a skilled artiste during a performance. Here's looking forward to a vibrant evening of melody and rhythm, conventional and spontaneous, serene and pulsating that resonates through inimitable renditions, enchanting listeners with soulfulness and joy.​
Mohini Dey, started learning Bass Guitar at the age of 3, by the age of 10 she was doing concerts and recordings and today at the age of 20, she has already done over 100 performances across the globe. Currently the Bass Player in A R Rahman's Band, she has worked with renowned artistes like Ranjit Barot, Steve Vai, Guthrie Govan, Louiz Banks, Gary Husband, Zakir Hussain, Sivamani, Prasanna Ramaswamy, Niladri Kumar, Mike Stern, Narada Michael Walden, Gergo Borlai, Federico Malaman and many more. Mohini Dey has been described as prodigy by many acclaimed musicians and also the Most Successful Musician UNDER 30 By "Forbes India". "I am l​ooking forward to a​ n​ew ​s​ound a​ltogether, ​with ​a​n​ unique ​o​utlook and to portray something that people have never seen before." Says Mohini Dey
Zubin Balaporia​ stated "I'm really looking forward to this concert. The "band" comprises of some amazing musicians and it is going to be an amazing experience for me." -
UPAJ is Co-presented by Life Insurance Corporation of India & Reliance Foundation and Co-sponsored by Brooke Bond Taj Mahal Tea. Radio Partner Radio One.
Show Details:
Day and Date: Wednesday, 10 January 2018
Time: 7:30 pm
Venue: Sri Shanmukhananda Chandrasekarendra Saraswathi Auditorium, Sion, Mumbai
Tickets: Available at www.bookmyshow.com