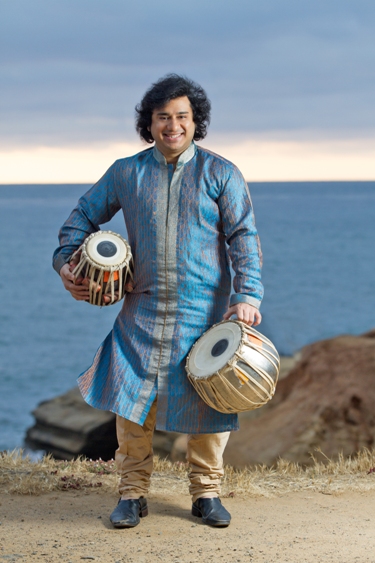 06th February, 2018
Aditya Kalyanpur reaching for the skies
Some of us may remember him from the popular 1990's 'Wah Ustaad' commercial of Taj Tea, where as a young boy, he sits alongside Ustad Zakir Hussain, playing the tabla with much effervescence. Having embarked on his musical career as a protégé of Ustad Allah Rakha Khan, Aditya Kalyanpur has come a long way & now effortlessly holds his own in the Indian classical music scenario, both in India & in the international arena.
His innate sense of rhythm and skill has sealed his fate as the rightful heir to the Punjab Gharana tradition of music. As a young man, Kalyanpur lived up to the expectations of his teachers, mastering the intricacies of the tabla & developing his personal style which could be defined as a bold and clear execution of syllables, precision in rhythm, coupled with a colossal repertoire of compositions.
Over the years, he has accompanied greats such as Ustad Amjad Ali Khan, Pandit Jasraj, Pandit Shivkumar Sharma & A.R. Rahman to name a few. His forays into music have led him to collaborate with Keith Richards of 'Rolling Stones', Katy Perry and Grammy winner – John Popper at the prestigious Carnegie Hall, New York.
He has been honoured with the title of 'Taal-Mani' by the Sur Sringar Samiti and has been a recipient of the prestigious Vidyasagar award by ITC.
In his effort to contemporise the tabla and present it to a wider audience, Kalyanpur has successfully managed to fuse the humble percussion instrument into genres such as Jazz & Afro Indian. He has worked on the creation of a world music album with the late jazz guitarist, Larry Coryell – a towering presence in jazz history, called 'Bombay Jazz'. Having been influenced by artists across several genres, he believes the beauty of world music lies in nothing being diluted, each note or rhythm harmoniously blends itself into a composition, without getting lost. His latest collaboration is with Cello artist Brent Arnold, a jugalbandi so rare, it is sure to pique the interest of any music aficionado.
Alongside continuously enthralling audiences with tapping out beats from gentle to fervent to a frenzied blur, Kalyanpur is also doing his best to make sure the flame of our rich music tradition does not flicker. One of his proudest achievements has been the establishment of the Shyamal Music Foundation – a non-profit organisation, set up with the aim of raising funds for cancer patients through the benefit concert series 'DISHA' which features inspiring artists and also gives a platform to younger artists helping preserve and promote Indian Classical music. He also founded the 'New England School of Music' in the United States to teach and train budding artists and keep the tradition of Indian Classical music alive.
Aditya Kalyanpur has been on a two months tour giving performances all over India and accompanying great musicians.
Here are two links of Aditya Kalyanpur performing:
Waah Taaj Ad with Ustad Zakir Hussain
https://www.youtube.com/watch?v=e9t9968NHZ8
Performing with AR Rahman Live in South Africa as part of the 'Jai Ho World Tour'
https://www.youtube.com/watch?v=2ob-XttxWQ8