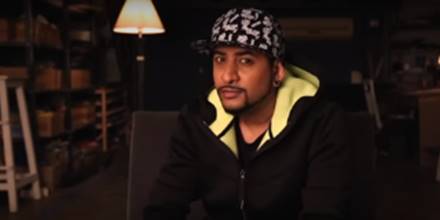 09th February, 2018
Creative genius and YouTube star Rob to launch his 2nd YouTube channel
After having been on TV for over a decade hosting and directing Art & Craft shows, YouTube star Rob is all set to launch his 2nd YouTube channel called Rob in the Hood.From inspiring others for many years, Rob will now talk about what inspires him.
Says an enthused Rob, "Rob in the Hood is all about my space and my life . A get to know me beyond my art kinda channel. I will document my life as it happens, all my fun moments, my gadgets or even me just goofying around. Having studied film-making, Vlogging is definitely something I am going to enjoy doing. As an artist I have always loved telling stories and this will be a fun platform for me to tell stories about my life in my style. My fans have been my greatest support and this has encouraged me to launch this new channel in collaboration with Sony Music. Hope you guys enjoy and get inspired with Rob in the Hood featuring #mylifemystyle as much as you did on my DIY art channel Mad Stuff with Rob"
Adds on Anjana Devraj, Heads Kids Division, Sony Music India, "Over the years Rob's fan base has been growing exponentially. It's not just the kids anymore, as his fan base now also includes teens and millennials who have grown up watching him and have been influenced by him in some way or the other. This is a channel to get to know the artist beyond his art. A lot of people want to know Rob for who he is and what inspires him. This channel is for them! So apart from managing his art and diy channel on Youtube (@madstuffwithrob) we decided that in partnership with Rob we launch another YouTube channel dedicated to the youth with content that not just appeals to them but also inspires them. The channel is LIVE now and we are confident that it will be as successful as Mad Stuff with Rob."
Rob's successfully launched art and craft channel 'Mad Stuff with Rob' on YouTube has got him a loyal following of ardent DIY fans. Fans who have grown up watching him, fans from international markets and art lovers globally!