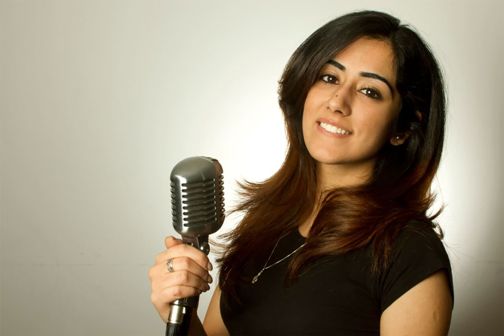 09th February, 2018
Jonita Gandhi to make her EDM debut with Anish Sood's "Castles"
Indo-Canadian vocalist Jonita Gandhi is a known name, and one to reckon with in the Indian music industry. She has earned her place in Bollywood as an award-winning playback singer with chart toppers such as The Breakup Song, Sau Tarah Ke and Lagdi Hai Thaai. As Jonita continues to cultivate the growth of her cinematic repertoire, she strikes a good balance by contributing to the Independent music scene as well.
The multi-faceted singer has now collaborated with dance music producer Anish Sood on his upcoming independent album titled "Future Perfect" where she features as the sole vocalist from Bollywood on the album's second single Castles. This will mark Jonita's foray into the dance music genre for the very first time. This announcement comes straight after the massive success Anish's first single Starry Night garnered.
Castles is an energetic dance single with uplifting vocals and a funky guitar driven hook. The track straddles the boundary between pop and house with it's radio friendly vocals and has the right amount of energy to make a festival crowd jump.
Jonita Gandhi states, "I had a really great time working on this song, and especially shooting this video. I was a bit skeptical at first since I've never been to Turkey and had no idea what to expect, but it was such a beautiful place and the team was super easy to work with. I'm looking forward to sharing the final product and I hope you all love the song! I'm really grateful for the opportunity to showcase this side of my singing."
Anish Sood adds on, "I'm glad to finally release this song with Jonita. We'd been talking about collaborating for bit and since Jonita is widely known for her songs in Hindi, I was very keen on featuring her on an English track. Once I had this demo finished, I sent it over to her and she instantly loved it!"
After 10 years in the EDM circuit, Anish Sood recognized the creative void in the commercial spectrum and the need to reinvent and experiment, which saw him spend more time in the studio than on the road. This intense soul searching led him to create and produce his debut all-original studio album titled "Future Perfect". The album draws heavily from Anish's musical influences with a focused emphasis on the melodies that he was to exposed during the formative years of his life in his native homeland, Goa. The album is primarily written in Los Angeles and features collaborations with a wide range of talented songwriters such as Jonita Gandhi, Zach Sorgen, Trishes and Cari Golden, bringing together a confluence of varied musical styles and sounds. The album also features music videos that have been shot in wide ranging locations from Italy to Turkey, featuring models such as Playboy playmate Jessica Wall.