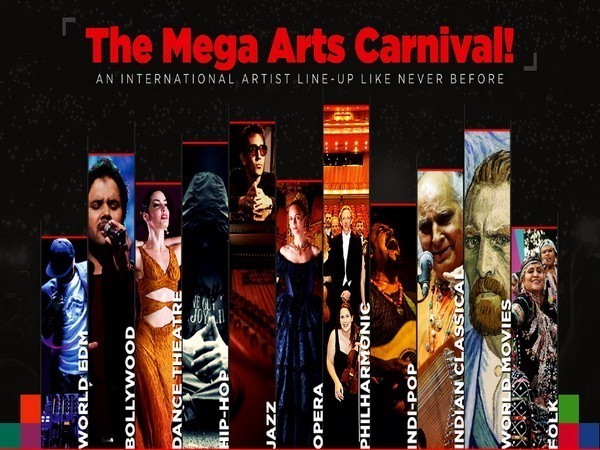 09th February, 2018
Navrasa Duende Global Carnival 2018 unveils line-up of performing artists
Barely a few days from now, Jawaharlal Nehru Stadium shall come alive with some of the biggest international names from the world of arts and entertainment, serenading New Delhi with a series of Live Shows. While some are referring to it as the most staggering artist line-up to ever perform in India, some are already calling it the biggest melting pot of arts and entertainment the nation has ever witnessed.
A brainchild of leading Indian arts & entertainment production house 'Navrasa Duende', the Navrasa Duende Global Carnival 2018, scheduled from 23rd till 25th February 2018 at the Jawaharlal Nehru Stadium in New Delhi, is all set to deliver a neck to neck line-up of 20 Live Showsfeaturing over 200 top international artists from 15 countries, apart from 200 artists from India, spanning 20 different genres of performing arts.The most astounding factisthat it's all happening at one single venue, inter-woven between 3 Live Stages, spread out across 3 days flat.So wide is the spread of performing arts genres getting showcased at this Carnival, that irrespective of whether you're an Opera lovingseptuagenarian, or an EDM crazy teenager, an outright Jazz addict, or a devotee of Indian Classical, you can look forward to getting served exactly your kind of Music & Arts at this mélange of global arts & entertainment.
Amongst the most anticipated of performances at the Navrasa Duende Global Carnival 2018, arethe London Festival Opera's internationally successful show 'A Night at the Opera', a tribute to some of the world's most famous romantic compositions of the 19th and 20th centuries by the Dublin Philharmonic Orchestra with their show 'Romancing the Romantic Era', globally celebrated masters of Jazz & Crossover, namely Peter Cincotti, A J Crore and Loiuz Banks, in an immersive afternoon of curation called 'Jazz +', and 'EDM Night', featuring the global gods of the genre, Sigma, Alpha 9, Afishal and Anish Sood. And that's just the beginning. One can also look forward to the hugely popular Latin American dance theatre group called Lizt Alfonso Dance Cuba, to the Berlin-based global sensation called Flying Steps coming in with their own version of Break Dance on classical Bach, to the likes of Sangeet Mart and Pandit Jasraj, Pandit Hariprasad Chaurasia and Ustaad Shujaat Khan coming together with an eclectic confluence of Indian Classical. In fact, as the highlight of the show 'Maestros' Duende', Pandit Jasraj and Shujaat Khan get together for an epic Jugalbandi too!
Other star attractions include the celebrated American troupe Rainbow Dance Theatre, world dance champs D'Intensity Breakers, Jinjo Crew and Kryptonite, Ashley Lobo's Navdhara India Dance Theatre, Kuchipudi legends Raja Radha Reddy, and popular Indian artists including Rekha Bhardwaj, Javed Ali, Raghu Dixit Band, Indian Ocean, Sivamani, Hari Sukhmani, Jasleen Royal, Soulmate, Advaita, Nizami Bandhu, Rewben Mashangva, Lou Majaw, and the world famous Gulabo & Team from Rajasthan.
Slotted as a high spirited celebration of global arts & entertainment, this 3-day spectacle also includes colourful Carnival Parades featuring costumed dancers with flaming colours, over 20 offbeat world movie screenings, topped by a 35 acre spread of Carnival Fanfare. One of the key attractions is the 5-acre Global Food Village being specially created, aimed at dishing out some of the world's most delectable cuisines, along with full service bars and fine dining service. With an expected footfall of over 1 Lac discerning lovers of arts & entertainment, the Navrasa Duende Global Carnival 2018 is all set to rock the National Capital like never before. Tickets are live and running out fast on Book My Show, their exclusive ticketing partner for the extravaganza!